transforming and learning experience News Archive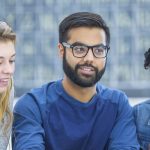 September 18, 2023 —
This fall, UM is offering a new co-curricular approach to building entrepreneurial thinking skills called Better Together. Over two full days during fall reading week, November 14 and 15, faculty, staff and students will have the opportunity to learn about, practice and be inspired about the impact of entrepreneurial thinking skills.
+
June 7, 2023 —
Sparked by his own curiosity, Carl Szczerski, a technician in the Faculty of Science, purchased his first personal 3D printer in 2018. Now, he's using the technology to support teaching and learning, too.
+