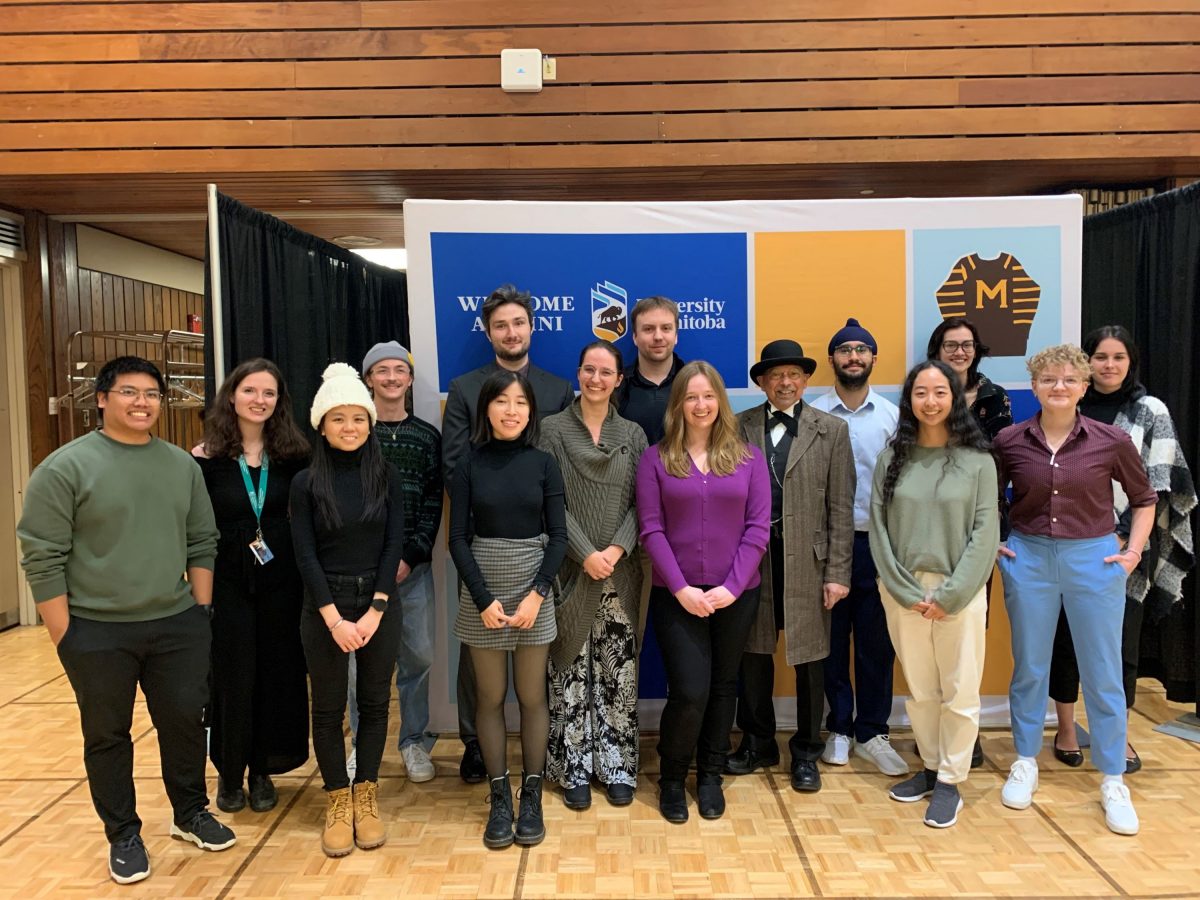 2023 Undergraduate Research Showcase highlights student achievement at UM
November 6, 2023 —
On Tuesday October 31, more than 100 UM undergraduate students shared their research findings at the inaugural Undergraduate Research Showcase, hosted by the office of the vice-president (research and international), the event highlights the important experiential learning opportunity research provides for undergraduate students at UM.
"I congratulate all student participants in the Showcase. It was wonderful to see the vibrant atmosphere and networking between students and Faculty across many disciplines throughout the day," said Dr. Mario Pinto, Vice-President (Research & International). "Research experience at the undergraduate level expands our horizons and can open doors to new career opportunities."
More than 40 expert judges representing 10 UM faculties awarded cash prizes in five categories across two streams of competition, oral presentations and research poster displays. The Showcase will expand to include additional presentation streams in the future to reflect the full diversity of research and scholarly activities at UM.
Undergraduate Research Showcase 2023 winners
Applied Sciences
Poster format
1st– Kristo Oktaviano, Role of Nano Iron Catalyst and Hydrogen Peroxide Additive to Manitoba Virden Crude Oil Rate of Photodegradation under UV Light at Ambient Temperature
Research Supervisor: Feiyue Wang, Clayton H. Riddell Faculty of Environment, Earth and Resources
2nd– Kelly Tan Zhi Xin, Sequential extraction of fava bean protein for improvement of techno-functional properties
Research Supervisor: Nandika Bandara, Agricultural and Food Sciences
Creative Works
Poster format
1st– Asha Stott, Unstacking The Deck
Research Supervisor: Lisa Landrum, Architecture
Health Sciences
Oral format
1st– Megan Crooks, Virtual graded motor imagery for phantom leg pain: A feasibility case series
Research Supervisor: Renee El-Gabalawy, Rady Faculty of Health Sciences
2nd– Vicky Xie, Histopathological Indicators of Acute Lung Injury in the Porcine One-Lung Ventilation Surgery Model
Research Supervisor: Biniam Kidane, Rady Faculty of Health Sciences
Poster format
1st– Kaden Baskerville, Alternative splicing-dependent interaction between presynaptic neurexin-1β and postsynaptic mGluR5
Research Supervisor: Henry Dunn, Rady Faculty of Health Sciences
2nd– Sara Crooks, Investigating the mechanism of cancer cell death induced by a novel experimental glycolipid therapeutic.
Research Supervisor: Mark Nachtigal, Rady Faculty of Health Sciences
3rd– Louis Dela Pena, TEAD protein's repressive role in Small cell Lung Cancer
Research Supervisor: Joel Pearson, Faculty of Science
Natural Sciences
Poster format
1st– Danica Dobson, Examining the 22q11 Chromosome Deletion in Neuronal and Glial Cells
Research Supervisor: Robert Beattie, Faculty of Science
2nd– Ryan Hay, Analyzing uncharacterized sugar alcohol dehydrogenase from Acetivibrio thermocellus
Research Supervisor: Richard Sparling, Faculty of Science
3rd– TIE: Nicolas Leclerc, Establishing Primary Fibroblast Cell Lines from Ursus Maritimus to Model Neural Development In Vitro; Darshan Singh, Developing RNAi-Based Technologies to Control the Peach Potato Aphid (Myzus persicae)
Research Supervisor: Robert Beattie, Rady Faculty of Health Sciences; Steve Whyard, Faculty of Science
Social Sciences and Humanities
Oral format
1st– Marley Pauls, Bro, who you talking to girl? Exploring gender performance in queer women's speech.
Research Supervisor: Veronica Loureiro-Rodriguez, Faculty of Arts
Poster format
1st– Samantha Rennie, Family Characteristics and Study Methods in Research on Prenatal Alcohol Exposure: A Meta-Analysis
Research Supervisor: Kristene Cheung, Faculty of Arts
2nd– MacGregor Goodman, Promising practice: Non-forced care as a harm reduction approach to violence in long-term residential care
Research Supervisor: Laura Funk, Faculty of Arts
3rd– Kazuki Nishikiori, Understanding the Development of Online Safety: Children's Evaluations of Invasive and Noninvasive Games
Research Supervisor: Shaylene Nancekivell, Faculty of Arts
Research at the University of Manitoba is partially supported by funding from the Government of Canada Research Support Fund.