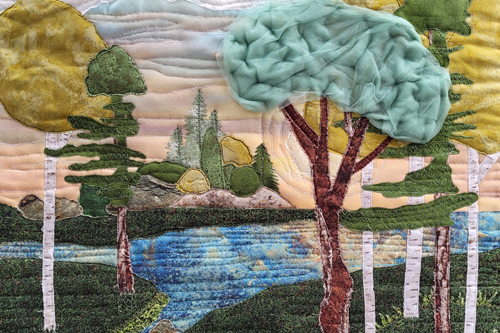 Working in Good Ways: A framework for Indigenous community engagement now available for download
June 7, 2021 —
Community Engaged Learning released a framework and resources for working in good ways with Indigenous community partners at a virtual launch on May 27. The documents are now available for download on their website. UM community members can also pre-order print copies of the framework for their office.
"Our team is so excited to finally share the framework and resources with the UM community. While we set out to develop these tools for ourselves and other community engaged learning practitioners, they are available to the wider community through a creative commons license. We hope that community partners will be able to use the framework to strengthen their partnerships with universities and other institutions," said project lead Nicki Ferland at the launch.
The framework and accompanying set of resources are part of an Indigenous Initiatives funded project that focuses on building and caring for relationships with Indigenous communities. Over a three-year period, Community Engaged Learning consulted with nearly one hundred community partners, practitioners and students, the majority of whom belong to Indigenous communities in Manitoba, Belize, Ecuador, and Chile, as well as Indigenous and non-Indigenous faculty, staff and students at the University of Manitoba. The framework organizes what CEL learned in those consultations into seven principles that apply across five stages of community engagement, beginning with the work before the work and carrying on well beyond the close of a program or partnership.
The resources include:
A practitioner workbook with practical exercises, tools and approaches for community engagement.
A relational assessment guide that helps assess the foundations at the core of community-university partnerships.
An infographic that presents a pathway for community engagement along with key principles and practices that apply to each stage.
UM community members are also invited to learn more about CEL at our Virtual Open House on Wednesday, June 23 from 3:30-5:00 p.m. The Open House will be an opportunity to learn about CEL's work as an office, including our approach to partner engagement and program development, student programming, and community engagement training, as well as the new Working in Good Ways framework and resources. Please email communityengagement[at]umanitoba[dot]ca to receive the Zoom link.
Sign up for CEL's mailing list for project updates, new resources, and reminders about our new CEL Community of Practice meetings, which will be a monthly opportunity for UM practitioners to share and discuss our work in community engaged learning.
Community Engaged Learning is a part of the Student Engagement for Success in Student Affairs, and supports students in developing the knowledge, skills and attitudes that are needed when working in community. In recent years, Community Engaged Learning has placed work with Indigenous communities across the Americas at the centre of their work, and refocused the pedagogical aims of their programs on helping students to develop their capacity for working in good ways with Indigenous communities.
Contact Community Engaged Learning:
Email: communityengagement[at]umanitoba[dot]ca
Phone: 204-474-6992