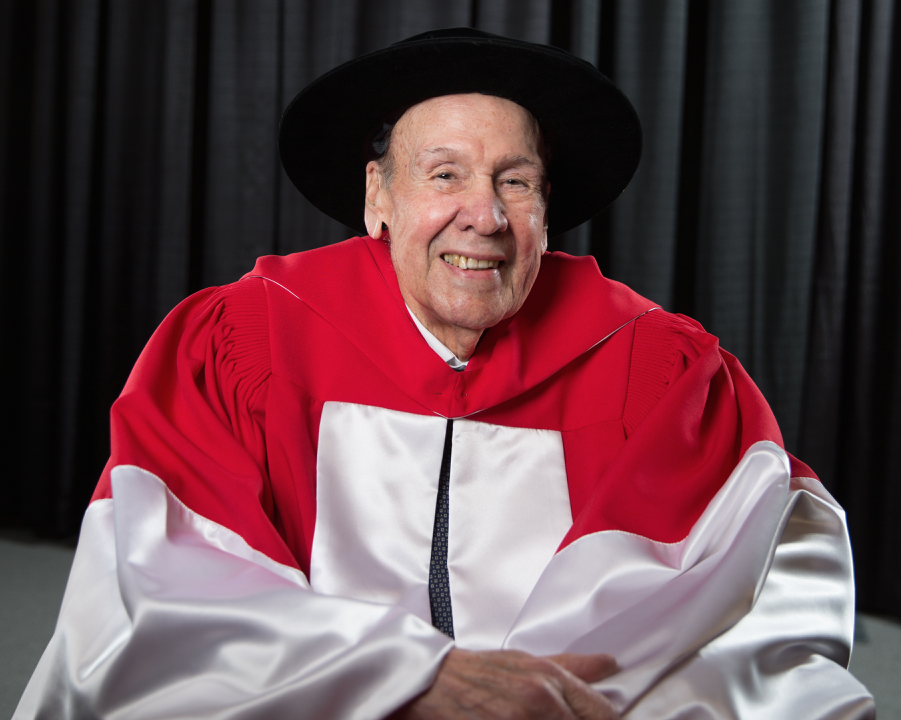 The passing of a true Winnipeg entrepreneur and man of integrity
March 29, 2018 —
The Honourable Douglas Everett [LLB/51, LLD/17], influential entrepreneur, politician, and former senator, passed away on Tuesday, March 27, 2018.
Born in Vancouver, his family resettled in Winnipeg after the war, and Everett worked at his father's auto company in Winnipeg. By 25, Everett was vice-president of Dominion Motors and had received his law degree from the University of Manitoba. He decided to launch a chain of gas stations and came up with the idea of installing them at grocery stores, starting in Winnipeg. The iconic DOMO Gas expanded westward and, with hundreds employed, became a major industry player.
Everett then waded into federal politics, becoming—at 39—the youngest person appointed to the Senate. Outspoken on many issues such as poverty, inflation, regional development, and the role of the Senate, Everett crossed the floor twice, eventually sitting as an Independent. Perhaps his most famous act of integrity was his decision to relinquish his annual salary—a decision lauded nationwide.
Following his retirement from the Senate, Everett devoted himself to his business interests and philanthropy, donating widely within his home community. He was inducted into the Manitoba Business Hall of Fame in 2017. An honorary degree was bestowed on him by the University of Manitoba, also in 2017.
"Douglas Everett was a shining example of integrity and leadership in action," says David Barnard, president and vice-chancellor, U of M. "Beyond his entrepreneurship and forging an iconic Manitoba business, he spoke his mind on how a government should serve its citizens."