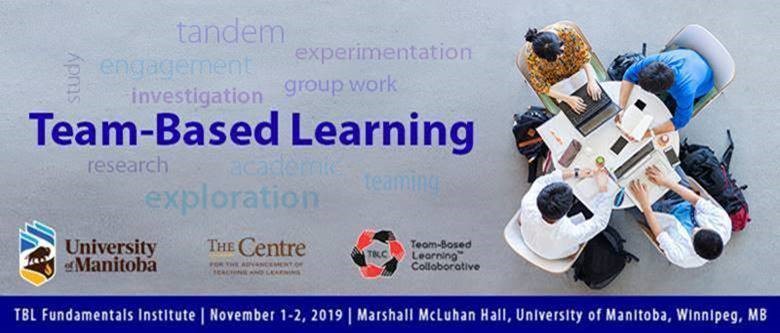 The Centre to host a team-based learning institute in November
September 23, 2019 —
The Centre for the Advancement of Teaching and Learning is hosting a Team-Based Learning Fundamentals Institute from November 1 – 2, 2019. The institute is taking place at the University of Manitoba and will be facilitated by team-based learning experts from the Team-Based Learning Collaborative.
Team-Based Learning (TBL) is an evidence-based form of collaborative group learning that enables instructors to provide enriched, memorable learning experiences in which students demonstrate increased in-class engagement and deeper learning (Briggs & Tang, 2011). The institute will provide attendees with the fundamental knowledge, resources and skills to design and implement TBL in university/college settings.
At the end of the institute, participants will have completed the requirements to obtain the "Knowledge of the Fundamentals of TBL Certificate" from the Team-Based Learning Collaborative.
For more information about TBL and the institute or to register, click here.