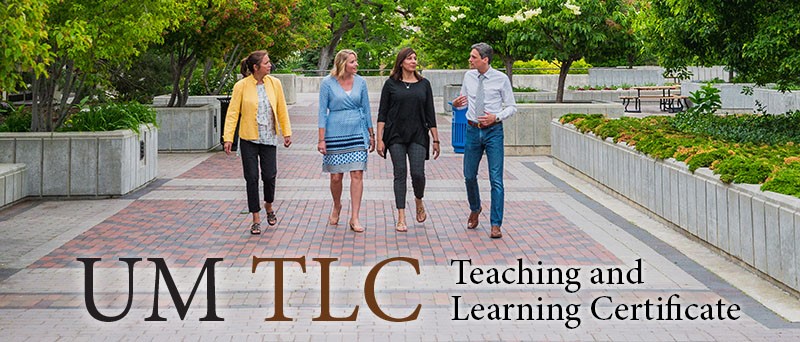 The Centre holds virtual celebration for its TLC program graduates
October 30, 2020 —
The Centre for the Advancement of Teaching and Learning held a virtual celebration for its Teaching and Learning Certificate (TLC) program graduates on Wednesday, October 28.
The two-year TLC program is designed for faculty and full-time instructors who are in the early stages of their teaching career. The program, which has been specifically designed to accommodate the busy schedule of faculty, helps participants increase their competency level in the teaching and learning process, gain a deeper understanding of evidence-based best practices in higher education pedagogy and understand the diversity of their students' needs.
Dr. Jillian Stobart, an assistant professor in the College of Pharmacy and one of this year's TLC program graduates, shares her experience. "Through participation in the TLC program, I have greatly evolved as an instructor. When I first started teaching, students fell asleep in my class. But, now I know how to actively engage students and get them participating in the lecture, thanks to skills I developed in TLC workshops. It has been a really fantastic experience."
Each participant in the TLC program is also assigned a teaching mentor, someone who is recognized for their teaching excellence and educational expertise. The mentor meets with the participant regularly in order to provide the teaching support needed to complete the program.
Colleen Plumton, a senior instructor and fieldwork coordinator in the Faculty of Kinesiology and Recreation Management, was a teaching mentor in this year's program. "I am proud to be involved with the TLC mentor program. My experience began with the commencement of the program 7 years ago as a result of my dedication and commitment to teaching mentorship at the U of M. We have a wonderful group of mentors and mentees along with fantastic Centre staff. We embrace our passion for teaching and learning." She adds, "I am excited to connect with our teaching community by continuing with my role as a mentor. TLC mentors and mentees celebrate teaching and learning. Our TLC community cares deeply about students' learning experiences and are passionate about teaching. A true gift to be sure!"
Colleen Webb, team lead of development and consultation at The Centre, adds, "It has been very exciting to be part of a program that has not only continued to grow over the past 7 years but has also built a strong community at U of M, of faculty, instructors and mentors, dedicated to teaching excellence."
The TLC program is accredited through the Educational Developers Caucus (EDC), a Canadian group for educational developers, which is an affiliate group of the Society for Teaching and Learning in Higher Education (STLHE).
Registration for the Fall 2021 TLC program intake will take place in April 2021. Find out more about The Centre's Teaching and Learning Certificate (TLC) program.
Congratulations to the 2020 Teaching and Learning Certificate (TLC) program graduates!