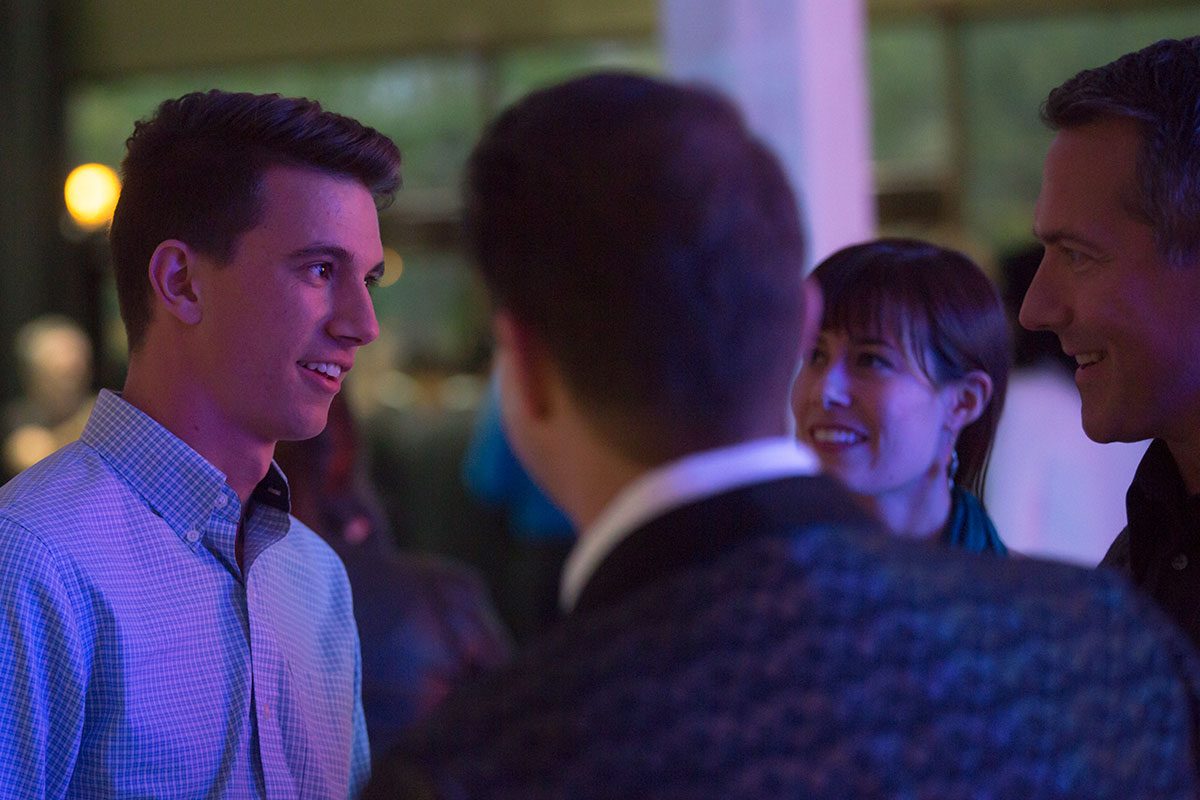 The Bison Ball will be a blast (from the past)
Local food, craft beer and 2000s music featured at this new Homecoming event
September 20, 2018 —
Remember tracksuits? Rubber bracelets? Butterfly clips?
Jump into your best 2000's gear­­­ and grab your friends because Homecoming 2018 is taking you back to the new millennium in all its glory.
The Bison Ball: 2000s Edition is the U of M's inaugural evening for alumni and friends 35 and under.
DJ Blitz has dug out his old mixtapes (OK, he never put them away) and will be spinning Britney, Usher, Justin Timberlake, and all the other tunes he downloaded off LimeWire decades ago.
When you need a break from belting out I Believe in a Thing Called Love, Single Ladies or Sk8er boi, try your luck at the pool and ping-pong tournaments or entering your name into some of the amazing prize draws. There's also a pair of WestJet tickets up for grabs that will be given away to someone in attendance that evening.
Aside from great music and fun activities, there is also an amazing selection of gourmet food and beverage pairing station such as white wine and Brie, stout and salted caramel brownies and local craft beer and beef sliders.
Not only does $20 get you into an epic evening of fun, food and more, it also includes five food and drink pairings, plus prize draw tickets, too.
And since we know this'll be a night to remember fondly, there will be special video and photo booths to help capture the fun.
Details:
Friday, September 28
7:30 p.m. – midnight
IQ's, 3rd floor, UMSU University Centre
Get your $20 tickets at bisonball.eventbrite.ca today.
Advance ticket purchases exclusive promotion!
Get your tickets by Wednesday, September 26 and be entered into a draw to win a round trip limo ride to The Bison Ball for you & your friends!
Food and drink pairings
Hand Crafted Cocktail – Ian Moran of "Pour Decisions" & The Hub vs Chef Ludwick of The Hub
Smoked old fashioned featuring award winning "Lot 40" Canadian Whisky paired with caramelized, 5 spice pork belly with a thyme, apricot & walnut jam, served on a wonton crisp.
Craft Beer #1 – Megan Carlson vs Chef Ludwick of The Hub
Two Wolves "Great Plains Brown Ale" paired with Mac n' Beer n' Cheese Ball (think arrancini!)
Craft Beer #2 – Tim Hudek (UofM Alum) vs Chef Ludwick of The Hub
One Great City "Mad Scientist Eye P.A." paired with beef sliders with chipotle aioli
Wine #1 REDs – Andre Trudel of Corby Wine & Spirits
Jacob's Creek Double Barrel Shiraz & Campo Veijo Temperanillo paired with extra old Bothwell cheddar cheese, bittersweet dark chocolate and gooseberry sample board
Wine #2 WHITEs – Andre Trudel of Corby Wine & Spirits
Jacob's Creek dots pinot grigio and Stoneleigh sauvignon blanc paired with soft French brie cheese, strawberry and white chocolate sample board
Dessert – Dominic Payne of Molson Coors Canada (UofM Alum) vs Chef Ludwick of The Hub
Murphy's Irish Stout paired with stout infused brownie bites with salted caramel pretzel