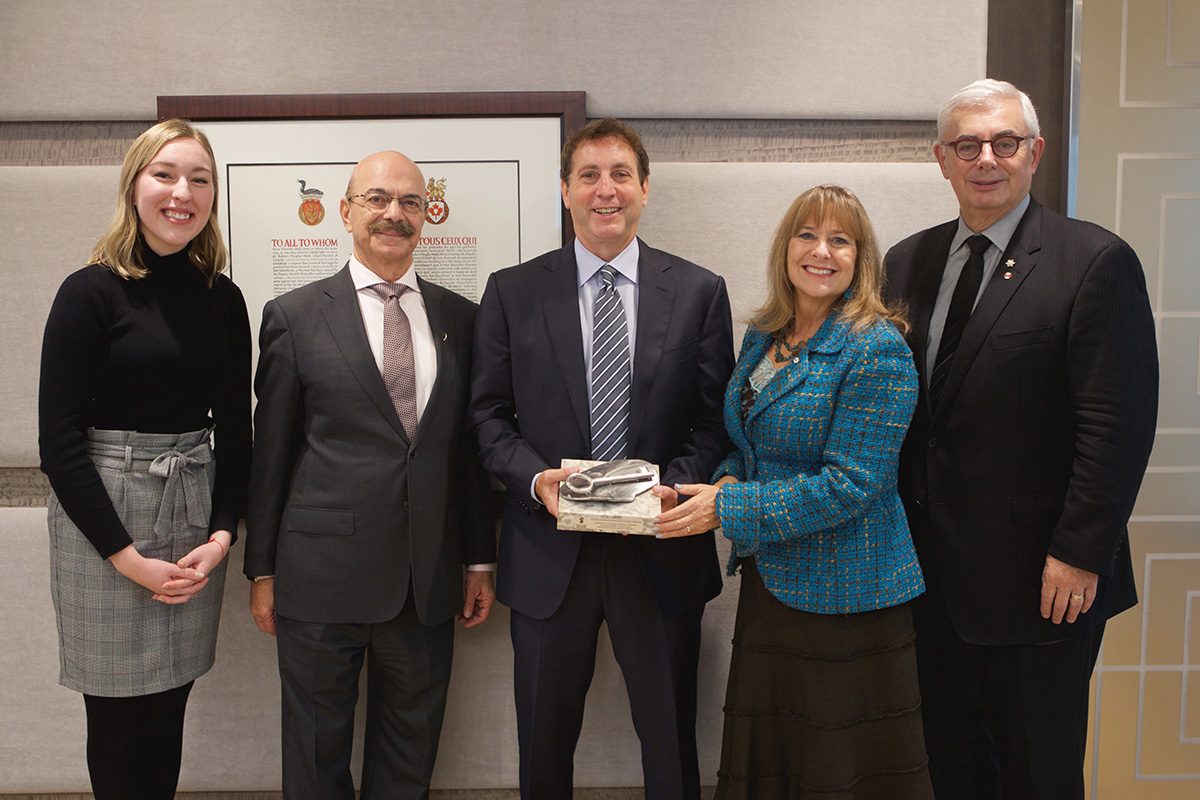 The Asper Foundation creates unprecedented new entrance bursary
October 18, 2019 —
The Asper Foundation has announced a $5-million gift to the University of Manitoba designed to remove barriers for students demonstrating financial need.
The generous donation made through the Front and Centre Campaign will establish The Asper Foundation Entrance Bursary, the first of its kind at UM. Unlike existing bursary programs, this entrance bursary will be available to students pursuing studies in any faculty or school. Each year, it will provide up to 200 undergraduate students enrolling at UM with a $1,000 entrance bursary.
Today's donation is the latest milestone in the Asper family's history of giving to UM which spans 39 years and collectively amounts to over $22 million.
At the announcement event this afternoon Dr. David T. Barnard, UM president and vice-chancellor said: "For decades, the generosity of the Asper family and The Asper Foundation has transformed Manitoba's communities. Now, The Asper Foundation is taking its place with an investment that will have a profound and lasting impact on the development of our province's future leaders."
Hilary Ransom, a current student in the I.H. Asper School of Business and member of the Asper Network of Empowered Women, shared her experience with donor-funded financial support.
"Student support allows students to use more of their time and energy to explore the many opportunities available to them and reach their full potential. They can pursue new initiatives, volunteer their time and innovate. New relationships, partnerships and employment opportunities can arise. I would not be the person I am today if no one had the generosity to invest in my future and support me along the way."
Members of The Asper Foundation, including Leonard Asper, chair of The Asper Foundation, and Gail Asper [BA/81, LLB/84, LLD/08], trustee, announced their investment in the UM Front and Centre campaign, demonstrating the Foundation's commitment to higher education.
"We know that financial support improves access to post-secondary education for students – and that can be life-changing for an individual student. But we also know that access to post-secondary education has a broader impact on families, and communities," said Leonard Asper.
"That's why this gift is very much in the spirit of what our family stands for – creating opportunities that have a lasting impact on individuals and community alike."
The Asper Foundation's long-range vision and commitment to philanthropy has been an unwavering force and driver for change in causes related to social change, health care and education both in Manitoba and around the world.
At UM, the Asper family has made considerable philanthropic investments including support for the I.H. Asper School of Business from the late Izzy Asper, and The Gail Asper Performing Arts Hall in the newly renovated Taché Arts Complex, among several other major gifts.
This gift from The Asper Foundation continues their longstanding relationship and commitment to the cultural vitality of our province by creating opportunities for students at the University of Manitoba. It also brings the University closer to its $500-million fundraising goal for the Front and Centre Campaign with a new total of $368,503,210.