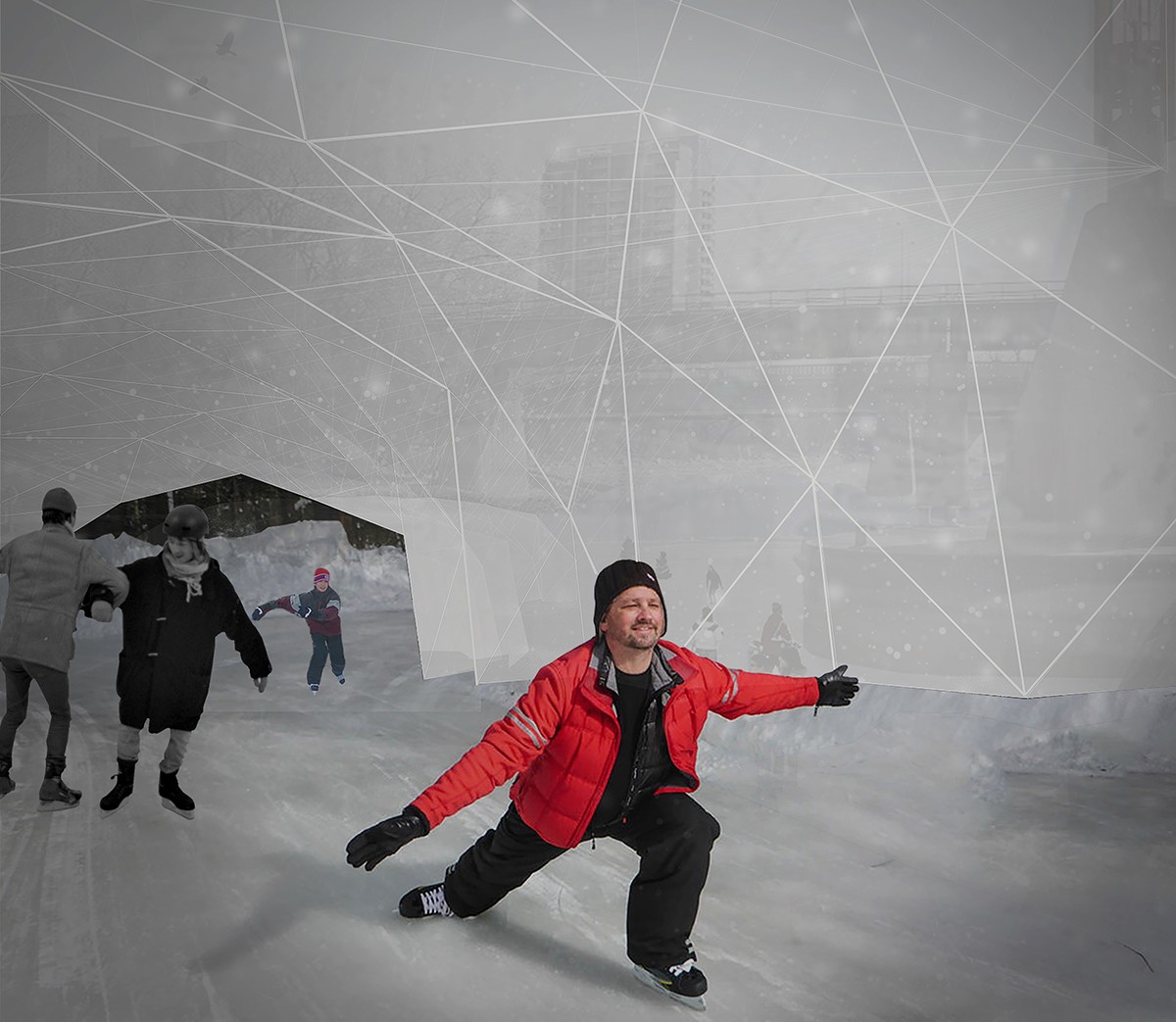 Thawing Winnipeg's icy cliché
Faculty of Architecture hosts warming hut competition winners
January 27, 2016 —
The cold cliché clenching Winnipeg's identity in an icy grip is slowly warming up and at the same time, loosening the frozen image of the city. Thawing this cliché are people like Peter Hargraves, an alumnus from the Faculty of Architecture's environmental design program. In 2009 Hargraves had the idea to embrace Winnipeg winters when he approached The Forks with the Warming Hut art and architecture competition.
Now, a yearly tradition, Warming Huts: An Art + Architecture Competition on Ice has sparked a sense of pride in Winnipeg as well as garnered international admiration from publications such as the New York Times, the National Post, and Gizmodo, as well as design outlets such as designboom.
The winners of this year's competition will present their designs and discuss the building process on Jan. 28 at noon in the Russell Building. Joining them at the faculty's Food for Thought event will be two U of M teams in the warming hut competition. Peter Hargraves will moderate the event.
Typically a single team of students, supervised by a faculty member, participate in the competition. This year, a second team led by the Faculty of Architecture's Partners Program have also entered.
"The Faculty of Architecture is once again very excited to be part of the Warming Huts tradition. We are even more thrilled to further the reach of this project by collaborating and building two Warming Huts on the Red River Mutual Trail," says Jonathan Beddoes, Interim Dean of the Faculty of Architecture. "We believe that the opportunities provided by being part of these interdisciplinary collaborative teams provides a highly unique educational opportunity to enhance what is taught in the classroom; we are once again thankful to The Forks for allowing us to be part of this exciting event."
What: Food for Thought: Warming Huts v2016
When: Thursday, Jan. 28 at 12:00 pm
Where: Centre Space | John A. Russell Building
The official opening of the warming huts will take place at 10:30 am at the Forks on Friday, Jan. 29.