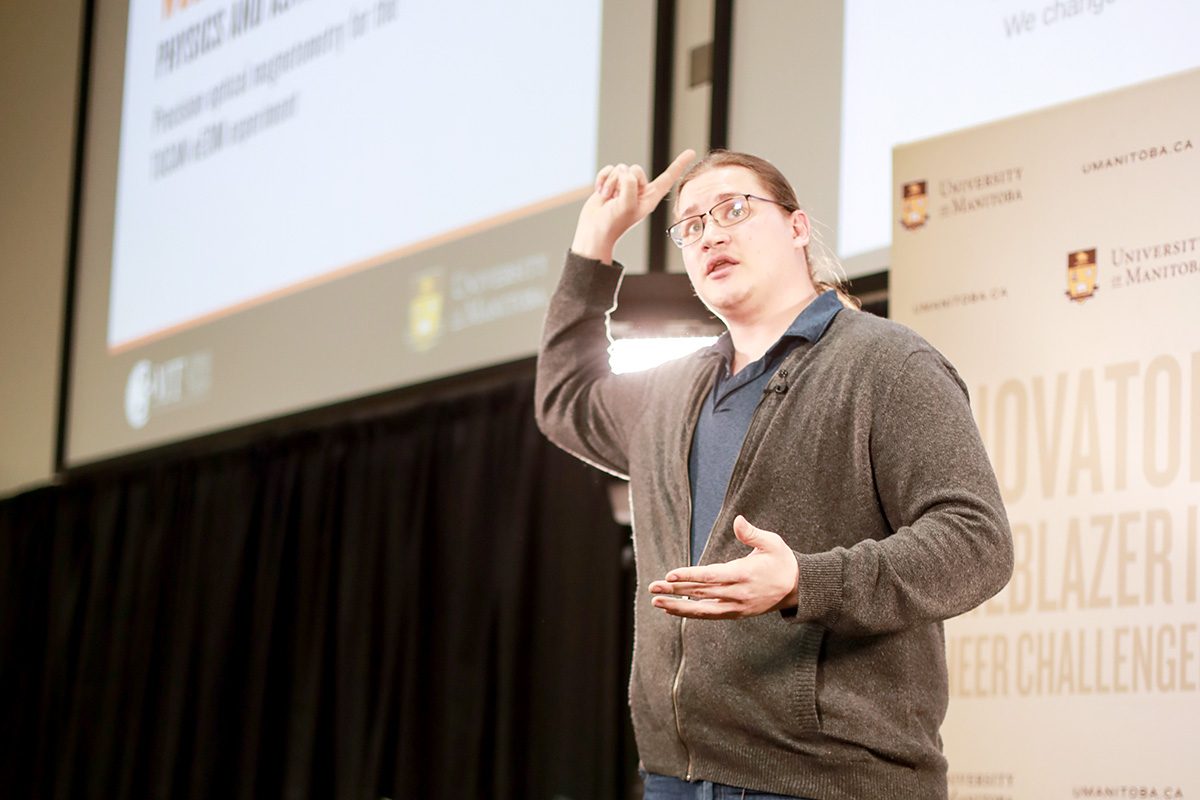 That time when … a Nobel Prize winner gave me a scholarship
Wolfgang Klassen has had some pretty big highs this year, from being a 3MT finalist to getting accepted to do his post-grad.
But on October 8, 2019, his education got some serious bragging rights. That's the day UM alumnus and cosmologist James Peebles won the Nobel Prize in Physics; the day Klassen could say he received a scholarship funded by a Nobel Laureate.
Peebles [BSc(Hons)/58] is the largest donor to the Centennial Scholarship in Physics, which Klassen [BSc(Hons)/17] was awarded during his undergrad for high academic standing in the department of physics and astronomy.
Like Peebles, Klassen is also trying to unravel the mysteries of the universe. His current UM master's thesis is using lasers to measure magnets – technology that could help answer fundamental questions like 'why is there more matter than anti-matter?'
UM Today spoke to Klassen about the impact of scholarships on his education and how he'd like to achieve science star-status.
HAD YOU HEARD OF DR. JAMES PEEBLES BEFORE?
I hadn't heard of him before the Nobel Prize announcement, but was excited to learn that he was a UM alum! His work is being talked about on popular science YouTube channels, that's where I learned most about him.
IN YOUR OPINION, WHY DO YOU THINK HIS WORK IS SO IMPORTANT TO PHYSICS?
Dr. Peebles founded an entire field of study in physics. It doesn't get much more important than that! He's generally regarded as the father of modern cosmology, a field that UM has strong research ties in.
IF YOU COULD SPEAK TO DR. PEEBLES FOR FIVE MINUTES, WHAT WOULD YOU SAY?
I'm applying for PhD schools right now, so I'd probably have him read my CV and give me some advice! I'd also ask him what academia is like after achieving the kind of accolades he has, like do people still interrupt his presentations with weird questions?
HOW DOES IT FEEL TO KNOW YOUR EDUCATION WAS SUPPORTED BY A NOBEL PRIZE WINNER?
It's amazing, I actually had no idea until you mentioned it to me the other day. It's really cool that he has that connection here still. I'm very lucky in that I haven't had to work while getting my degree, thanks in large part to awards and scholarships exactly like the one Dr. Peebles contributed to. Being recognized like that for your hard work was a huge motivation to see it through.
WHAT HAS BEEN YOUR FAVOURITE EXPERIENCE AT UM SO FAR?
As part of my research I've been lucky enough to be sent around the world to share my work and learn from the best scientists in the world. From TRIUMF in Vancouver (Canada's particle physics research center) to KEK in Tsukuba, Japan (Japan's high energy physics research center) my degree at UM has allowed me to become part of a global community of physicists.
I'm hoping to continue my work at TRIUMF through the PhD program at UBC. I've loved being a part of academia and research, so I'll be looking for the next cool project to work on. Hopefully I'll lead one of my own someday!
WHAT DO YOU HOPE TO ACHIEVE WITH YOUR CURRENT RESEARCH?
The project my collaboration is working on seeks to answer fundamental questions about the universe. Even if we don't find exciting new physics, literally every part of our project has required new technology to be invented, new measurement techniques be developed. This is where the exciting stuff is happening.
IF YOU WON A NOBEL PRIZE IN THE FUTURE, WHAT WOULD IT BE FOR?
If the interviews from past winners is anything to go on, probably something that would surprise me. Hopefully physics, I suppose!
Research at the University of Manitoba is partially supported by funding from the Government of Canada Research Support Fund.