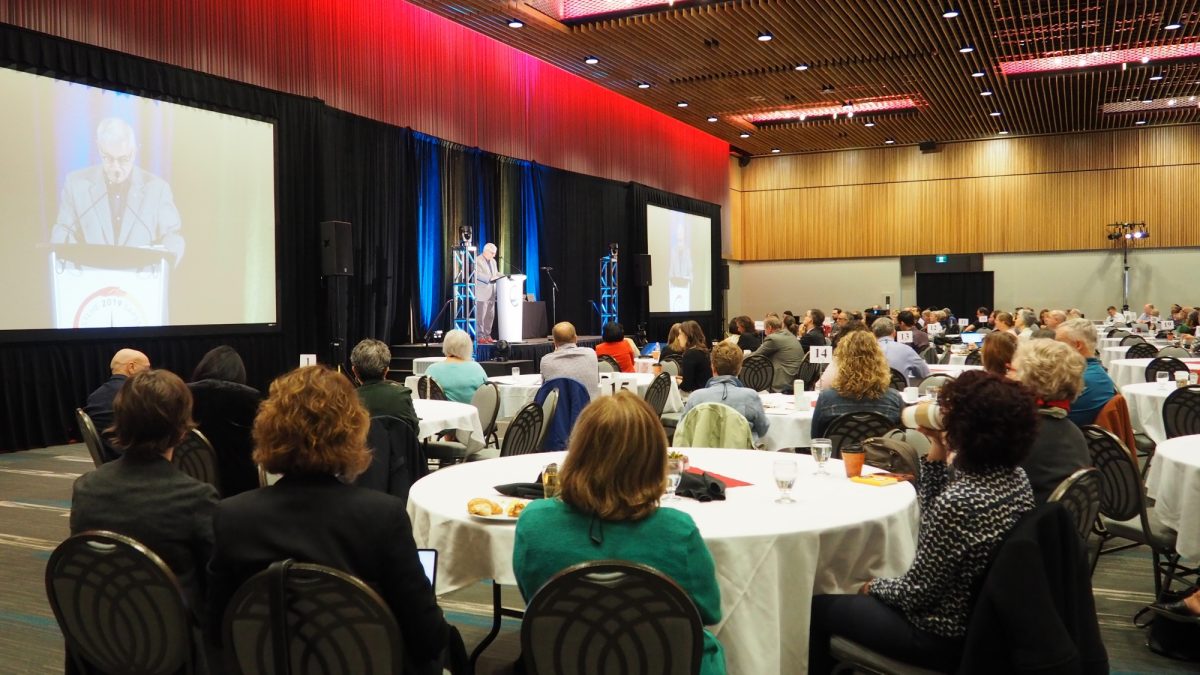 Teaching and learning conference a resounding success
June 20, 2019 —
More than 460 educators and educational developers from across Canada and the world came together in Winnipeg June 11-14 to celebrate their passion for teaching and learning in higher education.
The annual conference of the Society for Teaching and Learning in Higher Education (STLHE) was hosted by the U of M's Centre for the Advancement of Teaching and Learning along with Red River College and Université de Saint-Boniface. It showcased the current trends and innovative practices that are in place in post-secondary institutions.
Several U of M staff, faculty and graduate students shared their experiences and expertise at the conference through a number of topics including personifying diversity, improving emotional and academic outcomes for students with debt, the implications of contract cheating for teaching and learning in Canada and faculty member wellness.
Dieter Schönwetter, associate dean – academic and professor in the Dr. Gerald Niznick College of Dentistry attended both as a participant and presenter. "The conference is an opportunity to connect with colleagues from across the country, make new connections and support and mentor first-time attendees," he says."I especially appreciated being able to share best practices and evidence-based international research through our workshop." In terms of what he has gained by attending this conference that will be of benefit to him and the U of M, he says, "I've made international and national connections and learned new ways of helping guide U of M in terms of equity, diversity and inclusion."
Kari Kumar, area director of program development and assessment in Extended Education, also attended as both a participant and presenter. She explains her reasons for wanting to attend and present at the conference, "I felt it would be a great opportunity to get feedback on some of our current work, while also learning about what others in higher education across Canada are creating, researching, and grappling with. It had been a long time since I attended this conference and I felt it would be a really good time to re-engage with this national community." She mentions that the diversity of attendees and topics presented was her favourite experience. She adds, "Overall, this experience was valuable in giving me inspiration and ideas to thoroughly explore all academic facets of my work, and this is important to me as a faculty member of the U of M."
Shauna Labman, an assistant professor in the Faculty of Law, was taking part in the STLHE conference for the first time. "I am a graduate of the Centre's Teaching and Learning Certificate Program and have been building much of what I learned in that program into my teaching. As academics we should be regularly assessing and reflecting on our teaching techniques and objectives." She adds, "Everyone I spoke with was committed to better preparing their students for the realities and challenges of work beyond their education."
Dietmar Straub, an associate professor in the department of landscape architecture in the Faculty of Architecture was impressed by something much different at the conference – reusable cutlery. He says, "It is my hope that reusables and waste reduction will become the norm for all conferences and other events on all campuses in Winnipeg." He adds, "The University could maintain its own cutlery. It is just the right time to design a timeless set of cutlery with the brand-new and well designed logo on it."
Mark G. Torchia, Vice-Provost (Teaching and Learning) reflected on the conference: "Partnering with our colleagues Université de Saint-Boniface and Red River College provided an amazing opportunity to not only showcase the strength of the teaching and learning network here in Manitoba, but also clearly demonstrate the exceptional commitment from instructors at all institutions to the scholarship and practice of teaching."
Erica Jung, conference chair and associate director in the Centre for the Advancement of Teaching and Learning, remarked, "The conference was a tremendous success because of the high level of engagement on the part of all the partner institutions, the attendees, the organizing committees, and the STLHE community. It was a great time to learn about the work being done in the area of teaching and learning across Canada and even abroad."
Find out about all of the wonderful teachings offered on the pre-conference day at Turtle Lodge.
To view more photos of the conference, click here.