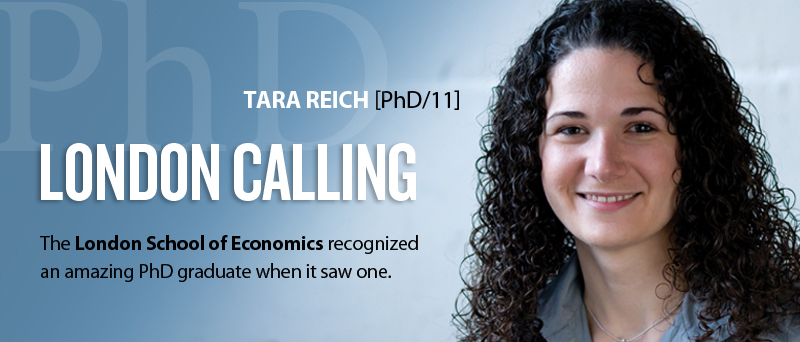 Tara Reich: London Calling
March 7, 2014 —
The path to success is not always a straight line. Just ask Tara Reich (Asper PhD/11).
What began for her as undergraduate studies in psychology at the University of Western Ontario became graduate studies in social psychology at the U of M, then PhD research at the Asper School of Business, which included a short stint as a Visiting Scholar at the Institute of Work Psychology in Sheffield (UK). She is now an Assistant Professor at the London School of Economics and Political Science (LSE), one of the foremost social science universities in the world.
Tara's PhD research focused on observers of workplace aggression. "We know quite a lot about perpetrators and victims, but we don't know a lot about the impact of aggression on those who witness it. This is a significant oversight, because 57% of workplace aggression occurs in the presence of other people. We don't know how observers react or how their perceptions of the people involved may change," she explains. "My research looked at observers who didn't know either the perpetrator or the victim personally and asked, 'What is the fallout for the people involved in the aggression when there are witnesses?'"
Tara came to the Asper School specifically to pursue her PhD research with Associate Professor Sandy Hershcovis, whose research examines the psychology of workplace aggression and sexual harassment.
"I give a lot of credit to Sandy. She was and continues to be an incredible model for my career. She had a big influence on me as a researcher," says Tara. "Any success I may have in this business will always be traced back to Sandy's guidance and support."
Tara's research received the support of both a Social Sciences and Humanities Research Council (SSHRC) grant and a Manitoba Graduate Scholarship. She graduated from the Asper School in 2011 and was offered the position at the LSE shortly after that. "I'm very excited about the opportunity I've been given at the LSE," she says. "The risks I've taken along the way have really paid off."
Her research into workplace aggression continues to grow in new directions – though, she says, "I tend to use the terms 'incivility' and 'workplace mistreatment' now, but I am still working with Sandy on projects that look at the influence of power and gender identity on third-party responses to witnessed mistreatment."
Tara says she owes a great deal of her success to her experience at Asper, which was both "supportive and challenging. Class sizes are small and student mentorship is central to the program, so I got the individual attention I needed, the freedom to find myself academically, and the confidence to fight for my ideas".
She adds, "I have always felt like the School was behind me – even under difficult circumstances. I think that perspective has really helped in the way I deal with students now. PhD students are in an interesting position with regard to power: close to being 'equals' with the academic staff, but that last hurdle (defending the dissertation) can seem like a lifetime away. It's easy to feel like you are on your own. But I think Asper did a really good job of making us feel valued and heard. I try to bring that to my job."
In other words, Tara's path to success may not have traveled in a straight line – but it has brought her full circle to what matters most: using her knowledge and experience to make a difference.