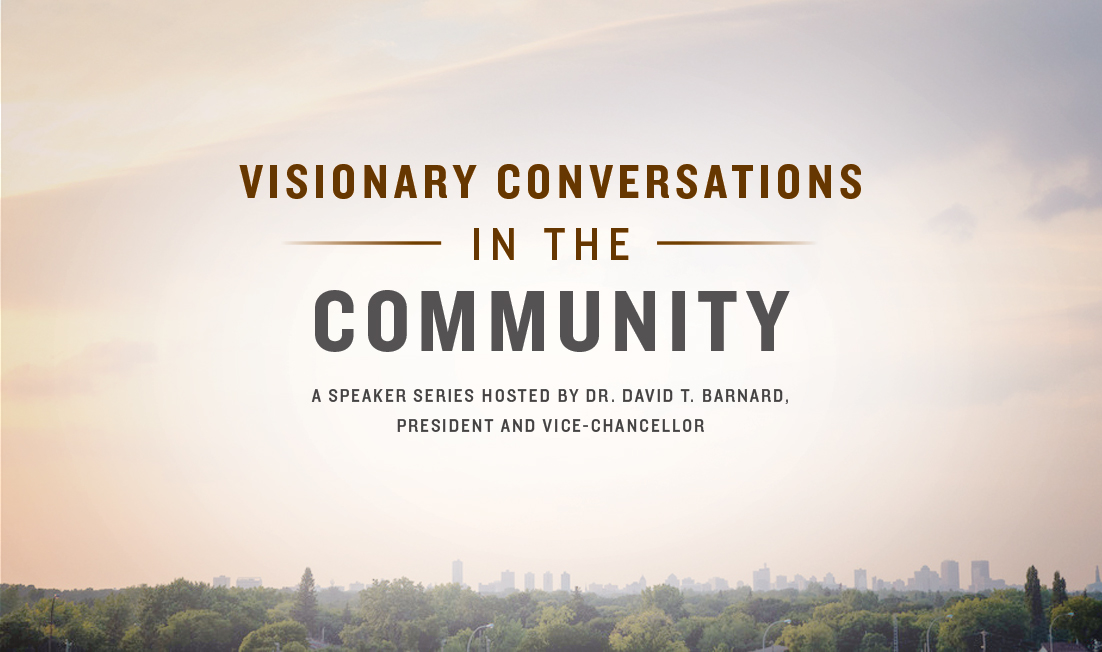 Taking the conversation into the community
Experts from the U of M and beyond gather to explore wide range of topics
October 7, 2015 —
What is more powerful than a conversation that challenges our beliefs, engages our creativity and encourages us to see issues from a whole new angle?
Join President and Vice-Chancellor Dr. David T. Barnard this fall as he hosts Visionary Conversations in the Community—a series for people who love exploring tough questions about fascinating topics.
Taking the series off campus and into the community gives Winnipeg residents a chance to directly engage in topics that affect them and to interact with some of the most prominent thought leaders in the province. The community events build on the success of the on-campus series, by providing intimate opportunities to debate, discuss and explore issues alongside experts and community leaders.
Visionary Conversations in the Community will be held at the Winnipeg Art Gallery. The dates and topics for the community series are:
Wednesday, November 4, 2015
Are we becoming a society of liars, cheats, bullies and thieves?
Do the ongoing scandals and negative advertising in Canadian politics, the popularity of Ashley Madison and the latest doping accusations in sport suggest that we are becoming a less civil society?
Wednesday, February 24, 2016
Has Manitoba put the right value on post-secondary education?
What should Manitobans expect from their post-secondary education system and who should pay?
Wednesday, May 18, 2016
What more can Manitoba's "most powerful" do to open the door to diversity?
Are the doors to Manitoba's inner circles as open as they should be to minorities and those from outside the province?
Bring your thoughts, your questions and your ideas to these interactive conversations with some of the brightest minds in our community.
Winnipeg Art Gallery, 485 Memorial Blvd.
Doors open at 6:30 p.m.
The panel discussion is from 7 p.m. ― 8:30 p.m.
Reception to follow from 8:30 p.m. ― 9:30 p.m.
Admission is free, but seating is limited. To RSVP or for more information, visit: umanitoba.ca/visionaryconversations
or call 204-480-1440.