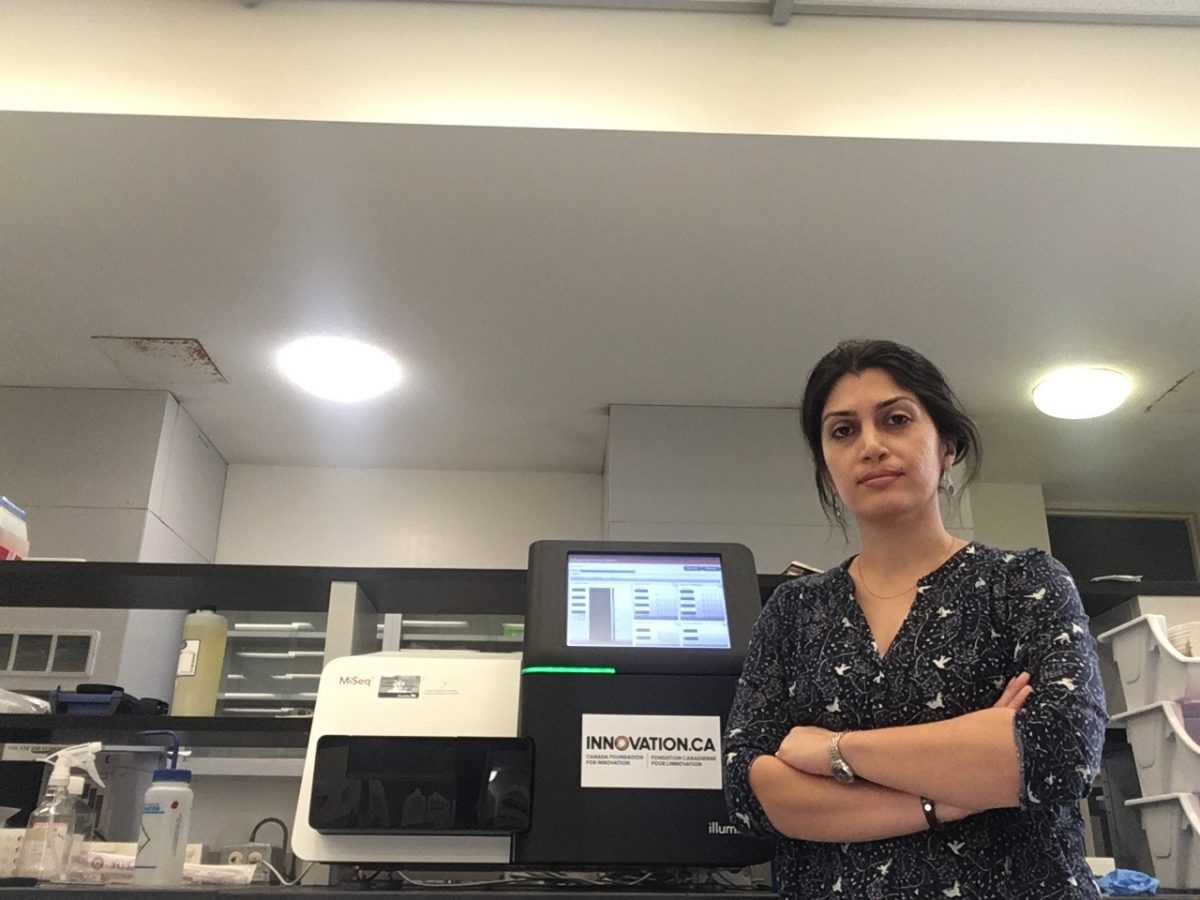 Spring Convocation 2021: Meet the Governor General medal recipients
June 15, 2021 —
Meet some of the incredible members of the University of Manitoba's class of 2021. These students have shown resiliency and strength, and are positioned to shape our world like no class before them.
Today, these six exceptional students will be awarded the Governor General's academic medals, for outstanding achievement at their level of study.
They will graduate during Spring Convocation, June 15-17, on UM's new virtual event platform. Congratulations to all of our grads!
Shirin Moossavi, Max Rady College of Medicine, Rady Faculty of Health Sciences
Governor General's Gold Medal – Awarded for outstanding achievement at the PhD level
Shirin Moossavi's academic background is the embodiment of brilliance and persistence. As she completed her final year of medical school at the Tehran University of Medical Sciences in Iran, it became even more important to Moossavi to be fully immersed in medical research. To witness and be a part of the advancement and innovations in biomedical research that will fundamentally change the face of health care.
She went on to pursue a master's degree in genetics and molecular biology at the University of Sussex in the United Kingdom, and joined the Digestive Disease Research Institute in Iran shortly after to develop her own research program. The collaborations that arose from years of work led her to meet her doctoral supervisor, Dr. Meghan Azad. In 2020, Moossavi received her PhD in medical microbiology from the University of Manitoba. She has since begun her postdoctoral fellowship at the University of Calgary.
With her already impressive list of awards, she says that the Governor General's Gold Medal and the Killam Postdoctoral Fellowship are the most remarkable two. "I feel both of these are recognition of my potential and the implied trust and hope that I use that potential wisely, and to the betterment of science and society," Moossavi says.
She also comments on the grander implications of these awards: "I appreciate that these awards recognize excellence irrespective of citizenship, which speaks to the inclusivity of Canada as a country and the equality of opportunity Canada strives to provide to everyone."
Tasnim Beacon, Max Rady College of Medicine, Rady Faculty of Health Sciences
Governor General's Gold Medal – Awarded for outstanding achievement at the master's level
Before attending the University of Manitoba to complete a master of science from the department of biochemistry and medical genetics, Tasnim Beacon received her bachelor of science in biochemistry from the University of Winnipeg.
She is captivated by bioinformatics and the importance of epigenomics towards understanding the regulation of gene expression. This interest was enlivened during her undergraduate studies and ultimately pushed her to apply to the University of Manitoba's strong epigenetic program.
She has had the chance to be a part of many projects from organizing conferences, science literacy outreach programs across the world, to publishing academic research. It began when Beacon completed her high school education in Bangladesh and became a medical prescription assistant at the Bangabandhu Sheikh Mujib Medical University shortly after. Years later, Beacon continues to serve on multiple international scientific conference committees. Her next step is to pursue a PhD with the College of Pharmacy.
Beacon has managed through the rigorous nature of graduate studies: "I think it all comes down to balancing your course load and research with your other scientific involvement."
She has received a variety of awards, but to Beacon, receiving the Governor General's Gold Medal this year is the greatest recognition of her excellence thus far.
Katrina Bergmann, Faculty of Science
Governor General's Silver Medal – Awarded for outstanding achievement at the undergraduate level (within a degree program at least four years in length)
Choosing physical chemistry as her path in university was a natural choice for Katrina Bergmann. Chemistry had been her favourite high school subject, but even before that, her parents modeled a love for science. Now, Bergmann is graduating with a BSc honours in chemistry and a minor in mathematics.
She reflects fondly on her last four years in the chemistry department as she has experienced wide-ranging research opportunities and formed lifelong relationships with her peers and mentors. Proud to be the VP Finance of UMWIC (University of Manitoba Working for Inclusivity in Chemical Sciences), Bergmann found ways to merge her academic interests with volunteerism and the social aspect of her studies. She values the sense of community, specifically its importance in mental health.
"I struggled with mental illness throughout the course of my degree, which worsened following a difficult diagnosis of a close family member. My peers provided a place where mental health was not stigmatized, and I will always be thankful for their support," Bergmann says. "It's easy to overlook your mental health while in university, but your life is more important than the number on the bottom of your transcript."
Winning the Governor General's Silver Medal, awarded to the undergraduate student who achieves the highest standing in a Bachelor degree program, follows her receipt of the Governor General's Bronze Medal in 2016 at Linden Christian School. She will continue to find success as she begins her PhD program at the University of British Columbia in September 2021.
Deepinder Kumar, Faculty of Science
Governor General's Silver Medal – Awarded for outstanding achievement at the undergraduate level (within a degree program less than four years in length)
As a student at William Lyon Mackenzie Collegiate Institute in North York, Ontario, Deepinder Kumar's high school science courses sparked his interest in pursuing a medical career. That blossomed into him sincerely enjoying even two of the most notoriously difficult science courses at UM, human physiology and biochemistry.
Kumar holds a humble perspective on his awards and scholarships, particularly on receiving the Governor General's Silver Medal. His hard work during the academic year directly resulted in this achievement, but above all he found joy in the simplest part of it all – learning. Kumar also recognizes the work of other graduating students, noting that there are many others who he feels are just as deserving of this award.
Additionally, he credits his parents. As immigrants, they constantly faced and overcame barriers to establish a better life for their family. "Early on they instilled in me the importance of education and have supported me in every way possible throughout my journey," Kumar adds.
Their strength and determination motivate him to maintain the same attitude in his life. He looks forward to carrying this mentality on when he furthers his education at the Max Rady College of Medicine in August 2021.
Bethany Friesen, School of Dental Hygiene, Rady Faculty of Health Sciences
Governor General's Bronze Medal – Awarded for highest standing in a diploma program of at least two years other than the diploma in Agriculture
If there is one thing that Bethany Friesen has always been sure of, it is that she wants a career where she can be instrumental in empowering people to make positive changes in their lives – changes that improve their health, well-being and overall quality of life.
When Friesen finished high school in Steinbach, Manitoba, she did not hesitate to enter into the registered dental assistant program at Red River College. She then became a dental assistant after college and was set on continuing her postsecondary education in the University of Manitoba's dental hygiene diploma program. She stayed focus on her goals, completing her pre-requisites while working as a dental assistant to a general dentist and orthodontist.
For Friesen, the most rewarding parts of the profession is being able to build a trusting relationship with her patients and educating people on ways to better their oral health. After two years at UM, she has secured a position in a dental office in Steinbach where she will work after graduation.
Friesen's experiences as a student have taught her an invaluable lesson. "Everything in life that seems daunting and impossible can be done slowly by taking it one day at a time. This mindset allows me to take each day as it comes instead of getting overwhelmed at the big picture," she says.
Mackenzie Booker, School of Agriculture, Faculty of Agricultural and Food Sciences
Governor General's Bronze Medal – Awarded for highest standing in the two-year diploma program in Agriculture
When Mackenzie Booker started attending the University of Manitoba, she did not have a clear plan for her career. Booker followed her interests in geography and environmental studies, architecture and design, as well as psychiatric nursing at the University of Winnipeg and Brandon University. Regardless, the common ground between all of her academic interests was to find her role in making the world a better place.
Venturing into these different fields meant that she had several chances to try these options. While working her summer job with the department of soil science, Booker realized that concepts of agriculture, such as agricultural sustainability, resonate with her values. Learning about agriculture also allowed her to make deeper connections to her family and their family history.
She learned to embrace her curiosity instead of perceiving these winding roads as a setback. Thus, completing her diploma and receiving the Governor General's Bronze Medal only affirms that Booker has found what is best for her.
Booker's postsecondary experience serves as an inspiration for other students who may feel discouraged, perhaps even defeated, by the idea of changing the direction of their education. "My university path has loops, bridges, trap doors, and fallen trees, but I learned more about myself with every change I made. If I had stuck to the first thing I chose, I know I would not be happy and I would have missed out on learning everything that I have," she explains.