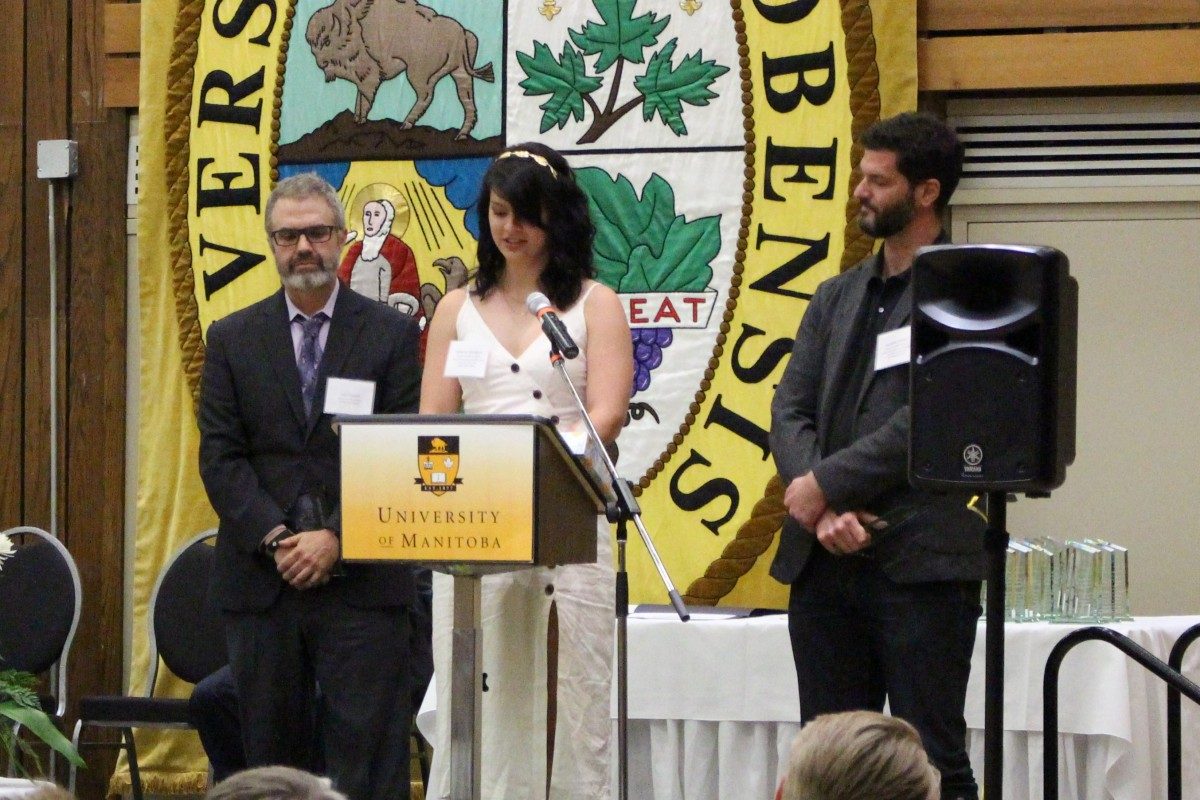 Sharing memories of mentorships at the 26th Annual Students' Teacher Recognition Reception
May 15, 2018 —
Hosted by the Centre for the Advancement of Teaching and Learning, the 26th Annual Students' Teacher Recognition Reception (STRR) was held on Monday, May 14. The STTR provides exceptional graduating students the opportunity to recognize and honour two extraordinary teachers who have had a significant influence on them and their academic career – one teacher from the University of Manitoba and one teacher from their K-12 years.
"We can all remember chances and opportunities when we were exposed to teachers who really connected with us personally," said Dr. David Barnard, President and Vice-Chancellor, University of Manitoba. "For those of us who are teachers, we love to remember the moments when we encounter a student with whom we had a great connection and what a surge of excitement and renewal that it brought to us. It's really something to celebrate."
Over the past 26 years of the initiative, almost 900 teachers have been recognized.
Student's engagement enhanced professor's teaching
Jonathan Peyton, assistant professor, environment and geography remembers graduate student Katarina Djordjevic as an engaged, conscientious and intellectually ambitious student. Djordjevic stood apart with her curiosity and thinking on complex questions of human-environment relations, enriching the lecture and seminar experience for the whole class.
"Always critically engaged, well prepared and, above all, curious about the intellectual foundations and empirical context of class materials, Katarina is also one of the hardest working students that I've met in my time at the University of Manitoba," explained Peyton. "She has written an honours undergraduate thesis about Manitoba Hydro and path dependencies that makes a genuine contribution to scholarship, something exceedingly rare for undergraduate work."
High school teacher can't recall a more memorable student
"Even amongst such an impressive group of former students Katarina stands out as the definition of excellence," said Joel Carson, Djordjevic's former teacher in the International Baccalaureate program at Mira Loma High School in California. "Her scholastic performance was exemplary by any objective measure and her independent research done for her summative IB Internal Assessment is quite possibly some of the best work I've ever seen from a high school student."
Carson says Djordjevic also stood out for her compassionate and kind nature, always volunteering to take on the most difficult task or to do more than her share in any situation.
Promoting education through the empowerment of their students
"As educators that go far beyond the extra mile, Joel Carson and Jonathan Peyton represent cornerstones in my life, as both an academic and individual," said Djordjevic. "I would not be where I am today if it wasn't for them."
Djordjevic described how both educators promoted education through the empowerment of their students, interacting with them to encourage critical thinking and confidence. They helped her realize there is no question to complex, and helped her to develop skills to discover different perspectives and answers through guided exploration. Both teachers enthusiastically engaged with and inspired their students, and most importantly they never ceased to provide meaningful support and guidance.
"I was delighted when (Carson) said he'd be attending the reception," said Djordjevic when asked what she thought of his traveling to Winnipeg from California. "Although, at the same time, I am not entirely surprised, since he is the type of educator that will always selflessly provide support to his students in any way imaginable."
The influence of exceptional teachers is exemplified in a letter Djordjevic sent to Carson in her senior year: "If it wasn't for you I would have never imagined that I'd feel such passion for a subject and I would have never understood what I wanted my future to look like.'"