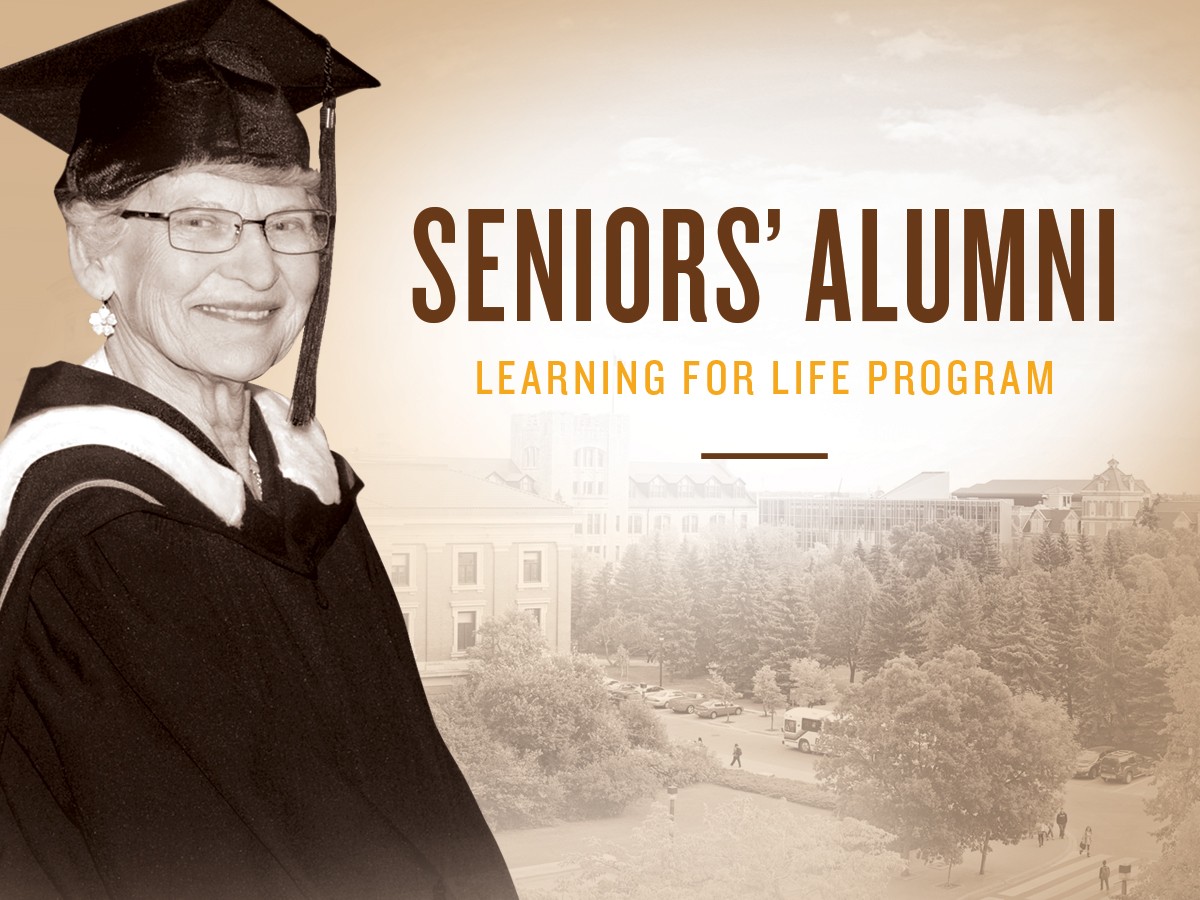 Seniors learning for life
Series looks at history, human rights, climate change and more
August 31, 2015 —
The University of Manitoba is launching an innovative and exciting new program for seniors this fall. From the hidden history of our city to current topics such as the water crisis on First Nations communities, this new series will get Winnipeg seniors talking, learning and engaging with some of the best researchers in their fields.
The Seniors' Alumni Learning for Life Program will provide exclusive opportunities for alumni 60-plus to explore new ideas and hear from professors, researchers and fellow alumni who are some of the University of Manitoba's leading experts and innovators. Participants attending the seven sessions will engage in discussion with the presenters and with others who share their love of learning.
One presenter will be Karen Busby in the Faculty of Law, who will speak on the drinking water crisis in First Nations communities. Renowned for her work on human rights, Busby notes: "More than 70 per cent of water and wastewater systems on First Nations reserves have a high or medium risk of failing and some communities have been under drinking water advisories for almost two decades. What obligations does the federal government have under international or constitutional law to work on fixing this problem?"
The 2015 sessions are:
October 1
Hidden History – Do You Really Know Winnipeg?
Esyllt Jones [MA/97, PhD/03], history, Faculty of Arts, University of Manitoba
Jones is author of Imagining Winnipeg: History Through the Photographs of L.B. Foote, and is co-editor with Gerald Friesen of Prairie Metropolis: New Essays on Winnipeg Social History, winner of the Carol Shields Winnipeg Book Award.
October 15
Planting a Seed – Will Flax End Up in Your Medicine Cabinet?
Grant Pierce [PhD/83], executive director of research, St. Boniface General Hospital; physiology, Faculty of Health Sciences, College of Medicine, University of Manitoba
Pierce's research focuses on metabolism, nutrition and cardiovascular health. His most recent work has identified an exciting new dietary strategy for controlling hypertension.
October 22
Religion and Media – Can We Identify Biases and Misrepresentations?
Jade Weimer [BSc/03, BA(Hons)/06, MA/08], religion, Faculty of Arts, University of Manitoba
Weimer specializes in the social history of Christianity and examines the ways in which various forms of Western media portray different religious traditions.
October 29
A Community For All Ages – How Do Age-Friendly Neighbourhoods Keep Us Fit?
Elizabeth Ready, Faculty of Kinesiology and Recreation Management, University of Manitoba; Health, Leisure and Human Performance Research Institute; Centre on Aging, University of Manitoba
Ready's research focuses on health benefits of physical activity in the elderly, the integration of physical activity into the primary health care system and "age-friendly" communities.
November 5
Aging With a Healthy Brain – How Can We Prevent Alzheimer's Disease?
Zahra Moussavi [PhD/97], director, Biomedical Engineering Program; psychiatry; Centre on Aging, University of Manitoba; Riverview Health Centre
Moussavi's current research includes biological signal processing, diagnostic pattern recognition and medical device instrumentation with applications to sleep apnea and Alzheimer disease.
November 12
The Drinking Water Crisis in First Nations Communities – What Can We Do About It?
Karen Busby [JD/81], law; director, Centre for Human Rights Research, University of Manitoba
Busby is on an inter-disciplinary team looking at the effectiveness of various advocacy strategies to get governments and citizens to care about the disgraceful state of water and sanitation in First Nations communities.
November 19
The Truth About Climate Change – Why Should We Care About Disappearing Arctic Ice?
David Barber [MNRM/89, BPE/82], Canada Research Chair in Arctic System Science, Centre for Earth Observation Science (CEOS), Clayton H. Riddell Faculty of Environment Earth and Resources, University of Manitoba
Barber has extensive experience in the examination of the Arctic marine environment as a 'system' and the effect of climate change. He led the largest International Polar Year (IPY) project in the world, known as the Circumpolar Flaw Lead (CFL) system study.
For more information on the sessions, visit: umanitoba.ca/seniorsalumni
Sessions start on Thursday, October 1, 2015. All sessions will be held in the Richardson Centre for Functional Foods and Nutraceuticals, 196 Innovation Drive in Smartpark, on the west side of the Fort Garry campus. Free, but limited, parking is available in U Lot, a convenient 5-minute walk to the centre.
Each session will run from 9:00 a.m. to 11:30 a.m. The total cost is $100, including all seven sessions.
This exciting program is open to alumni and friends of the University of Manitoba.
Registration ends September 23, 2015.
For more information email Jacqueline Onagi at jacqueline [dot] onagi [at] umanitoba [dot] ca or call 204-474-8932.