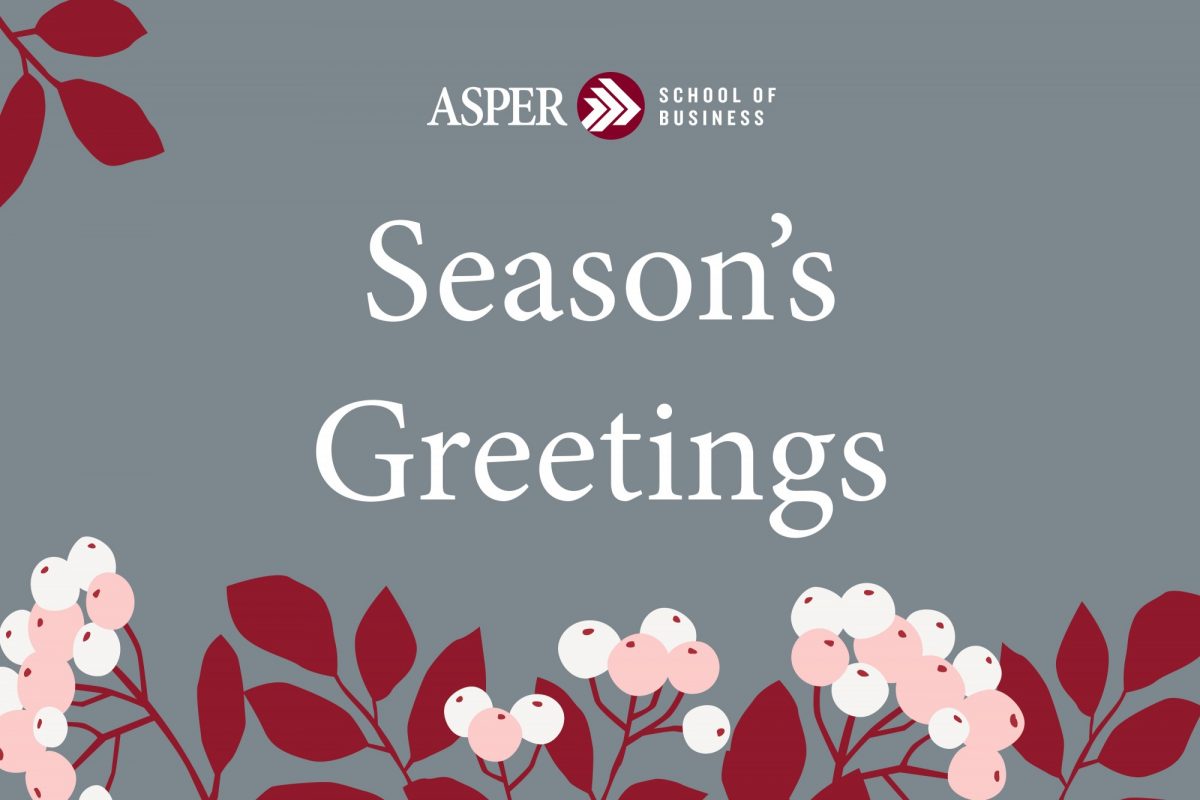 Season's Greetings from Dr. Gady Jacoby
Celebrating our resilience and agility in 2020 while preparing for future success.
December 22, 2020 —
As we come to the end of this unique and challenging year, I want to commend all of you for your resilience and agility, and highlight some of the key accomplishments we can collectively celebrate at the Asper School of Business.
We started the year with the launch of our Pursuing our Asper-ations Strategic Plan. The values articulated in this plan grounded us in our mission while reminding us that adaptability and agility are essential in preparing for the future.
We also celebrated one of the best performances to date at the 2020 JDC West Competition, reinforcing Asper's place as a top Canadian business school. Team Toba, won awards in a mix of categories including third overall as Academic School of the Year among 12 of the premier post-secondary institutions across Western Canada.
The Asper community also cheered on our Asper MBA and Asper MFin students as they competed in case competitions in early in 2020 and celebrated an outstanding performance from our MBA students when they placed second overall at the Ivy Haskayne East Meets West Case competition.
In mid-March, when the pandemic abruptly changed our course, we all demonstrated resilience and I am so proud of how all our faculty and staff came together in outstanding ways to move our entire teaching model to the virtual realm while still focusing on providing excellent student experience. We even made history by hosting the U of M's very first virtual class and this trailblazing example set the tone for the entire year.
Our MSc and PhD students also quickly adapted to the new reality the pandemic imposed on researchers. Throughout the year, our graduate research students resumed active (virtual) participation on international conferences and seminar series where they presented their work and had significant success in publishing their work.
One of our first initiatives following the breakout of the COVID-19 pandemic was prioritizing student support by creating an emergency student relief fund for Asper students facing financial challenges due to the pandemic. Through the combined financial support from faculty, staff, and the Associates, I am proud to report that the Asper School of Business created an emergency relief fund for our students. The aforementioned generous giving combined with a School budgetary reallocation allowed us to distribute more than $469,000 to undergraduate and graduate students in need.
To recognize our business connections and most importantly, give back — the Asper School of Business created the Small Business Consulting Course. Recognizing the urgent need within the community, this undergraduate course supported the Manitoba business community by providing students an opportunity to work with small businesses to help find solutions to their current challenges. The course launched in September with 26 students providing consulting work to the 12 local businesses that signed-up to participate. This class was an excellent opportunity for our School to give back to local businesses and we are proud of the interest the program received from the local and national media, from students, from the community, and even from the Prime Minister's Office.
As a significant win for our school and our community, the proposal for an increased admission capacity for the Bachelor of Commerce Program was approved and applied this fall term. The Asper School was successful in obtaining approval to admit 110 more undergraduate students annually and as a result, the Asper School can admit up to 584 BComm students each year.
As we moved into the fall term, the Asper School of Business took a proactive approach to prioritize equity, diversity and inclusion (EDI) at our School. We established an Asper EDI Task Force, which will proactively address discrimination and foster a more inclusive learning environment for every single student that attends or interacts with the Asper School of Business. We also held the inaugural session on EDI as a part of the Asper orientation where five Asper students and alumni shared adverse experiences of discrimination and bias at the School. The personal experiences and insights shared by the panel participants will help inspire a cultural shift and raise awareness of the challenges facing our School. I believe this is an important turning point for Asper.
As we finish off the year, we are thrilled to launch the Master of Supply Chain Management and Logistics (MSCM) program at Asper's Stu Clark Graduate School. We are excited to introduce this degree to the local, national and international community and to welcome our first student cohort in fall 2021.
I end the year on a note of gratitude. I am grateful to you – Asper students – who showed an incredible ability to adjust to the new (and hopefully short-lived) normal, while practicing agility, resilience, and hard work alongside compassion towards their family members, friends, peers, and Asper professors and staff. I am also grateful to the dedication of our faculty to creating new ways to engage our students and to the support of our staff to ensure we are providing you with the best student experience possible.
While we consider with compassion the suffering caused to many by the pandemic, we should also recognize the rare opportunity for personal growth that accompanied this human tragedy. This year brought opportunities for learning new insights about ourselves as individuals, about us as a community and a society, and about humanity. These insights make us better equipped for future self- and collective-improvement.
I wish you and yours the very best for the season and for safe winter break.
May 2021 bring good health, happiness, and success to all!
Dr. Gady Jacoby
Dean and CPA Manitoba Chair in Business Leadership
I.H. Asper School of Business