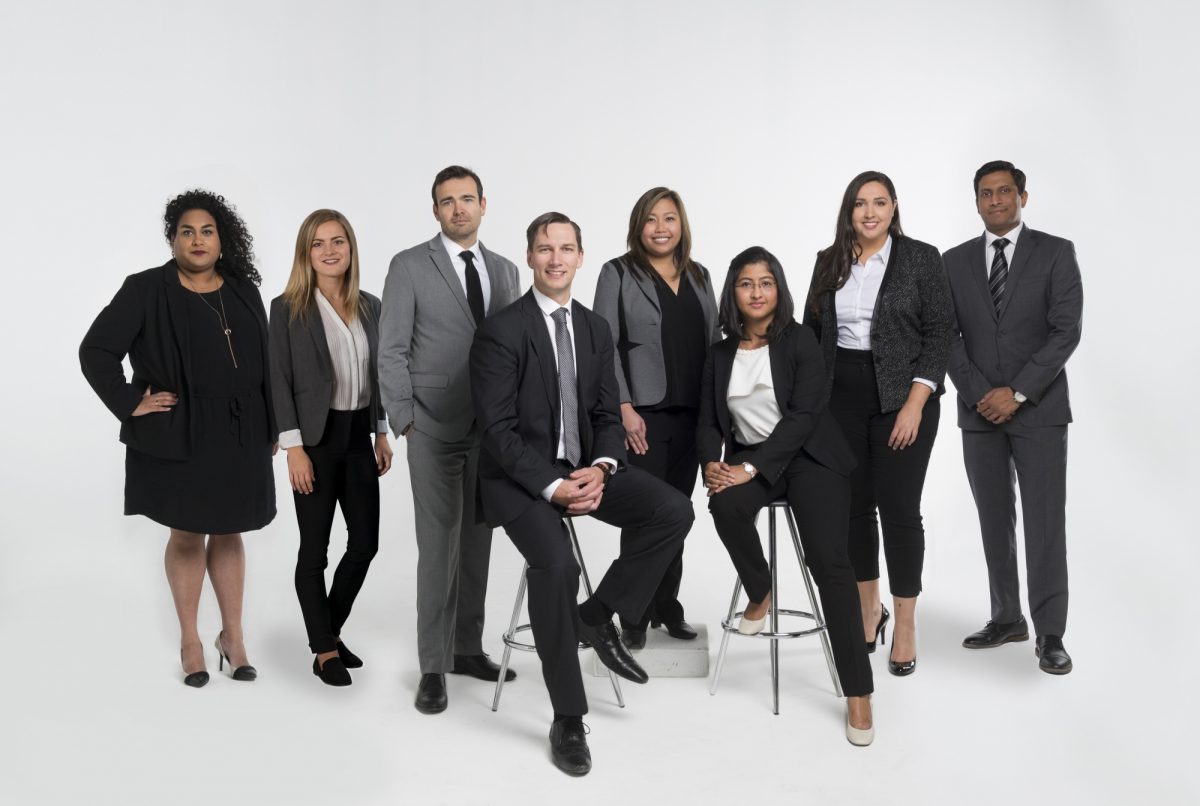 Asper MBA case teams ready to compete
After months of practice and a series of competitions, two Asper MBA teams are prepared to apply the skills, knowledge and experience they've gained in class to compete with some of the best business schools in the world.
The Asper School of Business will be cheering on our team of students and coaches heading to two upcoming case competitions, the East Meets West MBA Leadership Case Competition in Calgary from February 5th to 9th and the CSR Challenge 2020 in Montreal from March 19th to 22nd.
Our Asper MBA teams head into these competitions with high expectations thanks to our School's strong performance history at top international competitions along with a solid support team led by Asper MBA alumna, instructor and volunteer team coach Judy Jayasuryia [MBA/14].
"The team has been working diligently to prepare for these competitions," says Jayasuryia. "The students have worked hard to explore a range of business challenges and are excited to interact with other national and international MBA students, to learn – not just from the cases they explore and the business professionals they interact with – but also from connections they make with other students at the competition."
The Asper School of Business will be sending the MBA student team comprised of Meycee Kalaw, Matthew Stephens, Tara Chawla and Suroshree Das along with alumni assistant coaches Aditya Kedia [MBA/18] and Arly Akerstream [MBA/17] to the East Meets West MBA Leadership Competition, jointly hosted by Ivey's Ian O. Ihnatowycz Institute for Leadership and the Canadian Centre for Advanced Leadership in Business at the Haskayne School of Business. The competition challenges team members to work through business cases that balance the fiscal and ethical demands of strong leadership. The Asper School of Business team won first place at this competition in 2019.
Team member Meycee Kalaw, has been part of the case competition team since staring the Business Case Analysis class last summer. Specializing in Leadership and Organizations, Kalaw will graduate with her MBA in 2021. Kalaw says that while the preparation for the competitions has been challenging, the team has received support through the process.
"There were days when it was challenging to balance work, school, personal life, and case practices, but we have had tremendous support. We have had help from countless Asper students and alumni to help our team be competition-ready," says Kalaw. "This whole journey has been remarkable, and we would not have been able to do it without the incredible support of the coaches, volunteers, school, and our family and friends along the way. We would love to win [at East Meets West 2020] to make Asper, our coaches, volunteers, family, and friends proud."
Following the East Meets West competition, coach Jayasuryia and volunteer coaches Kedia and Akerstream will be preparing MBA students Larissa Kanhai, Travis Bale, Matt Borgford and Darshit Agravat for the CSR Challenge, hosted by HEC in Montreal. According to the competition website, approximately 25 teams from across Canada, the United States, the UK, France, and Spain will be challenged to think outside-the-box and explore solutions to the social and environmental challenges faced by modern businesses.
Veteran team member Matt Borgford is part of the group heading to CSR competition. In his final year of the Asper MBA program, Borgford has competed at six separate case competitions over the past two years and was part of the Asper MBA winning team at the East Meets West Case Competition in 2019 and won second place at the Ethics in Action case competition this past November.
As a Process Improvement Professional and Six Sigma Black Belt for Maple Leaf Foods, Borgford says preparing for this CSR and sustainability-focused competition has expanded his perspective.
"Our team is researching existing models and frameworks as it relates to corporate social responsibility and sustainability," says Borgford. "Sustainability and corporate social responsibility are definitely important topics and the case competition forces us to expand our perspective. When you're competing in an intense environment with a group of people, you push your knowledge and focus on identifying solutions that are relevant to that area."
While Borgford hopes the team comes out with a podium finish, he says the competitions are about more than wins. "The case competitions are an experience I try to lap up because it's a great learning opportunity to expand your perspective and consider dimensions and aspects that you wouldn't have otherwise considered. Also, it's a great opportunity to meet emerging leaders, connect and grow your network with individuals from across the globe."
Follow the Asper MBA team results on the Asper MBA Facebook page and on our Asper School of Business Twitter account @asperschool in February and March.