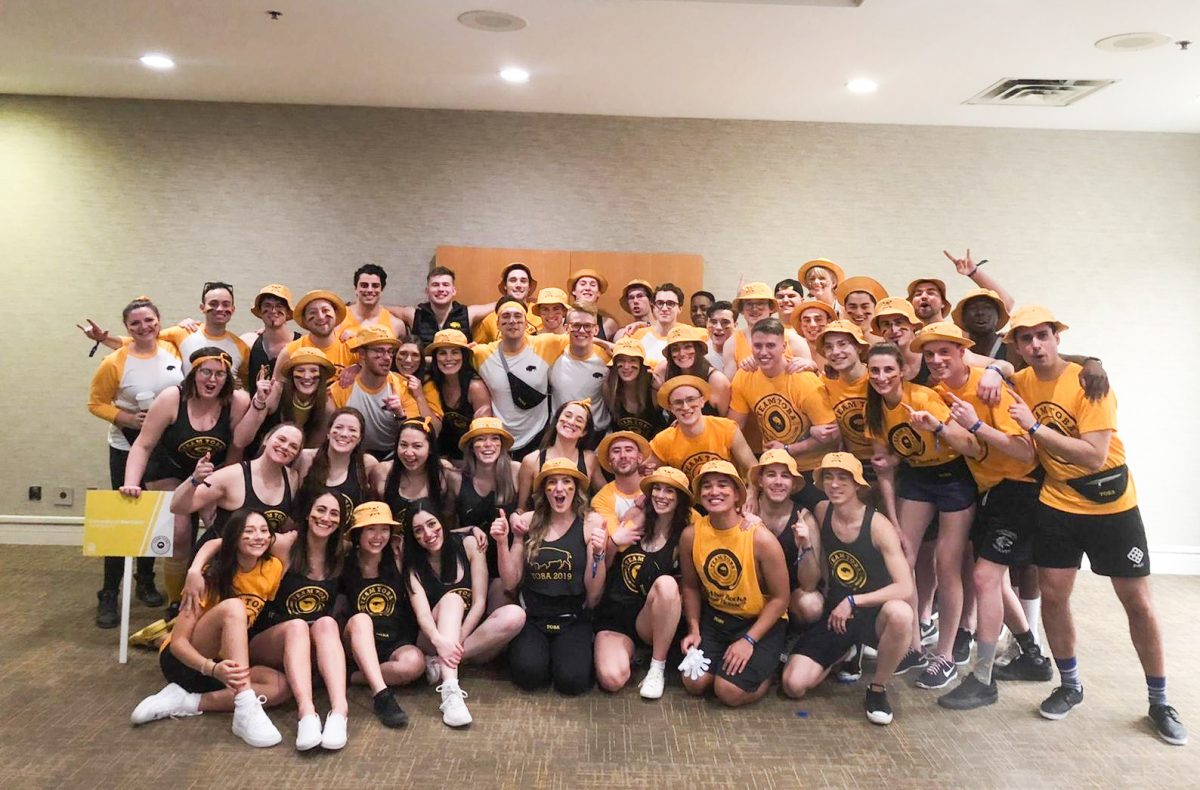 Team Toba "rocks the house" at JDC West 2020
January 30, 2020 —
With one of the best performances to date, the Asper School of Business reinforced its place as a top Canadian business school at the 2020 JDC West Competition in Regina, Saskatchewan from January 17-19, 2020. The three-day event showcases academics, athletics, debate, and out-of-the-box social competitions.
Team Toba, co-captained by Christine Sheppard and Jacquelyn Townsend, won awards in a mix of categories. Asper placed third overall as Academic School of the Year among twelve of the premier post-secondary institutions across Western Canada. This result was a product of the combined scores for all teams in each of the academic case categories, including debate.
Team Toba's preparation and cross-discipline collaboration paid off with a range of podium finishes.
Asper's individual academic teams had a number of top podium finishes, including:
1st place – Finance
2nd place – Business technology
2nd place – Marketing
2nd place – International business
3rd place – Debate
Asper placed in a number of non-academic categories, including:
2nd place – Participation
2nd place – Skit night performance
"The key to our team's success was their never-ending drive to improve week after week. Our teams put in countless hours preparing for the competition and it was incredible to see their hard work pay off," says Co-Captain Jacquelyn Townsend.
Along with the academic, athletic and debate preparations, Team Toba made significant philanthropic and volunteer contributions to compete at event, raising impressive funds at the annual Chillin' for Charity event and dedicating more than 2,200 volunteer hours to Shinerama and United Way Winnipeg.
Team Toba also received significant support from Asper alumni, Associates and partners in the business community. More than 50 volunteers devoted significant hours coaching the teams in specialties such as operations management, finance, marketing, human resources and business strategy. The volunteer coaches also ran workshops and helped secure sponsorship from the business community.
"I believe we performed so well due to a combination of diverse coaching and team dedication," says Co-Captain Townsend. "Without alumni support, Team Toba would definitely not be where we are today and we are extremely grateful to have such dedicated alumni that continuously support our team."
Asper alumnus, Jesse Greenberg [BComm (Hons)/17], was one of the alumni coaches that helped prepare the JDC West students. Greenberg competed with the JDC West team when he was an Asper student and said that his role this year was to support the international business team and provide a perspective from someone who has competed at JDC West in the recent past.
In his second year as a JDC coach, Greenberg noted that volunteering for the team has additional benefits. "I get a lot out of being there right beside the other coaches and listening to the feedback they give to the competitors. I'm able to practice my ability to give feedback to others while gaining amazing insights from some very experienced professionals in the city."
The Asper School of Business' outstanding alumni commitment will be advantageous when Asper hosts the 2021 JDC West Competition that will welcome approximately 1,300 attendees and 650 undergraduate delegates to our city next January.
"With the work of our amazing students and dedicated alumni, we plan to make JDC West 2021 the best showing Asper has ever had at a JDC West competition," says Dr. Gady Jacoby, Dean and CPA Manitoba Chair in Business Leadership, Asper School of Business. This prestigious event will be an opportunity to showcase our School and the strength of our business community."
—
In addition to our student success, Dr. Lukas Neville, Asper School of Business Assistant Professor in Organizational Behaviour, was named Faculty Advisor of the Year. He was selected from advisors from 12 of the top post secondary institutions across western Canada.
Dr. Neville has been involved as a coach for the JDC West team since 2014, initially starting out as not-for-profit team coach and then being asked this year to fill the faculty advisor position with Asper Professor, Dr. Howard Harmatz.
"I inherited the faculty advisor role from Mary Brabston. It had been her baby for a long time and she has put a huge amount of effort into building a really strong foundation for this team," says Neville.
On being named as JDC West Faculty Advisor of the year, Neville directed his attention to how the students performed.
"It's gratifying, but to be honest the award I'm most excited about is the students' third place win as academic school of the year… I was just so proud of the team because they had poured their heart and soul into the competition."
—