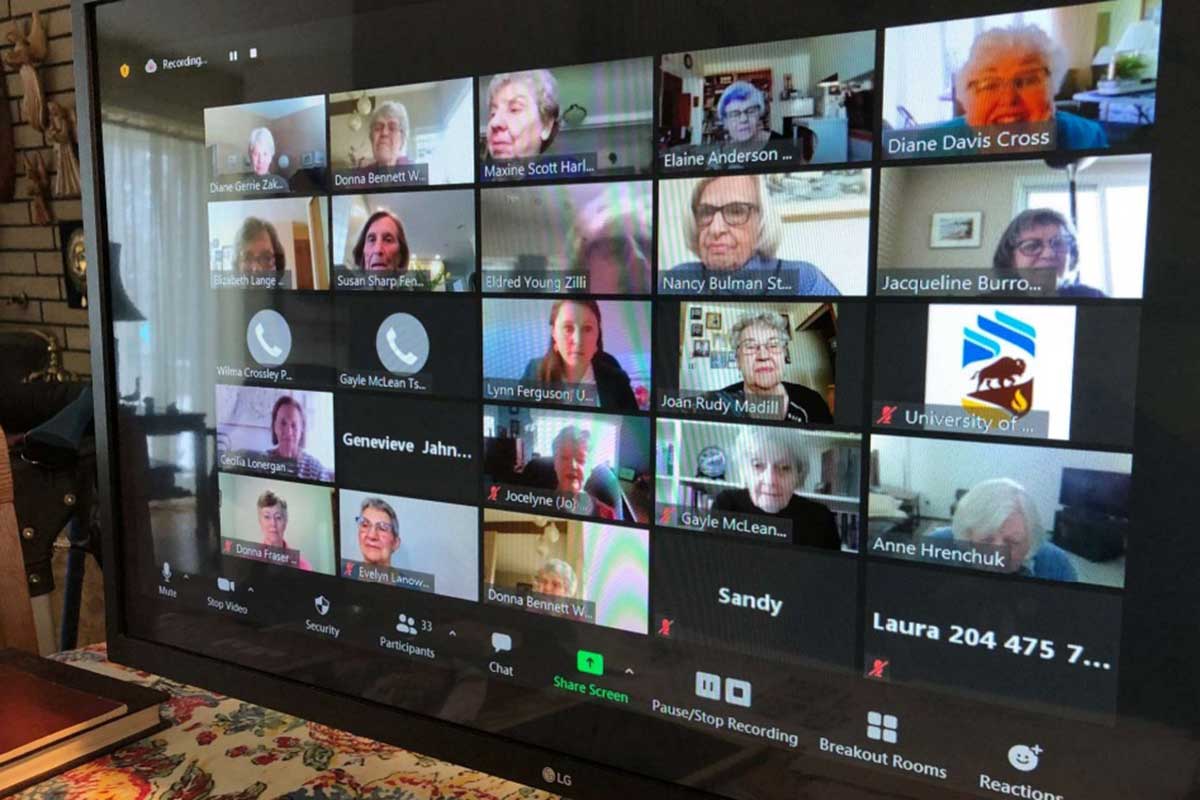 Revitalizing friendships and the value of volunteering
UM Home Ec alumni celebrate their 60th reunion, discuss the importance of volunteering during National Volunteer Week
April 26, 2022 —
"My parents were great role models as volunteers, so it came naturally to me beginning as a young person," says UM alum Jo-Ann McCabe [BScHEc/60] when asked about why she's dedicated so much of her life to volunteering. "It's part of being a citizen of a community, it's part of life."
Warm words and a great reminder during this year's National Volunteer Week (April 24-30).
"Whether it's with kids or adults, it's always so fulfilling," adds Sally Shwetz [BSCHEc/60, CertEd/80], a fellow UM alum and McCabe's former classmate. "There's a huge warmth with everybody coming together and making something happen."
"The biggest event I volunteered for was the Jeux Canada Games as Chair of the cultural component called 'Creative Canada Creatif' in 1981," continues McCabe. "It was a three-year planning event, a huge undertaking, but it was also one of the most rewarding volunteer experiences of my life."
Shwetz has spent many years volunteering with church groups, youth groups and at summer camps, while McCabe's volunteering passions lie with her community theatre group, the Ageless Players.
"The joy that it brings to people has always fueled my love of volunteering," continues McCabe. "It also satisfies the social part of my personality in places that I enjoy, such as the theatre."
The two women's commitment to community began back in their university days and they also recently celebrated the milestone 60th anniversary of their graduation from Home Economics at UM with a virtual reunion and tea party over Zoom.
"I think there were 27 of us in this event. We had people from Quebec, all the way to B.C., a couple in the States, all across the continent," explains Shwetz. "It was so much fun over the course of the two hours, a lot of storytelling, everybody was laughing and we had such a good time with the pictures."
"Sally and I talked about the event by phone over a number of weeks," adds McCabe. "It renewed our friendship even though we were miles apart."
Unfortunately, the reunion also had some melancholy moments.
"The saddest part of the planning was learning of the passing of some of our fellow girls," says McCabe. "I was honoured to pay tribute to them with a poem called Afterglo."
Otherwise, it was a gleeful gathering, with plenty of stories, memories, and hilarious comments, including this exchange:
"You need to sit on a cushion because we can't see you behind your name on the screen."
"I'm already sitting on three pillows."
"Well get another one!"
The University of Manitoba is proud to recognize the life-long volunteer efforts of alumni like Shwetz and McCabe and congratulates them on their milestone reunion.
"Lynn and the Alumni Relations team put together this wonderful book for us with pictures and highlights from the reunion," adds Shwetz. "It was such a lovely ending to the event, we'll treasure this book forever."
If you're interested in planning a class reunion of your own, visit the Alumni Reunions webpage, or contact Lynn Ferguson directly.
And for information regarding volunteering opportunities on campus, visit the UM Community Volunteers Program page.