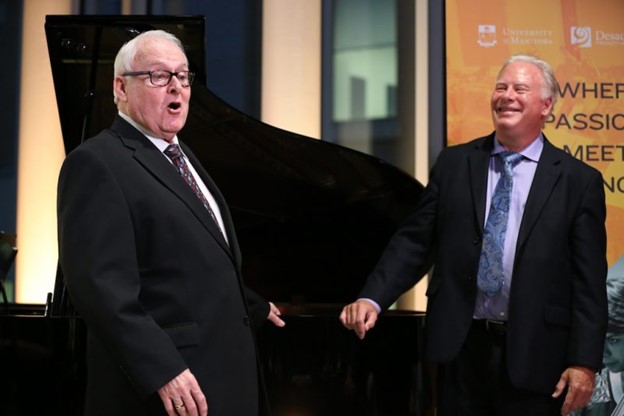 Remembering UM benefactor, alumnus Marcel A. Desautels, CM, OOnt, OM
January 31, 2023 —
Former business leader Marcel André Desautels, one of the University of Manitoba's most distinguished benefactors and alumni, has passed away. He was 88.
Desautels [BA (LatPh)/55, LLB/59, LLM/65, LLD (Hons)/99] was one of Canada's most generous patrons of post-secondary education. The founder of Creditel of Canada Inc., the nation's largest commercial credit and debt recovery organization, he sold the company in 1996 and distributed the proceeds—more than $110 million—to the nation's top universities—including $26.5 million to his alma mater.
Most of Marcel's generosity was directed to business and law schools, including UM's I.H. Asper School of Business and Desautels Centre for Private Enterprise and the Law, and business and law scholarships in each. However, his $20 million gift to the Faculty of Music in 2008 was his largest—in fact the largest private donation the University had ever received, and one of the biggest ever for a department or school of music in Canada.
Half of the donation is an endowment fund supporting scholarships and programs in the renamed Desautels Faculty of Music; the rest is funding a new concert hall, currently under construction, which will bear his name.
"Marcel's legacy at UM is immeasurable," said Dr. Michael Benarroch, President and Vice-Chancellor. "We are deeply grateful for the investments he made in the education and future of our students as well as his commitment to arts and culture in this province. Our thoughts are with his family as we say goodbye to an incredible leader and visionary."
His gift to the Faculty of Music stemmed from his love of opera and his passion for performing. Born in 1934 in St. Boniface, Desautels as a boy sang at St. Boniface Cathedral and later at weddings, funerals, and local clubs including the Hollow Mug, to pay his university tuition. The francophone tenor, known to his friends as "Mars," came to believe that music was important for a person's complete development.
Desautels continued singing and taking private lessons even as he earned multiple law degrees and began his career. He practised law privately before joining Great-West Life and, later, the Treasury Board of Canada. In 1968, he became general manager of Canadawide Parking Services in Montreal, which prepared him to take over Creditel—a small credit firm—in 1971. By the time he sold it to an American competitor 25 years later, the company had expanded to 16 offices nationwide, with 800 employees.
After retiring from business, Desautels devoted his time to meeting students and working closely with each of the universities he supported. His annual trips to Winnipeg to meet the Desautels scholars and hear them perform were highlights of the year for both him and the Faculty.
Desautels received the highest civilian honours when he was named a member of the Order of Canada in 2008. He was also a member of the Order of Ontario and was proud to be named to the Order of Manitoba in 2019. Several universities presented him with honorary degrees, including UM in 1999.
The University of Manitoba has lowered its Admin Building flag to honour Destautels.