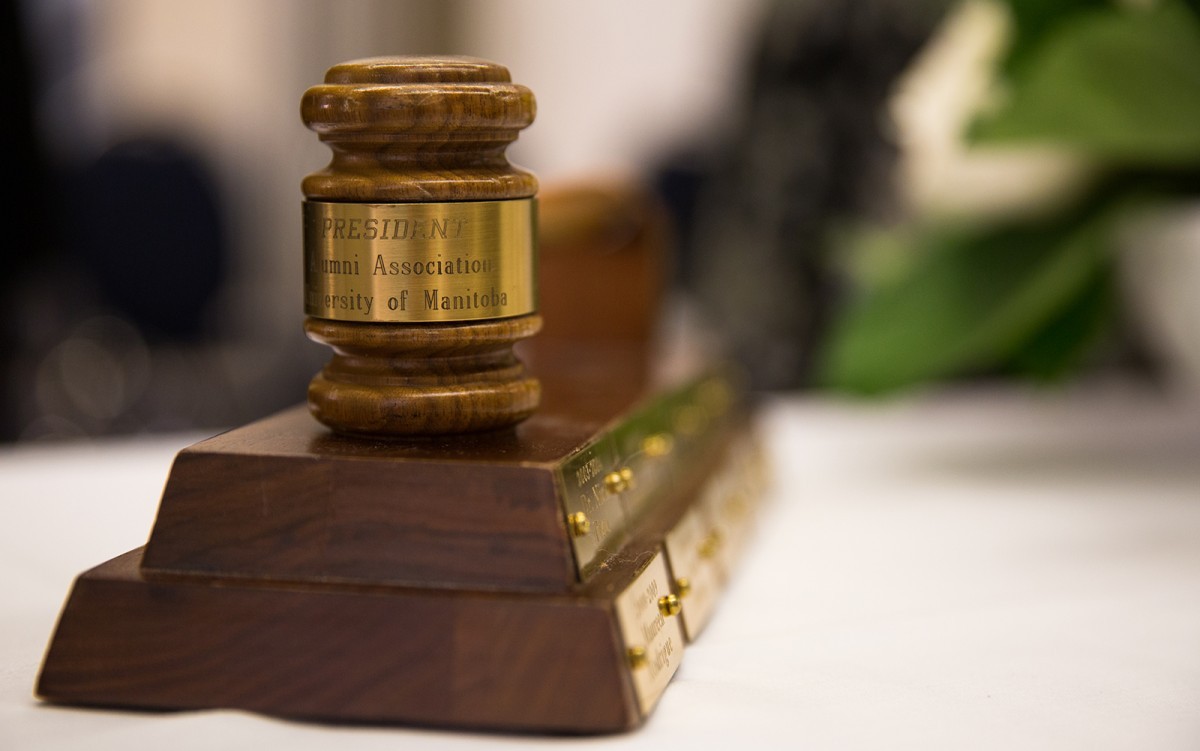 Reflecting on a year of success for the Alumni Association
June 11, 2015 —
The University of Manitoba Alumni Association met on Monday, June 8 for their annual general meeting. The success of the Association's matching campaign, new student awards, and the Distinguished Alumni Awards were among the key reflections discussed at the yearly meeting.
Outgoing Alumni Association President Jeff Lieberman looked back on his term before passing the gavel to incoming president Kim Metcalfe.
"The Distinguished Alumni Awards Celebration of Excellence was a highlight of my term as President and I was honoured to be able to participate in recognizing the accomplishments of our five award recipients; Marion Meadmore, Nick Logan, Wayne Davies, Juliette (Archie) Cooper and Tito Daodu," said Leiberman.
Lieberman said he was fortunate to see the exciting ways in which the Alumni Association connects with U of M graduates in terms of the three Alumni Association pillars: student engagement, lifelong learning and alumni achievement.
"It has been a truly rewarding experience to be a part of all of the activity constantly happening at the U of M."
Perhaps the biggest achievement for the Alumni Association last year was the launch of the $1 million matching campaign. The philanthropic initiative had a goal of raising $2 million to support the Active Living Centre and the university's graduate students. Thanks to the generosity of more than 1,700 alumni the goal was met in a spectacular fashion. In total, $2,177,714.02 was raised.
This year, the Alumni Association, in consultation with Financial Aid and Awards and Alumni Relations, also created three scholarships for incoming and current students. An entrance scholarship and two undergraduate awards – one with special consideration for Indigenous students – will provide $1,000 each to winning recipients.
Former treasurer and longstanding member of the Association board, Kim Metcalfe, was voted in as the new Association president. "I am looking forward to working with my fellow board members and am pleased to represent over 132,000 fellow alumni who share many of the experiences that I had while a student at the University of Manitoba, and continue to build on the success we have had over the last year under Jeff's leadership."
2015-16 Alumni Association Board of Directors
EXECUTIVE COMMITTEE:
Kim Metcalfe, President
Jeff Lieberman, Past President
Ken Kustra, Treasurer & Vice-President* (Student Engagement)
Dawn Nedohin-Macek, Vice-President (Alumni Achievement)
Jerome Knysh, Vice-President (Lifelong Learning)
Heather Reichert, Member at Large
Barbara Axworthy, Secretary, Ex-Officio
*When a board member holds 2 executive positions, an additional member at large will be added to the executive committee
BOARD OF DIRECTORS: (includes Executive members)
Rene Chu, DMD/08
Jerome Knysh, BSc(IE)/84, ExtEd/87, MBA/90
Ken Kustra, BSc/99, BComm(Hons)/02, CA/05
Laura Rempel, BEnvD/06, MCP/14
Jeffrey Lieberman, BA /80, BComm(Hons)/83
Kim Metcalfe, BComm (Hons)/97, CA/00
Nancy Militano, BA/85, BRS/02
Dawn Nedohin-Macek, BSc (CompE)/02
Michael Puchniak, BA(Adv)/03, LLB/08
Heather Reichert, BComm (Hons)/83, CA/86
Michael Silicz, BA(Hons)/05, MA/07, LLB/09, MPAdm/13
Blair Worb, BA/85, BSW/87
UNIVERSITY REPRESENTATIVES:
John Kearsey, Vice-President (External), Representing the University President
Tony Iacopino, Representing the Provost's Council
Jeremiah Kopp, President, University of Manitoba Students' Union
Kristjan Mann, BA/11, BA(Adv)/13 President, Manitoba Graduate's Student Association
ELECTED TO THE BOARD OF GOVERNORS:
Shona Connelly, BA/81, MA/90
Heather Reichert, BComm(Hons)/83, CA/86
Rennie Zegalski, BComm (Hons)/95
STANDING COMMITTEE CHAIRS:
Executive: Kim Metcalfe
Finance: Ken Kustra
Nominating: Jeff Lieberman