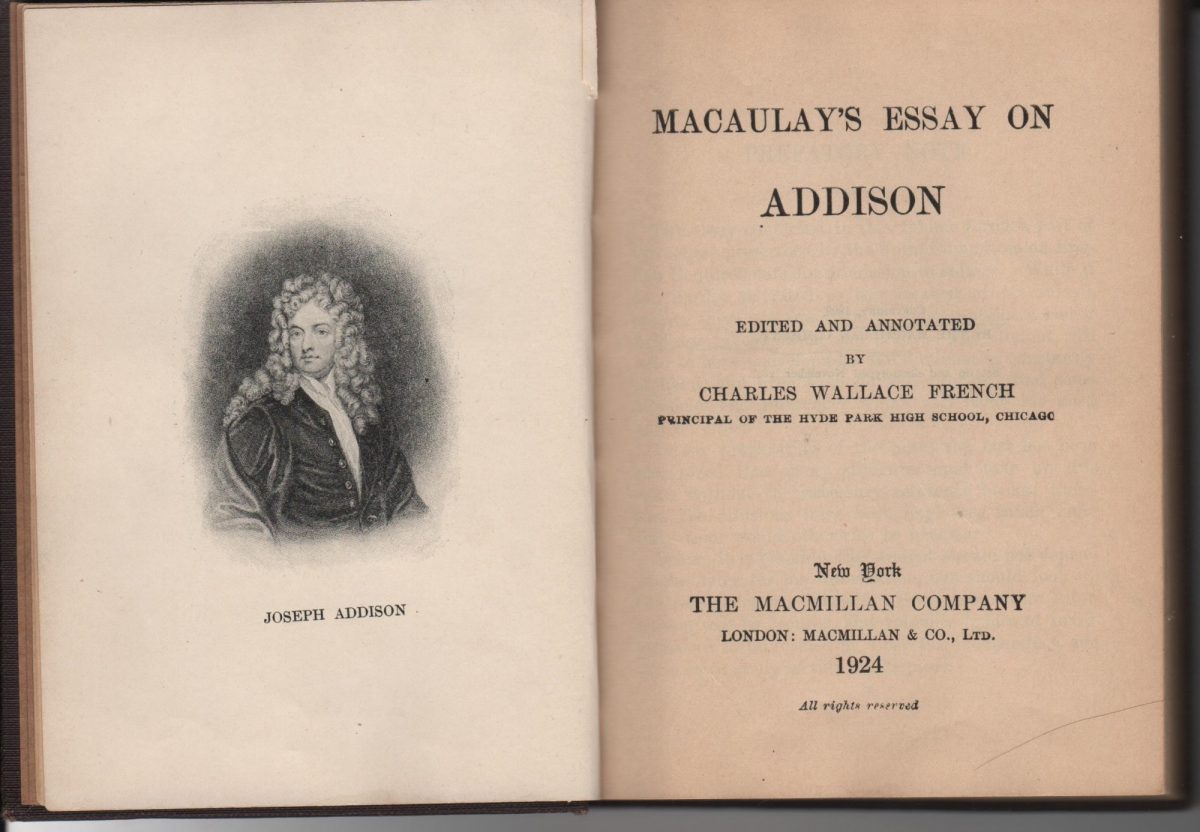 Rare book acquired by UM Archives features "marginalia" by Marshall McLuhan
November 22, 2022 —
The University of Manitoba Archives & Special Collections recently acquired a copy of a book titled Macaulay's Essay on Addison. The book had been owned by world renowned Canadian media ecology guru and writer Marshall McLuhan during his Kelvin High School years in Winnipeg in the late 1920s. Edited and annotated by Charles Wallace French and published in New York by The Macmillan Company in 1924, the item's significance is its extensive marginalia or annotations and underlining, at least some of which McLuhan likely added himself, reflecting his ongoing interest with historian Thomas Babington Macaulay and his writing.
UM archivist Brian Hubner notes: "McLuhan juvenilia is not commonly found in his archived documents. This book influenced McLuhan's later thinking and ideas, and it is interesting that during McLuhan's undergraduate years, the first of his several essays which appeared in the student newspaper, The Manitoban, was about Macaulay."
McLuhan's essay "Macaulay— What a Man!" originally appeared in the October 28, 1930, issue of the Manitoban and was re-printed, along with 13 more of his articles published between 1931 and 1934 in a special commemorative issue of the newspaper in 2011. All the articles in "A Century of Marshall McLuhan," published on the auspicious occasion of the 100th anniversary of his birth, are available free online.
Hubner explains that Macaulay was an English Whig politician and historian who served as the Secretary at War from 1839-1841 under Prime Minister The Viscount Melbourne and as Paymaster General from 1846-1848 under Prime Minister Lord John Russell in the British government. He is probably best known for his chef d'oeuvre The History of England, ultimately published in five volumes between 1848 and 1859.
"Given that McLuhan's essay on Macaulay was his first known published work, the latter's influence on the young McLuhan cannot be denied," says Hubner. According to Concordia researcher Tina Edan, Macaulay was one of McLuhan's most "significant influences" in his undergraduate years at the University of Manitoba.
Macaulay's Essay on Addison was purchased with funding from Archives & Special Collections with additional major funding provided from the Roland R. and Doris M. Engel Family Fund at The Winnipeg Foundation. The book is available for consultation at the Archives Reading Room in Dafoe Library, Monday to Friday during normal operating hours.
Read more about Marshall McLuhan here.
For more information, contact:
Brian Hubner, UM Archives & Special Collections
Brian [dot] Hubner [at] umanitoba [dot] ca
Phone: (204) 474-7967