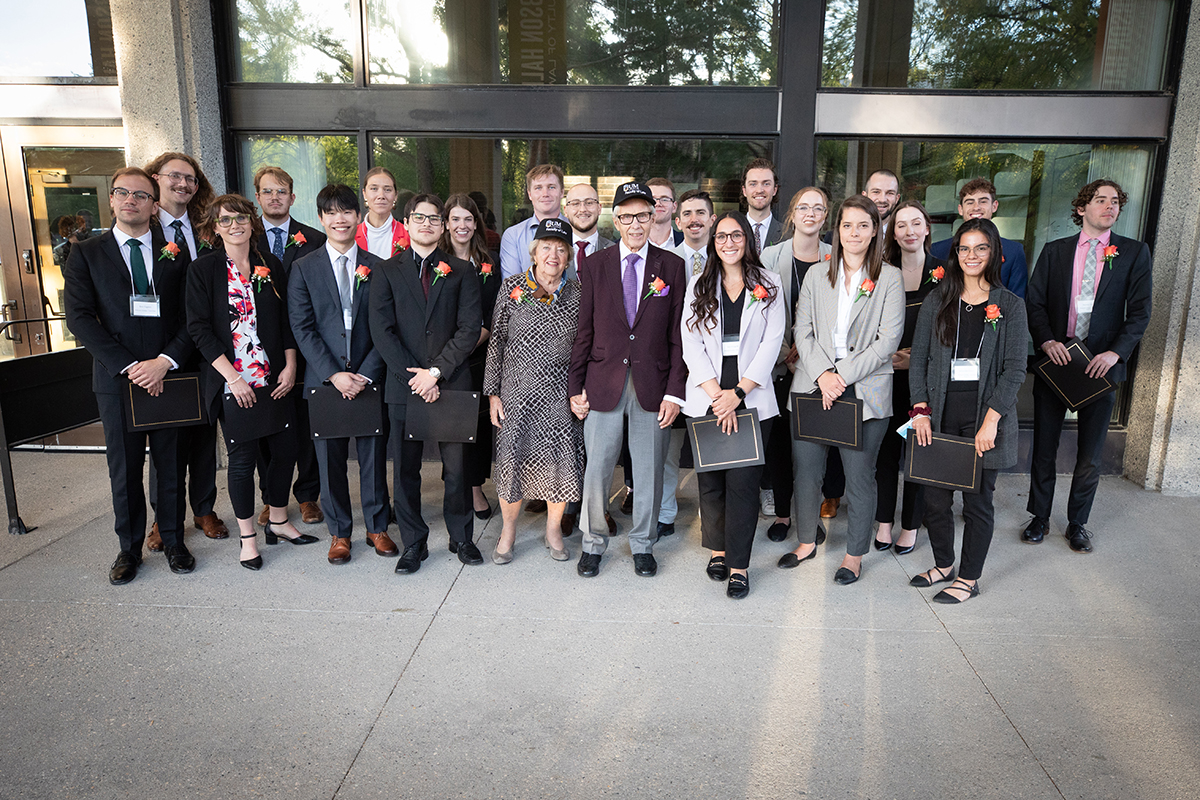 Creating a legacy for future generations
Philanthropists Jim and Sandra Pitblado will have a lasting impact through their generosity
March 24, 2023 —
For the past 20 years, Jim and Sandra Pitblado have changed the lives of more than 260 of UM's top law students through their generous scholarship program, the Pitblado Scholars.
Jim credits the education he received at UM as the basis for all his career accomplishments and strongly believes in the potential of young minds to shape the future. "My grandfather and father were both graduates of UM and stayed very involved with the school. Due to family and personal ties, the University was always something I wanted to support. I wanted to find a way to have a connection with students while honoring my family name."
In the 20 years since the program was established, Jim and Sandra have connected with countless students whose lives have been impacted by their generosity. Many go on to make significant contributions to their profession and in the communities they serve.
"Being a Pitblado Scholar allowed me the freedom to focus on my studies, but more than that, gave me the motivation that allowed me to succeed. It set me up for success and opened opportunities for me," said 2004 and 2005 recipient, Kathleen McCandless, who is now a Partner at Pitblado LLP.
Jim and Sandra's commitment goes beyond the Pitblado Scholar's program. They have also chosen to include a gift to UM in their will. "For most people, giving ends on the day they die. But a bequest can generate income from investments, so your support does not extinguish on your death. It really is the gift that keeps on giving."
This year marks the 140th anniversary of the Isbister Legacy Society, a society composed of planned giving donors at the University of Manitoba. Jim and Sandra's commitment serves as a reminder of the power of legacy giving and its ability to make a lasting impact. "The 140th anniversary is an opportunity to learn about what you can do to support your university. People can make a significant difference after they pass away. Planned giving is a profound way to support your alma mater in perpetuity."
Jim and Sandra's goal is to make a lasting impact on the world through their support of students and education. "We want to provide both financial and emotional support to help students on their journey and be recognized for their hard work. I believe that recognition is important for students. It's important for them to know that someone believes in them."
Whether you are supporting health as a human right, advancing reconciliation and promoting Indigenous achievement, climate change research, or transforming the learning experience, you are making the world a better place.
Read more in our Gratitude Report