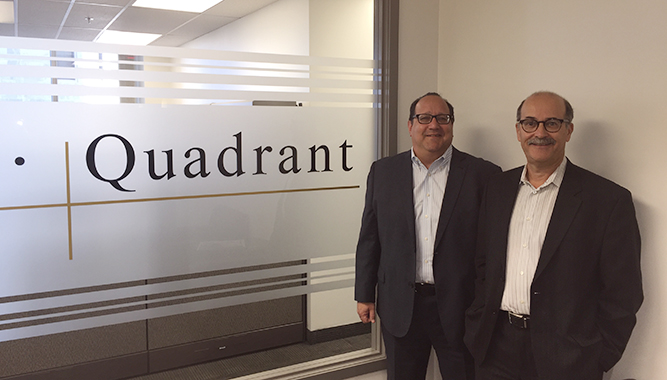 Paying It Forward
Asper alumni sponsor inaugural Quadrant Asset Management Investment Conference
September 29, 2015 —
Michael Susser [BComm(Hons)/83, CPA, CMA, CIM, TEP, FICB] and Murray Palay [BComm(Hons)/78, L.LB, TEP], managing directors of Quadrant Asset Management, know a thing or two about meaningful investment. The two Asper alumni are giving back to their school in a big way by committing support to a new series of world-class academic conferences to be held biennially over the next 10 years.
Hosted by the Asper School of Business, the inaugural Quadrant Asset Management Investment Conference will be held Friday, October 2 at the James W. Burns Executive Education Centre in downtown Winnipeg.
Susser says Quadrant's decision to commit 10 years of title sponsorship to the conference makes perfect sense for a company that favours acting on its values over spending money on advertising.
"We have the opportunity to help and participate in a world-class academic conference that brings together leading academics and practitioners to discuss timely research vital to the field of investment finance," he explains. "The conference will help raise the profile of the Asper School, where Murray and I first got our start in the field, as a first-rate business school."
Palay and Susser, who both have children attending the Asper School, say Quadrant's support of the conference is a meaningful contribution to the future of the industry and community. "Quadrant has hired Asper grads in the past, and looks to the school as a source of future talent."
They say they're impressed by the conference's organizer, Chi Liao, an assistant professor in the Department of Finance. Liao joined the Asper School in 2014 after finishing her PhD at the University of Toronto. Her research aims to understand investor behaviour and the consequences of decision-making on investment performance and corporate finance
The conference's theme for this year is behavioural finance. Speakers will address a range of topics related to financial decision-making and risk "at a time when investor behaviour is increasingly important, in light of the 2008 financial crises and more recently, the drama in global financial markets this past summer," Liao says.
More information:
Quadrant Asset Management Investment Conference website
In the news:
Winnipeg Free Press: "U of M financial conference draws world-class talent"