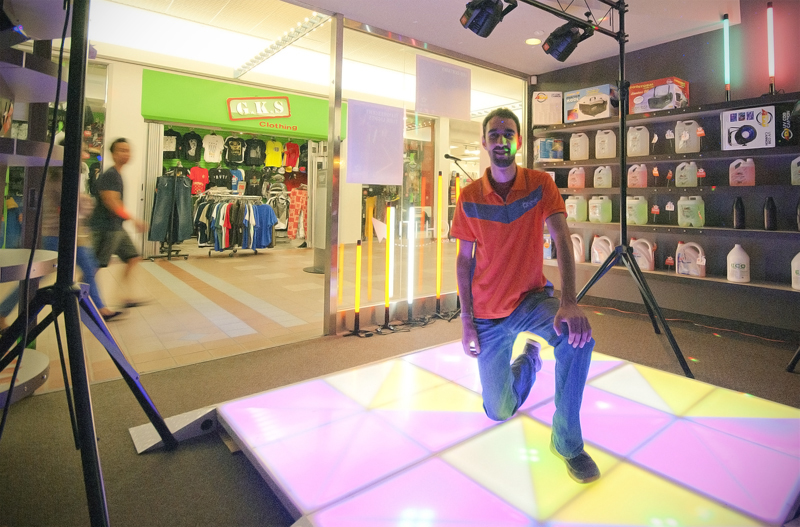 Party-preneur
October 13, 2015 —
The summer of 2015 was party time for Asper grad Sinan Leylek. Spark Rentals, a startup he launched after graduating, was awarded rent-free storefront space in Portage Place Shopping Centre from June to August by Winnipeg's Downtown BIZ and its Launch It! Retail Incubator and Pop-up Shop initiative. Spark Rentals supplies DJ and party equipment for house parties, bands, movie shoots, cultural events and weddings.
"It's been a great summer. Business has been building week after week," says Leylek. "Which is surprising because, as you can imagine, this isn't exactly an impulse buy kind of business."
Leylek's retail space, which he shares with two other Launch It! businesses, showcases some impressive-looking equipment and supplies — including an LED dance floor that lights up under your feet, and smoke machines that produce coloured fog effects. "The advantage of having this space is that it generates attention about what I'm offering. It's great for catching the eye of potential partners and collaborators who might be walking past in the mall. People like DJs, event organizers."
His website has seen a significant boost in online traffic, as well, and he's already exploring ways to expand across Canada and into the United States by working with local suppliers to fulfill equipment orders.
Leylek graduated from the Asper School of Business in 2014 with a Bachelor of Commerce (Honours) in Marketing and Entrepreneurship. He says he was "hugely inspired" by courses he took with the late Reg Litz, who taught entrepreneurship and small business. "He taught me so much about creativity and value.
Leylek also says his entrepreneurial know-how benefited from taking part in opportunities outside the classroom, including the Commerce Students' Association, and Asper's International Exchange and Co-operative Education programs. "Some of those connections are still paying off. One of my former co-op employers recently found me much-needed storage space at the last minute when a shipment finally came in from China," he laughs.
Leylek was also a dedicated member of CEO Manitoba, an Asper student group that connects budding entrepreneurs with startup opportunities and resources. It was on the Startup Bus Crawl, an event hosted by CEO Manitoba, that he first heard about the Launch It! initiative and decided to give it a try.
"I already had the business plan more or less in place because Spark Rentals grew out of another company I'd started earlier in my degree," he explains. That earlier company had impressed judges at several business competitions, including Enactus and Wes Nicol. Those judges encouraged him to shape his ideas and envision how the company might grow.
At the moment, Spark Rentals remains a one-man show. Leylek hires friends and family members on occasion to help him get equipment to where it needs to go. Meanwhile, every week continues to expose him to new experiences. He joined the Winnipeg Chamber of Commerce and attended a networking event for vendors at the Canadian Museum for Human Rights, where he made contact with big-name event professionals and learned what kind of inventory he'd need to supply equipment for large-scale occasions, which is one area he's considering expanding into.
"Making those kinds of connections also opened my eyes to the creative possibilities of my business," he says. "For instance, I met someone who plans events for Mercedez-Benz. They talked about hiring upside-down bartenders to pour drinks while hanging from the ceiling." He looks around the Spark Rentals pop-up space, as if imagining how he might fit acrobats into the display. "So many possibilities," he says.