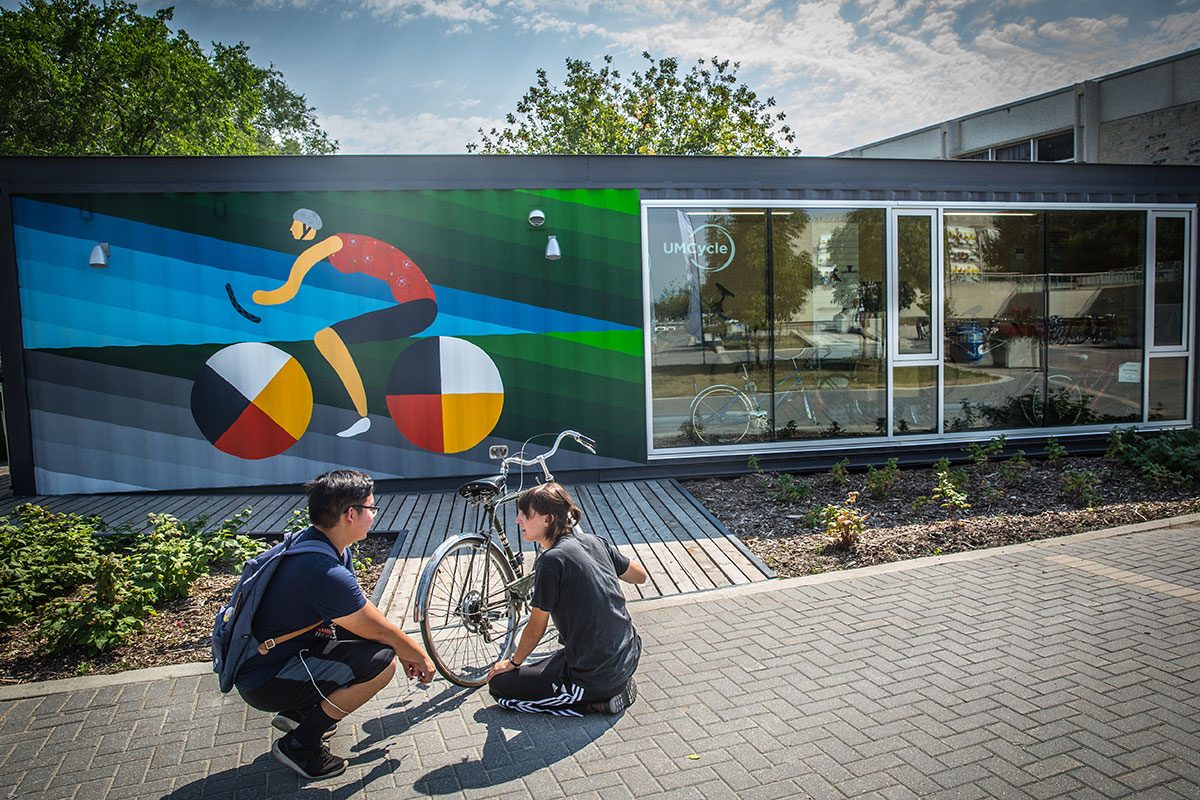 Partners help U of M enhance The Great Trail
September 14, 2017 —
The University of Manitoba opened the UMCycle Bike Kiosk, a new hub along The Great Trail, on Sept. 14.
Coun. Janice Lukes (South Winnipeg-St. Norbert ward) and Indigenous artists and alumni Kenneth Lavallee and Dee Barsy joined the celebrations. Lavallee and Barsy painted Indigenous-themed murals on the full-service community bike shop, which will help the university further achieve its sustainability goals and better connect it to the surrounding communities.
This facility is also a welcome addition to Coun. Lukes's ward, who is an advocate for active transportation.
"I'm very pleased to be providing funding and support for this new bike kiosk which is enabling increased use of active transportation in south Winnipeg," says Lukes. "The University of Manitoba and the University of Manitoba Students' Union is demonstrating strong community engagement and leadership by opening up this unique amenity for use by residents in the surrounding neighbourhoods."
The development of The Great Trail, formerly known as the Trans Canada Trail, which this new kiosk is now a part of, was made possible thanks to $145,125 in Canada 150 Infrastructure Program funding from the Government of Canada through Western Economic Diversification Canada.
"The Federal government is proud to support this enhancement of the Great Trail in south Winnipeg," said Terry Duguid, Member of Parliament for Winnipeg South. "Active transportation is an important component of healthy communities and we are pleased to partner with the University of Manitoba and the University of Manitoba Students' Union to make this project a reality."
Contributions of $30,000 from the City of Winnipeg under the Community Incentive Grant Program, $60,000 from the University of Manitoba Student's Union (UMSU), and $115,000 from U of M also made this project possible.
"The Cycle Plaza and Bike Kiosk have formed an active transportation hub, which the University of Manitoba supports in the 2017-2022 Sustainable Transportation Strategy," Andrew Konowalchuk, Associate Vice-President (Administration), said. "Having a bike kiosk on campus allows our students, staff, faculty and community members to have access to sufficient services to make active transportation easier, more convenient and more enjoyable every day."
The refurbished shipping container is a full-service bike shop that welcomes everyone and is operated by UMSU.
"We're very excited to offer a bike repair service to students on campus and to the community," said UMSU President, Tanjit Nagra. "Being on a commuter campus can be challenging, that is why we are very excited to offer a service for students and staff that bike to campus."
This new building fits in a larger development plan: The University of Manitoba Trans Canada Trail Greenway and High Street Landscape project. This initiative relies upon Indigenous design principles to realign The Great Trail from University Crescent to the heart of the Fort Garry campus. The resulting upgrades will ensure a better connection between campus and surrounding neighbourhoods, and the trail will better align with other City of Winnipeg Active Transportation infrastructure projects, helping create a high quality, city-wide Active Transportation network.
About the design principles the new space is based upon
This kiosk is informed by the Indigenous Planning and Design Principles embraced by the University of Manitoba. These principles have been established to guide planning and design on all University lands and campuses, based on the high priority placed on Indigenous Achievement and reconciliation at the University of Manitoba. These principles were developed collaboratively under the guidance of an Indigenous Advisory Committee and Subcommittee, and supported by the University's Indigenous Advisory Circle.