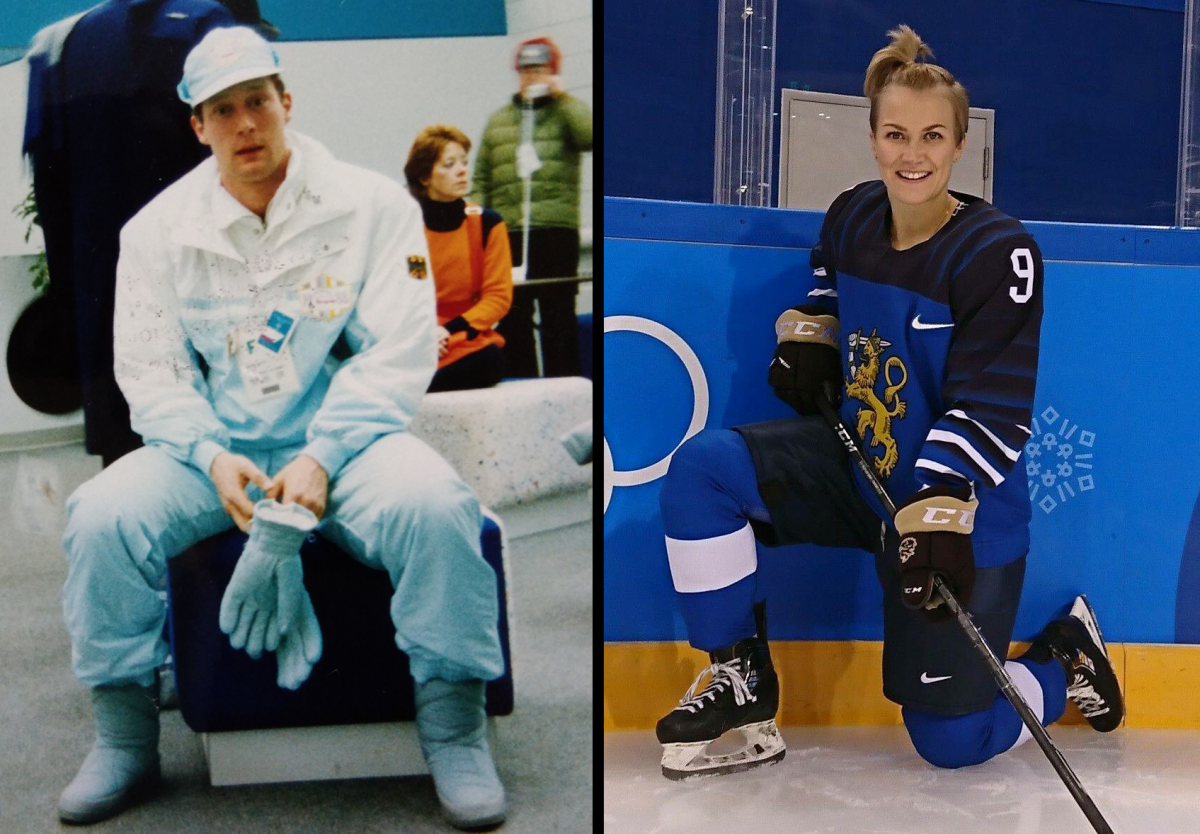 Olympians among us
February 13, 2018 —
As you make your way through campus to class or wait in line for a cup of coffee, you may have passed or stood beside two athletes of the highest calibre without even knowing.
Venla Hovi [CTESL/17] and Professor Jacky Baltes are two Olympic athletes who call the U of M home.
Hovi, a fourth-year Bison and three-time Olympian, is currently in Pyeongchang competing for her native Finland in women's hockey. The Bison forward scored the first and only goal for the Finns during Sunday's game against team USA.
Before his days in the Department of Computer Science, Dr. Baltes was a speed skater in his home-country of Germany. A three-time German national champion, he competed for West Germany during the 1984 Olympics in Sarajevo and Calgary in 1988.
UM Today spoke to both Olympians about their experience and how the Games have influenced their University life.
UM Today: YOU'VE BOTH BEEN TO MULTIPLE OLYMPIC GAMES. CAN YOU DESCRIBE WHAT YOUR OVERALL EXPERIENCE WAS LIKE?
Venla: My previous and current experiences have been very positive. I'm very thankful to be here in Pyeongchang with all these amazing athletes. The atmosphere is hard to describe, but it can be anything between excitement, nervous feelings, happiness and disappointments.
Vancouver in 2010 was a dream come true. It's a beautiful city and no better place for a hockey player than Canada. The fans were insane and the whole memory of those Games gives me the chills. Somehow the Canadian fans supported us a lot throughout the whole tournament, so it was almost like playing at home.
Jacky: The Olympics are the greatest for lots of athletes. Most sports have world championships every year, but once every four years you get to meet all the other athletes in other sports. All of a sudden there is a lot of interest from the public. You still have to train and prepare, but during lunch and dinner, you could often chat with many other athletes.
WHEN BOTH OF YOU PARTICIPATED IN THE OLYMPICS, YOU DID SO FOR COUNTRIES OTHER THAN CANADA. TELL US ABOUT TEAM FINLAND AND TEAM GERMANY. DID YOU HAVE ANY RITUALS?
Venla: We listen to a lot of Finnish music, our sense of humour is out of control, and we all miss the sauna every day.
Jacky: Speed skating is an individual sport, so our "team" was just loosely coupled individuals. I did not have any rituals myself except waving to my parents in the stands before the race.
WHAT IS YOUR BEST MEMORY FROM THE OLYMPICS?
Venla: Our Vancouver bronze medal and the feeling after the last game. Also my first Olympic goal was a cool experience—that was also in Vancouver.
Jacky: The closing ceremony of the 1988 Winter Olympics. There was a big party in the athletes' village afterwards. I met Nick Moore, one of the volunteers, and he organized that I would stay with his family for a couple of days after the Olympics. They became my home away from home in Calgary and we are still in contact.
WHAT DID YOU BRING HOME WITH YOU?
Venla: I've brought memories that I shared with my teammates and team clothes I liked wearing. Those will always remind me of the amazing times.
Jacky: I usually swap team clothing with other athletes. I am not sure about Sarajevo, but in Calgary I swapped jackets with an American athlete. I also stole Olympic flags from Sarajevo and Calgary.
HOW HAS PARTICIPATING CHANGED YOUR WORLDVIEW?
Venla: I've become extremely aware of the fact that I'm very lucky to be a part of the world's biggest sporting event. I've learned to enjoy each day leading into the Olympics, but also to make the most out of every second here.
I've definitely learned to value different cultures, and notice how you can do a single thing in so many ways. A good example would be different diets that athletes from other countries have and different workout or warm-up routines. Their preparation for games and venues also differs in terms of the mental and physical. Every moment is a great moment to learn something new.
Jacky: It really gave me a boost to meet so many interesting people from all different sports—all very dedicated to their training and trying to be their best.
Sarajevo was nice. I did not get to see much of the city—only the hotel and skating ring, but they put on a nice show. I remember how happy people were during the opening ceremonies. I was extremely sad when I saw the pictures of the siege of Sarajevo in 1992, which also destroyed the skating ring
WHAT DO YOU WISH PEOPLE HERE AT HOME KNEW ABOUT THE OLYMPICS?
Venla: That we have a food tent here that's open 24/7, and a big game room where you can go play pool and other games with other athletes. The Olympic village is like a little town, anything you need, it's there!
Jacky: There are some overpaid drama queens in sports, but most of the athletes train hard for years while working at the same time. They will never get big sponsorship monies, so the Olympics is their only chance to shine.
BOTH OF YOU HAVE SAID THE OLYMPICS HAD AN IMPACT ON YOUR UNIVERSITY LIFE, OR VICE VERSA. VENLA, HOW DID YOUR EXPERIENCE AS A BISON SHAPE YOUR PATH TO THE OLYMPICS?
Venla: The U of M and the Bisons specifically are a massive support system for me. My team, the coaches, the trainers and the professors have all been so supportive on my journey. I'm very thankful for that. Our Bison team is the best group of girls I've ever been surrounded by. The U of M has made it possible for me to get high quality training, practices and school, and combining all that has worked well for me.
JACKY, YOU DIDN'T JOIN THE U OF M UNTIL AFTER THE GAMES, BUT YOUR OLYMPIC EXPERIENCE HAS IMPACTED YOUR WORK HERE AS A PROFESSOR, RIGHT?
Jacky: Yes, it has definitely affected my research. I lead the Autonomous Agents Lab together with Dr. John Anderson and my students and I have competed in and won several robot sports events including the RoboCup (robot soccer). In the FIRA HuroCup, we competed in sprint, marathon, obstacle run, basketball, weight lifting, archery, mini DRC (Disaster Relief Challenge), spartan race, long jump, and united soccer. So I am still involved in high quality competitions.
We also built the first humanoid skiing and skating robots. Tokyo has pledged to have a robotic village and Games for the 2020 Olympics. I hope that by 2020, my archery robot will be good enough to compete in Tokyo.