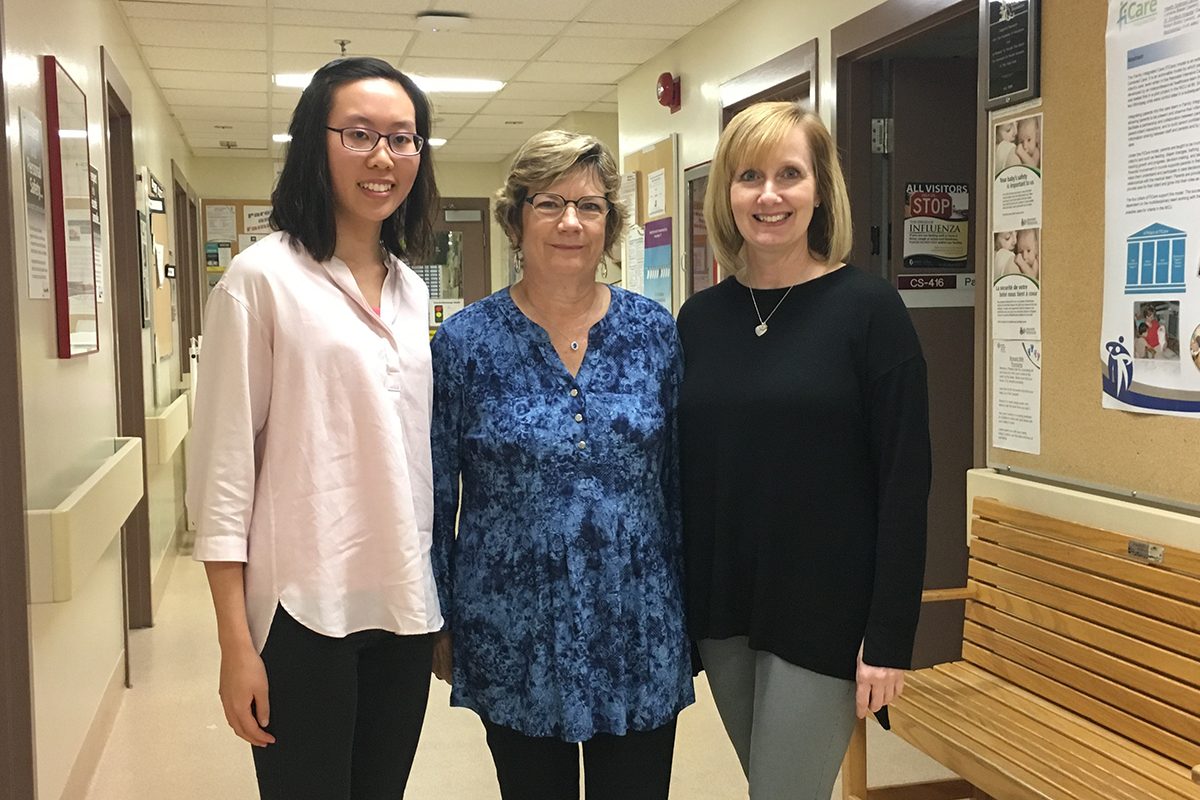 Nursing at 75: An evolving education
December 17, 2018 —
This year, the College of Nursing, Rady Faculty of Health Sciences, celebrates its 75th anniversary. UM Today sat down with three alumni to get a sense of how the profession has evolved and the shared experiences of nurses across generations.

Maureen Heaman [BN/78, MN/87, PhD/01], recently retired as a professor from the Rady Faculty of Health Science's College of Nursing. As a research scientist and research affiliate with the Manitoba Centre for Nursing and Health Research she focused on disparities in women's maternal health, utilization and quality of prenatal care, and perinatal surveillance and epidemiology.

Lisa Merrill [BN/07, MN/11, ExEd/12], is the manager of patient care in the neonatal intensive care unit (NICU) at the Children's Hospital in Winnipeg. Her research focuses on improving the care of pregnant inner-city women and their families, mothers with substance use issues and newborns experiencing withdrawal. Her work in this area led to a new treatment method that makes withdrawal easier for infants exposed to opioids.

Deborah Chan [BN/17] works as an adult emergency nurse in Winnipeg's Health Sciences Centre. She is also a research assistant in Dr. Meghan Azad's lab in the Children's Hospital Research Institute of Manitoba where she is analyzing breast milk components as part of a nationwide birth cohort exploring the impact of genetics and environmental exposures on chronic childhood disease.
UM TODAY: CAN EACH OF YOU ELABORATE A BIT ON WHY YOU WENT INTO NURSING?
MAUREEN: I wouldn't say it was my lifelong ambition to be a nurse but I came from a rural school in southwestern Manitoba and we didn't get as much exposure to all the different career opportunities as students in the city schools. Nursing and teaching were kind of the standard ones. I decided to go into nursing. But I did make the choice to go to university and do the BN program which in retrospect turned out to be a good decision.

LISA: It's a little bit of an embarrassing story! I was from a rural area and had lots of fun being away from home in my first year of university. My mom kind of took a hold of me and said "Lisa, that's it: you have to get on a path." She applied to every nursing school in Winnipeg and then she phoned me and said "OK, you got some letters back, these are your interview dates and times." I got into three or four but chose St. Boniface Hospital because I liked the atmosphere. I went into the two-year program and it was an immediate "yes, this is where I should be."

DEBORAH: I wanted to be a pediatrician since I was five, but you need an undergraduate degree to get into med school. I met a girl who was going into nursing and as she was describing it I was like "this is what I'm looking for. All the values that I want in my career are there." Nursing was the best thing that ever happened to me. People still tell me "you should go to med school" but nope, I drank the Kool-Aid. This is where I am, not going anywhere. I think once you get into it and understand your role it's much more than what people recognize.
DEBORAH, YOU'RE THE MOST RECENT GRADUATE; WHILE BOTH MAUREEN AND LISA HAVE RETURNED TO SCHOOL LATER IN THEIR CAREERS TO PURSUE GRADUATE STUDIES. CAN YOU TALK ABOUT YOUR NURSING EDUCATION, AND HOW YOU'VE SEEN IT EVOLVE?
MAUREEN: Definitely mental health and palliative care have grown in importance since I was a student. The course names have changed over time but we had Prevention of Illness, Health Promotion, Amelioration, Restoration, which basically it boils down to your maternal/child content, medicine, surgery. Palliative Care would have been new.
DEBORAH: Medical assistance in dying was just coming out so ethics was something we focused on a lot. Technology plays a huge role in nursing curriculums now. When I first learned resuscitation it was simulation obviously but it's interesting to see how technology is changing the face of nursing. As I was exiting my last year, they had started to implement 40 per cent of your clinical time could be replaced by simulation.

MAUREEN: Wow.

LISA: 40 per cent!

DEBORAH: Yeah, our class had done 100 per cent clinical. We felt like you can't really emulate some of that. Even now when we do education here through the Health Sciences Centre, there's a component of simulation.

MAUREEN: Those are big changes, actually. Even things like online courses –I've done a couple of them, but that's not the way I grew up learning. I like the interaction.

LISA: That's funny because it was the opposite for me. I had a big gap between the time I did my diploma and when I went back into the BN program. It was probably the early to mid-90s and nothing was set up for a practicing nurse to be able to attend class. They were daytime classes and I was like "I have to work!". I was annoyed, so I stopped and went back later when distance was an option. It's a huge progression. But with my master's program, I loved being in class, because it's the discussion, right? I preferred that to online.

MAUREEN: The other thing to emphasize with nursing is ongoing learning. Nurses never quit learning because there's always new techniques, new clinical modes of care or new technology that you have to learn – like online charting.

LISA: Another thing I'm noticing is the switch from nursing-only based education to inter-professional. It's an integrated type of learning for all disciplines and professions.
IT'S TRUE THAT HASN'T ALWAYS BEEN THE CASE. EVEN NOW, AT THE U OF M, PHYSICIANS ARE BASED OUT OF THE BANNATYNE CAMPUS WHILE NURSES ARE AT FORT GARRY ALTHOUGH THERE ARE PLANS TO HOUSE HEALTH CARE PROFESSIONS IN ONE BUILDING.
MAUREEN: When you think about it there are common things we could all learn together and gain a better appreciation of each other's roles.

DEBORAH: That was a hot topic when I was graduating. I feel like nurses hold a lot of that inter-professional team together. They do a lot of the communication linkage and coordination – more so than I realised in school. When you start to work you see it all come together really nicely. Not to elevate our profession over anyone else's but I think naturally, with the dynamics, nurses hold that team together well.
ALL OF YOU HAVE WORKED IN RESEARCH AT SOME POINT IN YOUR CAREER. HAS HAVING THAT BACKGROUND HELPED YOU BECOME A BETTER NURSE?
MAUREEN: I think so. You come up with clinical problems and sometimes the only way to answer them is through research. When you're starting out you maybe don't have the skills to answer those questions but you can at least raise questions and get involved in working with others who are doing research. It's a way to improve practice. In that sense, it makes you a better nurse.

Certain types, like qualitative research where they're interviewing patients and families about their experiences, makes you more sensitive to what those experiences are and the factors influencing them. The whole concept of evidence-based practice is big now. Our practice should be based on evidence and not just doing it because that's the way we always did it.

LISA: The reason I did my master's degree was directly related to being a bedside nurse. I was seeing practice changes in the clinical area and I started to question why things were happening. "Is this really what we should be doing? Who makes the decisions about this?" I wanted to be a part of that. I loved my master's program because it encouraged you to look at things more broadly. That's hard when you're at the bedside caring for patients because everything is right now and you're not necessarily understanding the bigger picture. Research and the master's program prepares you to do that.

DEBORAH: A lot of your work sounds like knowledge translation which is the big buzzword in research now. But nurses have been doing that forever, it's just never been named that specifically. We deal with massive amounts of data, and sometimes intuitively change our own practice based on what we see. Then you start thinking about whether it's evidence based, and if more people are doing it. You generate those bigger questions when you take a step back. Nursing is a ripe field for developing research. I think a lot of the skill set of research comes from being a nurse. At least that's what I've found.
WHAT DO YOU FIND MOST GRATIFYING ABOUT NURSING?
LISA: It always comes back to the patients and families. Especially in our area here, it's not always happy, but to make that experience the best it can be for them – at the end of the day, that's what really matters. But also the opportunities within nursing. It's not something I was totally aware of when I first started but there's just so much opportunity within the profession. It's really endless what you can do to have that positive effect on patient care.

DEBORAH: I'd say the most gratifying thing is empowering patients, especially when they're going through a difficult time. There's also huge untapped potential on the prevention side. Sometimes as nurses we're so downstream-focused that we forget about working upstream. I think we can be champions for that.

MAUREEN: My focus has always been on improving healthcare for women and children and their families. To keep their experience in mind to try and make sure it's a good experience. I think a strength of nursing is looking broadly at the social determinants of health. Where some professions might be focused on an organ system or a clinical technique, we try and situate the patient and their family broadly and look at their overall situation. Having the ability to understand where they're coming from, accepting them where they're at, and being respectful is a huge strength.