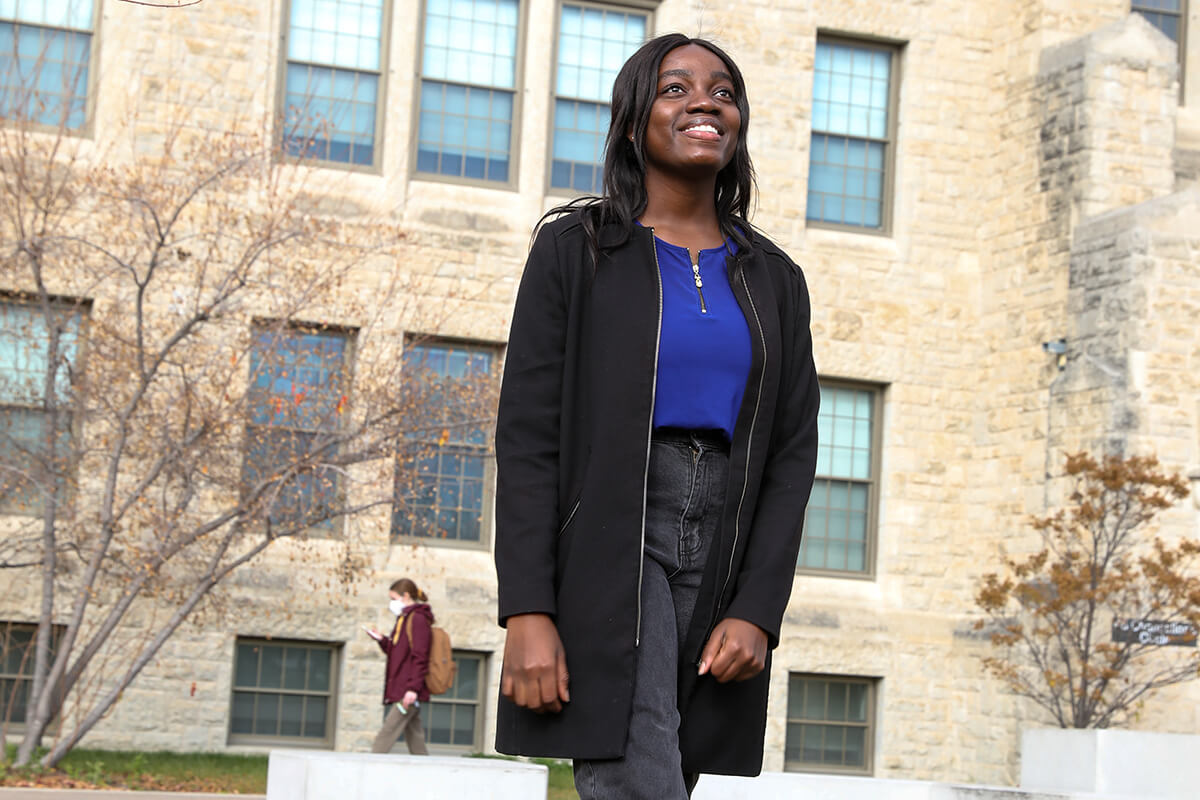 Alumni step up for nursing students
Senior Stick Vivian Umeohabike set to join health-care workforce next year thanks to donor support
November 10, 2022 —
Embarking on a career in the healthcare field might be daunting amid a global pandemic, but Vivian Umeohabike feels determined.
"I wanted to go into nursing because I wanted to provide empathetic care to people when in their most vulnerable and unexpected states. I have a mindset that pushes me to keep going no matter how challenging the day is, knowing I have impacted someone's life and made them smile."
The international student knows how tough it is to earn enough money to support her education, while being restricted to working only 20 hours a week. Donor-funded awards— such as the Janice Filmon Leadership Scholarship —alleviated her financial burden.
"I am supporting myself," says Umeohabike. "[The scholarships have] allowed me to focus on my school and other activities, like volunteering, where I can give back, help people and do so much."
This struggle to fund an education is something familiar to many students and can deter them from completing their studies. When coupled with the formidable task of studying to enter the current healt-hcare sector, it means those beginning their studies to become a nurse will need support, like Umeohabike has received on her journey.
Given the demand for more nurses in Manitoba, UM's College of Nursing at the Rady Faculty of Health Sciences has increased their student intake to boost the number of graduates entering the health-care sector. Financial supports for these new recruits will help them navigate accelerated training.
So far, UM nursing alumni have stepped up to support their future colleagues by pledging thousands of dollars, helping nurse graduates achieve success, like Umeohabike.
The shift this fall to accelerate the timeframe to complete a nursing degree will generate this influx of graduating students by 2024, helping to alleviate some of the pressure felt in hospitals and clinics across the province.
"Giving back to one another is just what nurses do," says Umeohabike when learning of the support coming in for students from nursing alumni.
Financial supports are especially crucial to the success of nursing students studying in the accelerated format, given they'll be unable to work in the summer because of the timing of the third semester.
The gifts from the nurses will also be matched, to further support this reinforcement of Manitoba health care. It is an investment in not only the future of the students, but the advancement of the nursing profession at this critical time.
Whether you are supporting health as a human right, advancing reconciliation and promoting Indigenous achievement, climate change research, or transforming the learning experience, you are making the world a better place.
Read more in our Gratitude Report