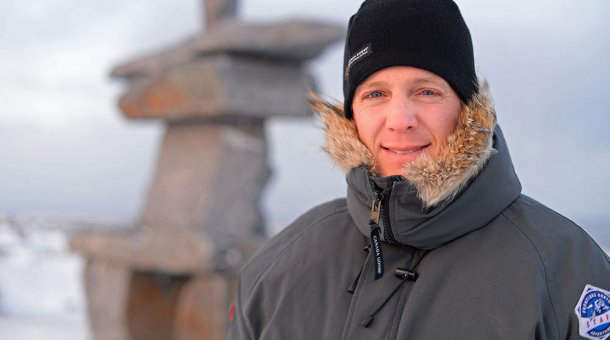 Northern Ventures
May 26, 2016 —
John Gunter [BComm(Hons)/01] wants you, me, and everyone we know to lock eyes with a wild polar bear.
"There's really no better way to get people to understand the consequences of their consumer choices and how they impact that natural world," he explains. "Polar bears are the poster children of climate change."
Gunter is president and CEO of Frontiers North Adventures. The company specializes in offering expert-guided travel adventures introducing people from around the world to Canada's breathtaking natural landscapes and wildlife – from beluga whales to up-close encounters with polar bears under the aurora-drenched skies of Churchill, Manitoba.
The challenge, says Gunter, is to get people invested in the environment in a way that doesn't compromise the environment in the process.
To that end, Frontiers North partners with Polar Bears International, a not-for-profit global leader in polar bear conservation, to provide sustainable access to the world's largest land carnivore.
"Through our partnership we reached over a million people last year," says Gunter.  These include not only eco-tourists, but students at all levels peeking in on the live Polar Bear Cam, as well as the Tundra Connections broadcast, which features prominent researchers and specialists in polar bears, climate change and Canada's north as they observe and discuss the bears from the safety of one of Frontiers North's patented Tundra Buggy vehicles.
While the company's environmental outreach and educational programs are relatively new, its commitment to sustainability is part of its DNA, says Gunter. "We can't share our passion for Canada's North if we don't respect and preserve it at the same time. As stewards, we have the responsibility to ensure our activities positively contribute to these destinations."
Under Gunter's leadership, Frontiers North has severely reduced the environmental footprint of its operations. They work closely with local communities to ensure the company is giving back as much as it takes, or more. Frontiers North even ran a recycling program in Churchill for five years before the city started its own.
"It's not about good PR," he says. "It's about doing the right thing because it's the right thing to do. We have to create positive impacts at the local level, not some far-off destination that has no connection to our stakeholders."
After graduating from the Asper School of Business in 2001, Gunter spent a few years in the IT sector before venturing into the family business. He worked his way through all areas of the company before taking the helm in 2014.
"We all recognized it was time to grow the company," says Gunter. His first tasks included formalizing the organizational structure, crafting a vision, and taking a good, hard look at how all the parts of the company did (and did not) work together.
His business education certainly helped. "I took courses in organizational behaviour in school, and had some experience applying that to other work situations. Here I saw an opportunity to flesh out all these important ideas I had about the structure of our company and make it work in a way we could build on in the future."
For an organization that operates in three seasonal cycles throughout the year, each with its own startup and shutdown period, that means continually refining job functions and operational processes, and "taking full control of every aspect of our guests' experience – from the flight up north to the tours themselves. That's the only way we can ensure we're meeting the high standards we set for ourselves."
Frontiers North Adventures employees around 20 full-time staff year round; another 65 join the company seasonally. Gunter says "change is the norm" at FNA and "employees who return season after season always have to adapt to new ways of doing things. They're such great people. We always have a great time, and each year it gets better and better.
Gunter has also focused on building strategic partnership with huge brands like the Hudson's Bay Company, Canada Goose and National Geographic to elevate Frontiers North's visibility. "We're a small company doing everything we can to make a difference on a global scale," he says. "To be mentioned in the same sentence as these influential organizations is huge for us."
Frontiers North Adventures garnered enormous media exposure last year thanks to another innovative partnership, this time with Parks Canada and the creators of Winnipeg's RAW:almond pop-up restaurant. In March 2016, they launched the RAW:churchill pilot project, "a culinary adventure beneath the northern lights, on the exact same spot that the women and men of the Hudson's Bay Company would have sat more than 250 years ago.
The event was such a success, Gunter and his partners hope to expand it for 2017 – Canada's 150th birthday – and run it up to HBC's 350th anniversary in 2020.
"Everyone wants to be a part of it," Gunter says. "It's a neat way to connect people with their environment, and feel inspired, and take that inspiration home with them."