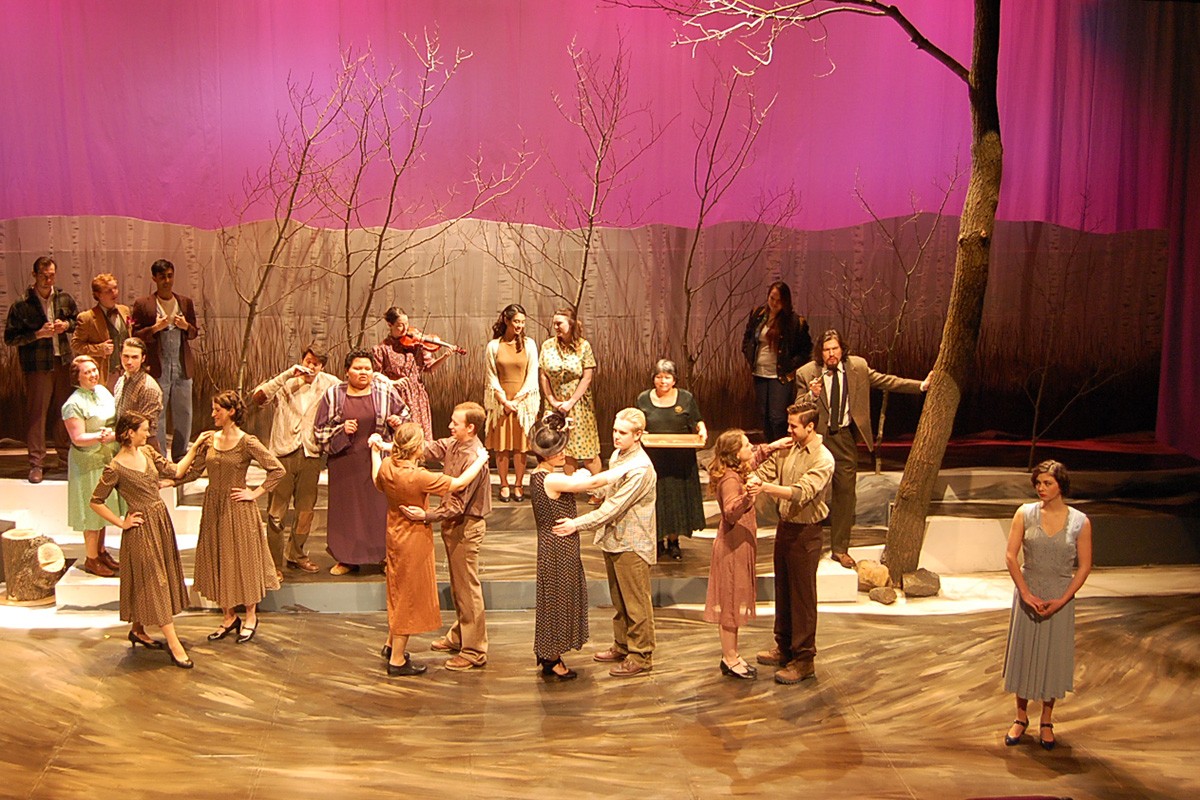 Playwright Ian Ross debuts new work for theatre's grand opening
'World-class stage' within Taché Hall
March 9, 2016 —
National award-winning playwright and alumnus Ian Ross has created a new play that kicks off the grand opening of the John J. Conklin Theatre on March 15.
"Now we have a world-class stage," said Ross, about the new space within the renovated Taché Hall. "For the students coming up, this is just a wonderful thing for them."
Recently retired theatre coordinator Chris Johnson, who taught Ross in the 1990s, has returned to direct the Black Hole Theatre Company production of Doubtful House.
Bill Kerr, associate professor and coordinator of the theatre program and artistic director of the Black Hole Theatre, said having both Ross and Johnson involved is the perfect fit for the grand opening.
"It's terrific to be doing it with Ian, who is a tremendous writer and of course one of our alumni as well. It's particularly appropriate to open this new theatre with a play written by someone who began writing here, who began writing under Chris' teachings, and it's particularly appropriate that Chris is directing it," said Kerr.
Ross [BA /92] took home the Governor General's Award for English Drama in 1997, becoming the first Indigenous person awarded the honour, for his play fareWel, a work he started writing while a student at the University of Manitoba.
The theatre department commissioned Ross to create a play for the John J. Conklin Theatre's opening.
"When I was asked, I was humbled and I was honoured," said Ross, calling this work the first part of a planned trilogy.
The play is set in the area now known as Kinosota, along the west shore of Lake Manitoba, where Ross' father is from and where Ross spent part of his childhood.
"I'm pretty sure it used to be known as Doubtful House because the Hudson's Bay Company, when they made the (fur-trading) post there…they didn't believe it was going to make it so they called it Doubtful House, which I loved."
One of the characters, Raymond, shares the same name as Ross' father.
"In a way, (the play is) kind of an homage to my father, who taught me how to tell stories," said Ross.
He describes the play as partly a love story between a man in the community and a woman who has arrived from England.
"But that's a piece, that's almost like a rib in the story. The story itself is about the community," said Ross.
The play is set during the 1930s and features a cast of 23 people, said Johnson, including some large-scale scenes.
"There's a community dance scene right in the middle of it, which is fun. We've got a fiddler and a look for that feeling of how people entertained themselves in those days because there wasn't anybody else to entertain them," said Johnson.
The cast is composed of both students and alumni with ages ranging from late teens to mid 50s. Johnson said the range of experiences means actors learn from one another and draw on a generational approach to the art form.
Ross, who is also currently teaching students in the theatre department, gives credit to all those involved for helping bring Doubtful House from his pages to the stage, including Johnson, Kerr, the cast and crew.
"It's communal," he said.
"I've always wanted to work with Ross' material as a director and we get along well so it really did seem that Ian was the guy to kick off a new era in a new theatre," said Johnson.
Alongside a state-of-the-art stage for actors and directors to make use of, Kerr noted the new shop facilities in the theatre mark another enhancement.
"We can build things and then move them onto the stage quite smoothly so our ability to build things is massively improved. Our ability to build costumes is massively improved," said Kerr.
For audiences, Johnson and Kerr said the new facility offers excellent sightlines, comfortable seats, great acoustics and an improved lobby.
"We really hope to therefore invite the wider community, but particularly the university community to come and see what we have, what a great experience it'll be and what really exciting work we're doing," said Kerr. "For an audience, it's going to be an exciting place to be and a place you want to come back to."
The John. J. Conklin Theatre is named in recognition of a donation from E.D. Conklin in honour of his father, a renowned journalist, who provided international coverage of the Winnipeg General Strike, and also served as a drama critic during a career that spanned more than 50 years. Through his role as drama critic, John J. Conklin brought several celebrities to Winnipeg, including Mark Twain, Rudyard Kipling and Pauline Johnson. He died in 1952 at the age of 84.
Tickets ($15, or $12 for students and seniors) for Doubtful House can be purchased at the door, or in advance.

For reservations and for group discounts contact 204-474-6880.
Performances at the John J. Conklin Theatre, 300 level of Taché Hall, 162 Dafoe Road.
7:00 p.m. March 15 and March 22
8:00 p.m. March 16 –19, March 23 – 26
Talkback with cast and crew will follow the March 22 performance.