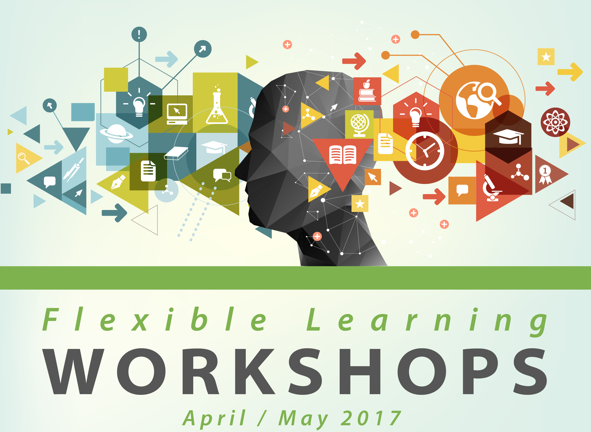 Spring 2017: New Flexible Learning Workshops offered
March 30, 2017 —
The Centre for the Advancement of Teaching and Learning is pleased to present a new and groundbreaking Flexible Learning Workshops series for April and May!
The new workshop series fills a need for support for teaching faculty developing online courses. Registration opened March 17. Workshops cover these topics such as curriculum alignment in course design, technology tools for course design, teaching online and syllabus design.
Below is a list of the courses offered.
Constructive Alignment
This workshop will assist you in ensuring that what you expect your students to learn (learning outcomes), what they do in order to learn (teaching and learning activities), and how you assess that learning are clear, meaningful, and aligned. Please bring your detailed course outline to the workshop as we apply course design principles (including a learning taxonomy and quality standards) to the development of measurable outcomes, and aligned activities and assessments. We will also identify the design considerations for moving course elements online.
April 5 1:00pm – 4:00pm
May 9 1:00pm – 4:00pm
Facilitator: Lori Wallace
Technology Tools for Online Course Design
This workshop aligns the technology tools with the pedagogical demands of the course and covers the basics of the UM Learn tools: Content, Rubrics, Gradebook, Drop Box, and Discussion Forums.
April 11 1:00pm – 4:00pm
May 11 9:00am – 12:00pm
Facilitator: Ryan Nicolson
Teaching Online Effectively
In this workshop, you will learn about the characteristics of the online student and how to adapt your face-to-face teaching strategies to ensure a culture of significant learning is present within your online course. We will discuss the differences between teaching face-to-face and online, including the challenges online teachers may be faced with and the strategies that can be used to overcome them. Finally, the important differences between the roles and responsibilities of both instructor and student will be discussed.
April 20 9:00am – 12:00pm
May 24 9:00am – 12:00pm
Facilitator: Ryan Los
Creating an Online Course Syllabus: A Learning-Centered Approach
Have you ever wondered what your syllabus communicates about you and your course? Does your syllabus create a welcoming online learning environment and build a sense of community? Does your syllabus invite students to read it? Does your syllabus employ the ROASS policies and QM standards? This hands-on workshop will help you to craft a student-friendly syllabus that sets the tone for a learning engagement and is ROASS Policies & QM Standards compliant. Bring your laptop and both hard and digital copies of your current syllabus and we will breathe a new life into it.
April 26 9:00am – 11:00am
May 25 1:00pm – 3:00pm
Facilitator: Anastassiya Yudintseva
See the interactive pdf: http://intranet.umanitoba.ca/academic_support/catl/media/workshops.pdf
Click here to register!