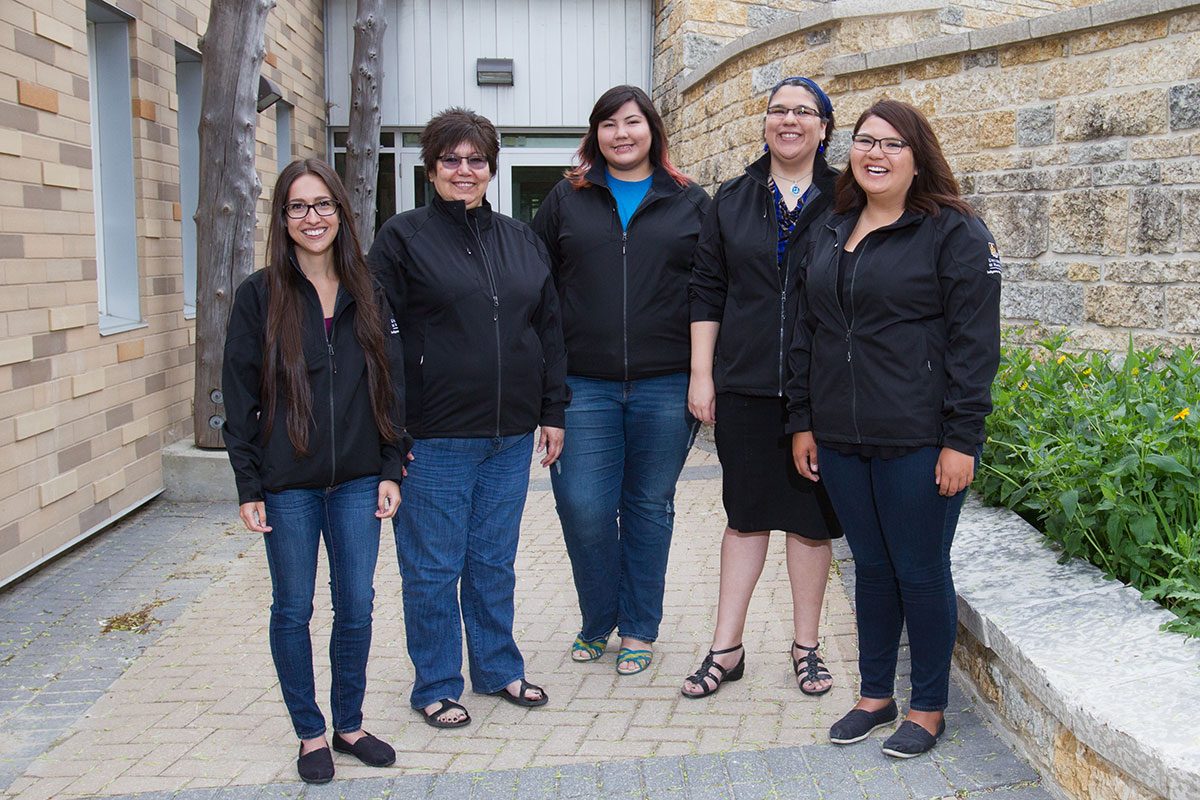 Never for money, always for change
November 15, 2017 —
The first time Chelsey Meade [BA(Adv.)/17] saw the importance of philanthropy was on a trip to Dairy Queen.
She was a little girl then, living in The Pas, and she and her dad would walk to the local store for an ice cream treat.
"Attached to the DQ was a liquor mart so a lot of the homeless or less fortunate people would hang around there," explains Meade. "When we left DQ my dad would hand me our change and tell me to give it to the people outside. I think when I stopped to talk to them and saw their face light up, regardless of how much we gave, was really my first 'aha' moment. The moment I realised I was helping people and could make a difference."
Since then, Meade, who is Cree and Ojibway from Peguis First Nation, has used her dad's important life lesson to become a driver for change in her hometown and broader community.
The Aboriginal governance and management grad is this year's winner of the Outstanding Youth in Philanthropy (aged 16-25) award. It's one of six awards given out by the Association of Fundraising Professionals' Manitoba chapter, as part of National Philanthropy Day on Nov. 15.
This year, five University of Manitoba alumni and donors received awards for their community service. Gail Asper [BA/81, LLB/84, LLD/08], and James Richardson & Sons, Ltd., who have had a transformative impact on U of M spaces and programs, were named Outstanding Philanthropist and Outstanding Large Philanthropic Organization, respectively.
Alumni and U of M donor Tina Jones [BEd/89] was awarded Outstanding Volunteer Fundraiser for her involvement with local groups including HSC Foundation and Keeping Abreast. Diane Boyle, also a U of M donor, was recognized as Outstanding Professional Fundraiser.
UM Today sat down with Chelsey Meade to talk about her award and what motivates her to help others.
UM TODAY: YOU SAID THIS AWARD CAME AS QUITE THE SURPRISE. WHY? YOU SEEM LIKE AN EXCELLENT CANDIDATE.
The nomination and receiving the award was a surprise because I don't think of myself as a philanthropist. When I think of philanthropy, I think of people donating monetary gifts. I think of wealthy people or organizations giving money to charity.
For many of the teams I have worked with, the goal was never to raise money specifically. Instead, I focused on donating my time to create change, make a difference in people's lives and to raise awareness.
LET'S TALK ABOUT SOME OF THESE TEAMS YOU'VE BEEN PART OF. THE BANNOCK AND BACKPACKS PROJECT STARTED HERE AT THE U OF M, RIGHT?
Yes, it was an idea some of us students started through the Indigenous Circle of Empowerment, and this past year was our second annual donation drive to raise funds and supplies to fill backpacks for the less fortunate.
We really wanted to reach more people in our second year, so part of my job was to increase our social media presence, connect with media stations, and give interviews.
YOU TRIPLED DONATIONS AND DOUBLED THE NUMBER OF BACKPACKS YOU GAVE OUT. HOW DOES IT FEEL TO HAVE SUCH AN IMPACT?
Amazing! A few months after the 2016 Bannock and Backpacks Donation Drive, I was downtown waiting for my bus to the university and I decided to grab a coffee and breakfast sandwich from Tim Hortons. While waiting in line I saw a man counting quarters so I bought him a sandwich and coffee and sat down to talk to him. I noticed he had a U of M backpack and I told him that's where I went to school. He smiled and told me that he got the backpack while getting food at Dufferin and Main, which is where we held our Bannock and Backpack Donation Drive. He now uses the backpack every day. It really inspired me to continue the work that I was doing.
YOU'VE ALSO PARTICIPATED IN AND ADVOCATED FOR MORE SOCIAL PROGRAMS THAT CAN HELP YOUTH BACK HOME, LIKE THE PEGUIS YOUTH MOVEMENT AND PEGUIS POST-SECONDARY TRANSITION PROGRAM. HOW DID THAT COME ABOUT?
While growing up on my reserve, I knew that I did not have a lot of opportunities. After graduating high school, I knew the only option I had was to leave home to pursue a post-secondary education. This was one of the most difficult things I have faced. The loneliness, homesickness, and depression I faced was, at times, unbearable.
I did not want other kids from my community to feel so isolated and alone. Too many times I have seen youth discouraged because of where they come from and the challenges they have seeking help. I knew that I wanted to create changes for the younger generations who would have to face these challenges in the coming years. It is extremely important to me to help our youth dream and achieve their goals.
A LOT OF THE CAMPAIGNS YOU'VE HELPED INITIATE HAVE BEEN GRASSROOTS BASED. WHY IS IT IMPORTANT FOR YOU TO HELP PEOPLE AND COMMUNITIES IN THIS WAY?
I was always taught the importance of community and nourishing your relationships with others. The grassroots movements I have been a part of were created because members in the community wanted and needed change. It was incredibly important to engage community members because they truly understood the needs of the community. Far too often, while I was growing up, I saw temporary solutions; most times organizations would come in for a while and eventually disappear. By listening to people in the community and working with them, organizations or grassroots movements are able to grow and evolve into what communities need.
NOW THAT YOU'VE GRADUATED, HOW DO YOU PLAN TO CONTINUE HELPING OTHERS?
Right now I'm working as a Research/Admin Assistant for the Manitoba First Nations School System which administers and manages elementary and secondary education programs in 10 First Nations schools. It is First Nations designed and focuses on improving the quality and relevance of education in First Nations community.
I eventually want to pursue a master's degree in public policy and administration. I think my ultimate goal is to return to my home community of Peguis to help develop the economy on our reserve, which will create more programming and opportunities for our members. Regardless of where my life takes me, I hope that I continue to learn from others and share my knowledge.