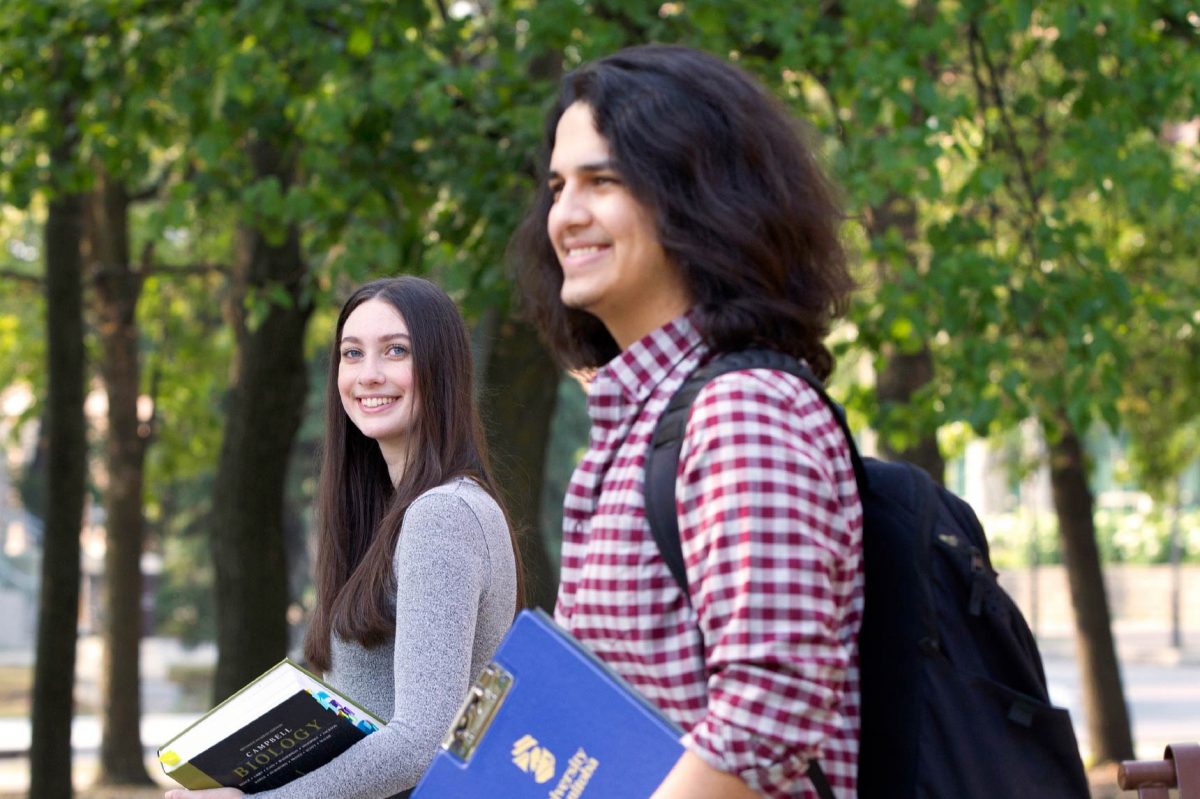 Message from Laurie M. Schnarr, Vice-Provost (Students) – Sept. 7
September 7, 2022 —
Dear students,
Welcome to the first day of Fall Term! Whether you're new to the University of Manitoba, coming to campus for the first time, or resuming your in-person study, I wish you the very best as you embark upon a new academic year.
Throughout the year, I will be sending you emails periodically to keep you up to date on information that affects students, and to highlight various resources that I hope you will find helpful. Today's update is intended to support you in navigating the early days of the Fall term successfully.
If you drive to the Fort Garry campus…
Due to ongoing construction by the City of Winnipeg, traffic has been reduced to a single lane each way on University Crescent between Thatcher Drive and Pembina Highway. Given the risk of construction-related delays, it is strongly recommended that students driving to the Fort Garry campus leave for their classes 15-20 minutes earlier than normal to avoid being late. If you want to avoid University Crescent altogether, you can enter the campus using Chancellor Matheson Road (via Pembina Highway).
Welcome new Bison Undergraduates!
Check out UM Commons, a webpage full of information for first-time post-secondary students and students who are new to UM. Here you will find resources to help you achieve personal and academic success throughout your year.
Stepping back into campus life
After a couple of years of primarily remote studies, it's normal to feel excited and happy, but you may also be worried and concerned. If you are feeling stressed or are overwhelmed with the idea of re-entering campus life, check out this set of resources that have been designed to help you navigate this process successfully.
I also recommend these top 10 tips for a successful Fall Term.
Safety on campus
As we start the Fall term, each one of us has a right to feel safe and be well. Let's work together to create a safer campus for all.
A welcoming and respectful environment helps our community thrive – be part of it!
Bursary deadline
The UM General Bursary application closes on October 1st. You are encouraged to apply! Details can be found at: https://umanitoba.ca/financial-aid-and-awards/bursaries
Welcome from the Indigenous Student Centre!
The Indigenous Student Centre welcomes students back to campus! Please join us on Wednesday, September 14 for Indigenous Orientation from 11:00 a.m.-2:00 p.m. at the Quad and Migizii Agamik – Bald Eagle Lodge. To learn more about our services visit: Indigenous student experience. Follow us on Facebook, Instagram and Twitter @umindigenous.
Missed Grad Student Orientation? It's not too late!
I hope new graduate students were able to attend one of the orientation sessions organized by the Faculty of Graduate Studies last week. If you were unable to attend, all the presentations are available here: https://umanitoba.ca/graduate-studies/student-experience/graduate-student-orientation.
Billy says… be a good Bison and help protect our community!
Keep our herd safe and healthy – at UM we are required to wear a mask when indoors and stay home when you are feeling sick. Masks will be provided – visit the health and safety website for distribution locations and hours. For information on what to do if you become ill and supports available to you, visit the covid-19 student website.
Together We are Stronger: The Sexual Violence Resource Centre
Always remember – you deserve safety and support on our campuses and off, AND you play an important role in contributing to a campus-wide culture of consent. Please ask before touching and ask before texting.
If you find yourself or others in need of resources or support, UM's Sexual Violence Resource Centre (SVRC) is available to help. The SVRC uses a trauma-informed approach to offer information, resources, and supports for people who have experienced sexual violence, as well as for those supporting survivors. Any information you disclose is confidential and you are in control of how you want to move forward.
How to reach the Sexual Violence Resource Centre:
Location: 537 UMSU University Centre
Hours: Monday to Friday, 8:30 a.m. to 4:30 p.m.
Email: svrc [at] umanitoba [dot] ca
Phone: 204-474-6562
Maclean's student satisfaction survey
This is your opportunity to show your UM pride by sharing your student experience! Every year, Maclean's magazine rates post-secondary institutions across Canada and a key part of their assessment is based on student opinion. Take the survey by September 9th and you could win a $500 Visa gift card!
Visit our UM Libraries!
Libraries are an important part of your university life. Seven UM library locations on Fort Garry and Bannatyne campuses are open and staff are looking forward to welcoming you back with study spaces, resources, and services:
International student health info sessions
Manitoba International Student Health Plan (MISHP) info sessions are coming up on September 12th and 15th as part of the IC's orientation and welcome program, which continues until September 16th. Registration is required. More info on all the sessions can be found here: https://umanitoba.ca/international/orientation.
Recreational Services
Recreation Services is in full swing for the fall term! Staying active promotes a variety of health benefits and mental well-being and can help relieve stress and anxiety. Through the Sport and Rec fee, UM students have access to sport and recreation facilities, casual rec use and group fitness classes at the Fort Garry and Bannatyne campuses. Students also have the option to participate in UM REC Clubs, Intramural Sports and Adult Programs at an additional cost. Visit UM Recreation Services and take advantage of everything available to you.
Stay Connected
Every week you'll receive UM's student e-newsletter Student Weekly in your inbox. If you're searching for information like deadlines, events, scholarships, student supports and university announcements, this is the easiest way to find it. During each term, you will also receive periodic updates from me – the Vice-Provost (Students) with timely information about student resources, supports, and campus-related news.
You can also follow @umstudent on Instagram and Tik Tok. From tours of the tunnels to student takeovers on exciting opportunities you can take part in, these accounts are a key resource for you.
Until next time, hoping for a wonderful start to the Fall term!
All my best,
Laurie Schnarr