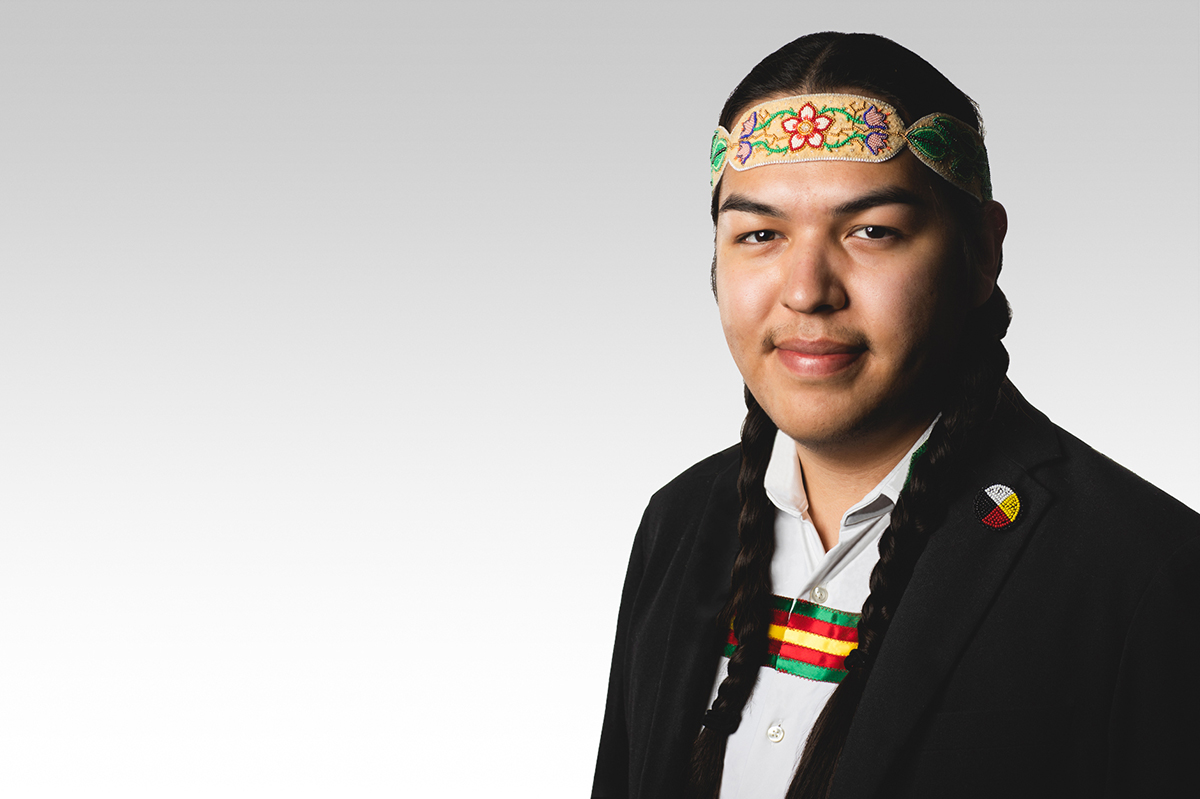 Meet the 2023 Distinguished Alumni Award for Outstanding Young Alumni recipient
Learn more about Mihskakwan James Harper's journey from student to climate action leader
May 30, 2023 —
Mihskakwan James Harper [BSc(ME)/17] from Sturgeon Lake Cree Nation on Treaty 8 territory demonstrated leadership throughout his time as a student at the University of Manitoba in many ways. While he was an Engineering Access Program (ENGAP) undergrad, he was an active member of the ENGAP Student's Association, participated in countless youth leadership conventions and served as a member of Indigenous Circle of Empowerment, which is a student leadership development program rooted in culture and focused on self-development and community engagement.
Harper also founded an engineering team, ecoMotion, and competed in the International Shell Eco-marathon Americas, which is a competition that challenges students to design, build and drive the most energy-efficient car. The UM team was the only Canadian vehicle to make it on track. Since graduating from UM, Harper has been making waves within the clean energy field. He credits his innate drive to protect the earth to his cultural values and has completed a master's degree in Renewable Energy from KTH Royal Institute of Technology and École Polytechnique with entrepreneurial training from ESADE Business School.
"My education at UM was so valuable–ENGAP is not just a program but a community. It was a fantastic foundation for me, but I wanted to take it further and get some firsthand experience in clean energy," he says. "During my masters, I learned so much about renewable energy, but my biggest takeaway was the relationships I built and the opportunities that were afforded to me to do more business case challenges, visit sites of installations and work on research projects. It was just so life changing."
Harper has visited many parts of the world to study clean energy including Stockholm, Barcelona and Paris, and has presented at various conferences highlighting the importance of sustainability from an Indigenous perspective. He has even presented at the United Nations Climate Conferences, COP 26 and COP 27.
"Historically, Indigenous people have disproportionately faced the negative effects of climate change. So, while we are defenders and speak out against that, we are also leaders," he says. "A lot of our communities are installing our own renewable energy projects ourselves. We are cutting emissions in our own communities and our own nations, which affords us our own economic income and sovereignty as well. And in my opinion, all of this aligns perfectly with a lot of Indigenous world views."
In addition to the many hours contributed toward speaking engagements, Harper further honours his Indigenous identity by prioritizing giving back to future generations and has come back to UM to lecture on decolonizing engineering. He's been active with the Aboriginal Peoples' Commission, a highlight of which was presenting a national policy resolution on addressing the youth suicide crisis in Indigenous communities. He also served as a mentor to youth relocating to Winnipeg to continue their education as part of the Restoring the Sacred program at Ka Ni Kanichihk Inc.
"Growing up, I've been privileged enough to be offered many opportunities to learn, expand my horizons and discover what impact I want to have. My mission is to offer these experiences to my community as I know that there are still too many barriers for our young people to enter these spaces," he says. "I always find stories of passion and inspiration from our young people who really want to make a difference in their community. So, it's that circle of reciprocity that I really value, and it inspires me to give."
Harper is the co-chair of SevenGen through which he helped organize and bring together 200 Indigenous young people in 2022 to the second SevenGen summit held in Whitecap First Nation, giving students from across the country the opportunity to learn and network. In 2013, he received the Manitoba Aboriginal Youth Achievement Award in the Volunteerism category. This year, Harper is the recipient of the University of Manitoba Distinguished Alumni Award for Outstanding Young Alumni.
"When I learned I was going to be receiving this award, it really gave me a moment to fully appreciate how much I've invested into getting here," he says. "I think this award being targeted for younger folks helps show youth that they can actually do so much. Our young people in our communities sometimes struggle with believing that they can make a difference, something I too have experienced. But I have my mentors, peers and family to thank for believing in me and so I pass that on: I certainly do believe in all our young people achieving great things. I unconditionally do."
The 2023 University of Manitoba Distinguished Alumni Awards Celebration of Excellence presented by TD Insurance will be held September 21, 2023. For more information about the event, or to purchase tickets, visit our website.