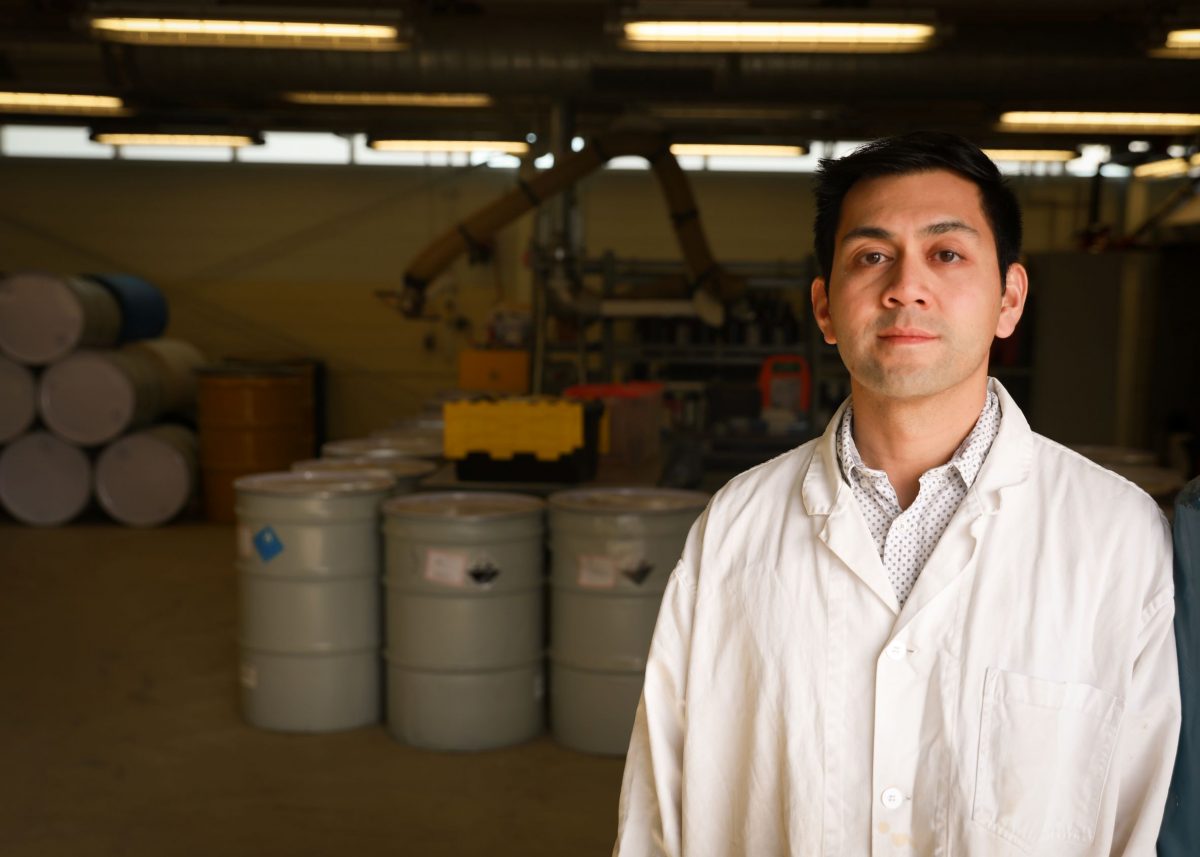 Meet Our Community: Coffee with a Co-Worker
Frederick Reyes helps faculty and staff stay safe at work
May 21, 2019 —
Human Resources interviewed Frederick Reyes, occupational hygiene technologist, environmental health & safety, for the Meet Our Community: Coffee with a Co-Worker series.
This regular series celebrates our faculty and staff, showcasing the range of positions, unique career paths, meaningful work and impact on others at the University of Manitoba. The series shines a spotlight on our staff and faculty, inspiring others building their career at the U of M or interested in joining our community as an employee.
WHAT DO YOU DO AS A OCCUPATIONAL HYGIENE TECHNOLOGIST?
Frederick Reyes: The Environmental Health and Safety Office provides a wide variety of services and programs to ensure workers are safe and in compliance with regulatory bodies. As the Occupational Hygiene Technologist, I manage the Hazardous Waste Program at both campuses, provide Transportation of Dangerous Good Training and consultation for university employees to ship and receive dangerous goods and also provide Respiratory Fit Testing.
HOW DID YOU CHOOSE YOUR CAREER PATH?
My career path was unplanned. I had an interest in science in high school so I pursued it in university and obtained my Bachelor of Science in Microbiology from the U of M. After graduation, I preferred the science industry over research and worked in the private sector. Over time, I was looking for more of a challenge and more opportunity for growth so I started looking for positions in environmental waste management since I could still use my science background but in a different setting. I initially worked with Clean Harbours and eventually came back to the U of M to work in the waste management program in Environmental Health and Safety. As a former student, you really never thought twice about what happened to your lab waste. It is really interesting to be on the other side of that now, with the collection, processing and final disposal of those items.
WHAT DO YOU VALUE ABOUT THE UNIVERSITY IN GENERAL AND U OF M IN PARTICULAR?
The university provides a great environment that accommodates a flexible work-life balance. As employees, we get benefits, vacation, and sick time that most employers would not provide.
IF YOU WERE TO DESCRIBE WORKING AT THE U OF M AND THE UNIVERSITY COMMUNITY TO SOMEONE ELSE, WHAT WOULD YOU SAY?
The U of M has a dynamic environment that is centred on a culture of higher education and wellness for both students and staff. As staff we can take advantage of many opportunities on campus from professional development to the new recreational facilities. As well, it's very much a collaborative setting, I've been able to learn from not just my colleagues but also establish relationships with other departments and faculties on campus.
AT THE UNIVERSITY, WE EMPHASIZE A "SPIRIT OF DISCOVERY": HOW HAVE YOU EXPERIENCED THAT AT THE U OF M OR IN YOUR WORK?
As I am part of the hazardous waste management team, I literally have to embrace the "spirit of discovery"! I come across some interesting finds in labs and old work spaces where items have been neglected. I've seen "mystery" items that we can't identify because of lack of labels or documentation. It adds a certain element of danger to my work!
WE OFTEN TALK ABOUT WORK-LIFE BALANCE AND WELLNESS IN THE WORKPLACE – HOW DO YOU STRIVE FOR BALANCE IN THE WORKDAY, ESPECIALLY DURING PERIODS OF HEAVY WORKLOADS?
I try to find time for myself by going to the gym – using exercise is a good relief and clears the mind. Also, there are some of us in the office who also have regular reality show drafts which definitely makes for lighter more fun discussions from time to time.
IF YOU HAD TO ONBOARD A NEW FACULTY OR STAFF MEMBER, WHAT TIPS WOULD YOU GIVE?
The university is a unique work environment, which translates to a unique work experience. If I had to onboard a new staff member I would explain to them that the university is a very dynamic place, and what you put in is what you get out of it. There are plenty opportunities for professional development, as well as the ability to use a wide variety of facilities such as the Active Living Center or Max Bell.
HOW DID YOU COME TO THIS CAREER?
Prior to working at the university, I was working for an Environmental Services company that the university would often use. With the scope of work that we provided, it was integral to provide excellent customer service to ensure continued business. When a similar job position was available at the U of M, it was difficult to pass up. With my previous work experience and the relationships I established providing client-services it worked in my favour to successfully get the positon at the university. Lesson being, you will never know when or where the next opportunity will come from so always put you best foot forward.
WHAT YOU ENJOY MOST ABOUT YOUR WORK AT THE U OF M?
Being able to interact with so many different people on campus is a definite highlight. As I am also responsible for the Transportation of the Dangerous Goods (TDG) Program, I get to teach a variety of people from researchers to students to administrative staff. I even learned how to solve a Rubik's cube because of my ongoing relationships with staff in another department! Also, because of the nature of the hazardous waste program, I'm not sitting in my office all day as I have to visit labs and workspaces to pick up hazardous waste.
HOW HAS YOUR WORK BROUGHT OUT THE BEST IN YOU?
It has made sure that I always provide a good working relationship with whomever I am dealing with. That way, if they have any questions about our programs (TDG and Hazardous Waste Management), they are comfortable in contacting our office for assistance. This becomes important because if our clients don't feel comfortable asking, they might dispose of their items incorrectly or cause issues or delays with inappropriate packaged samples for transport.
Visit the Environmental Health and Safety Office news network to discover more about their resources and services.
For additional Meet Our Community: Coffee with a Co-Worker stories, visit the human resources website.
If you are interested in being featured in this series, please contact Kayli Steinhilber, HR Communications Specialist at kayli [dot] steinhilber [at] umanitoba [dot] ca or 204-474-9953.