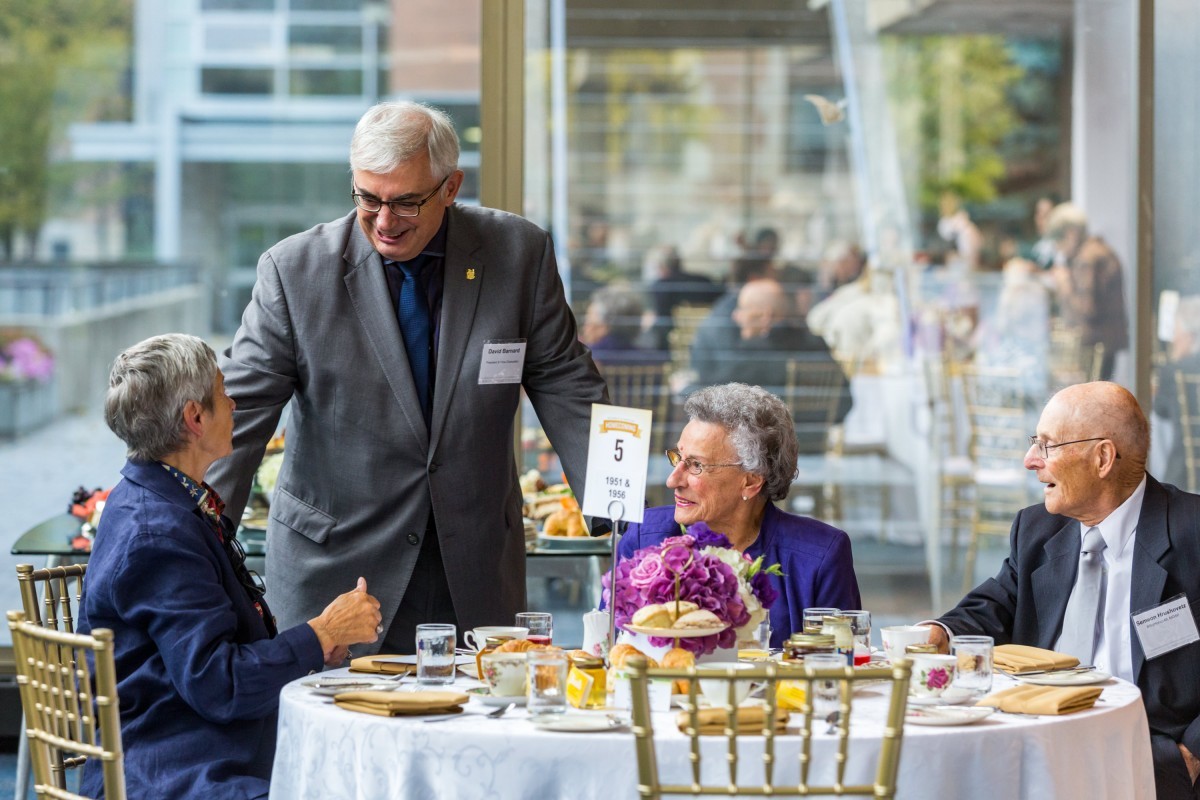 Many memories made at Homecoming 2016
New events and familiar favourites give alumni a reason to reminisce about their alma mater at weeklong festivities
September 30, 2016 —
It was a Homecoming to remember.
From Bison football's thrilling victory to the Chancellor's Tea that celebrated the golden anniversaries of our alumni, there was a lot to enjoy at Homecoming this year.
Adding to the excitement of the Bisons' win was the celebration at halftime recognizing the University of Manitoba Student Union (UMSU) commitment of $15.9 million to the Front and Centre campaign with more than 1900 boisterous fans in the stands.
What followed was equally as exciting as David T. Barnard, President and Vice-Chancellor at the University of Manitoba, announced that in recognition of UMSU's commitment, University Centre will now be known as UMSU University Centre.
With UMSU's support, the campaign reached a massive milestone thanks to the 25,895 donors who have helped raise $409,367,522 to date.
The weeklong Homecoming celebrations took shape in more than 30 events and activities from Sept. 18 to 25, giving alumni an opportunity to revisit and remember the spaces, places and people that helped transform them into the trailblazers they are today.
Other highlights of the week included the Rady Faculty of Health Sciences Dean's Breakfast & Tours, Homecoming Dinner and Visionary Conversations.
New this year was the Queers, Cheers and Homecoming Years: A UMQueer Alumni Soirée that celebrated our alumni from the LGBTTQI* community as well as the U of M's culture of diversity and inclusion. More than 70 people attended the Friday evening event, to engage in meaningful conversation in a relaxed and enjoyable atmosphere with great food.
Earlier in the week, U of M grads took part in reunions at both campuses. These faculty events provided alumni with a chance to catch up with old classmates and revisit those times that brought them together. They also served as a great opportunity to share stories with fellow alumni from different graduating classes and hear from current faculty members about the exciting developments taking place on campus.