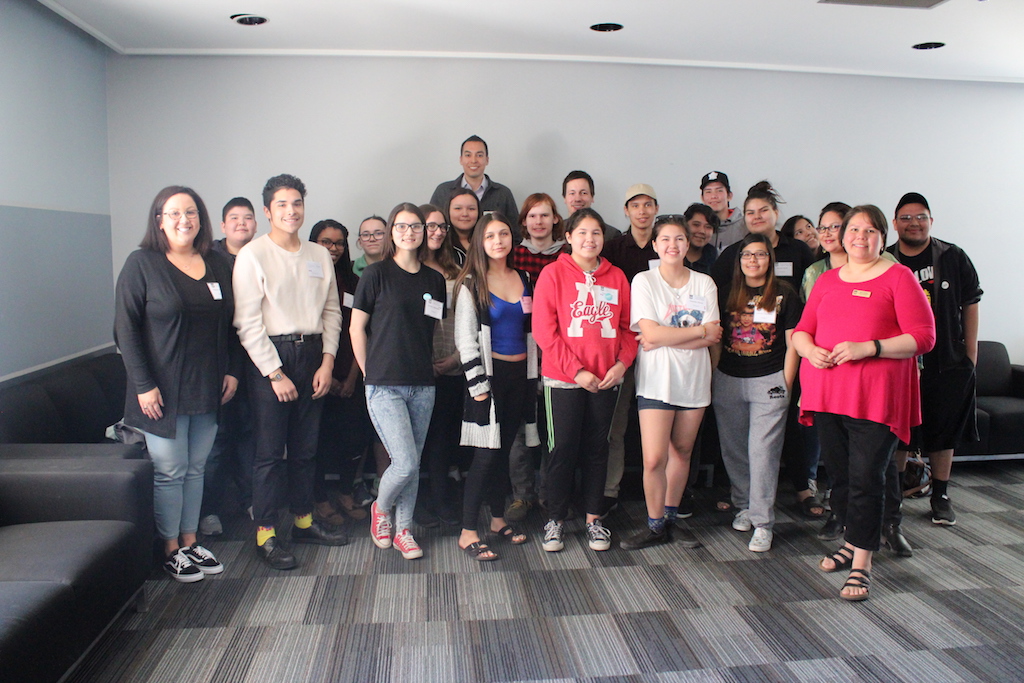 Living Library: Real people, real conversations with U of M Indigenous alumni
High school students come to campus to engage with alumni
May 12, 2017 —
For the first time, the Indigenous student recruitment team hosted Living Library: Real people, real conversations with U of M Indigenous alumni on the Fort Garry campus on May 12.
No fewer than 45 students from four Winnipeg high schools took part, interacting with four alumni who acted as "living books." As living books, the alumni told their stories of what being Indigenous means to them, what their career path is and how their education shaped that. They candidly discussed the challenges they've faced and the opportunities they seized upon. The students were also encouraged to ask any questions they want as they moved from "book" to "book."
The goal was to engage these Grade 9 to 12 students in empowering conversations while also offering them mentorship and role models.
"We want to create conversations and opportunities for storytelling. These students love hearing other people's stories, especially when they can see themselves in that person's shoes, so we tried to attract a lot of younger alumni for this so that the students say, 'Well, if they can do this, I can do this,'" says Desiree Morrisseau-Keesick, lead Indigenous student recruitment officer at the U of M.
The Living Books include:
Hanwakan Whitecloud [BComm(Hons)/12]
Terrance Delaronde [JD/15]
Carla Loewen [BEd/01, BA/03, MEd/16]
Tiffany Monkman [BComm(Hons)/12]
Chance Paupanakis, political studies student; former Post-Secondary Club student
Marla Robson, Indigenous student recruitment officer
This Living Library is part of a larger campus visit by the Post-Secondary Club, a leadership program run by Indigenous Student Recruitment as part of a long-term recruitment initiative to deliver career, cultural and community-focused programming to Indigenous students in four urban high schools: Fort Richmond Collegiate, Garden City Collegiate, Maples Collegiate and St. James Collegiate.
"The idea is to create commitment with students and the hope is they keep coming back to Post Secondary Club meetings until they graduate high school. We want them to feel comfortable and familiar with all the supports available to them so when it comes time to decide on post-secondary education, they can make an informed decision for themselves," Morrisseau-Keesick says. "And the idea is holistic. Yes, we'd love for them to come to the U of M, but the idea is to get them into post-secondary in general. If someone is going be more successful with hands-on learning and they want to be a mechanic, I'm going to set them up with someone from Red River College to help make that possible."
This is keeping with the U of M's vision to make Manitoba a Centre of Excellence for Indigenous education and research. The Living Library fulfills a key goal of a U of M strategic priority: Foster K-12 Indigenous student participation in post-secondary education by increasing community outreach and engagement activities that build Indigenous student interest in and preparedness for post-secondary studies.
Through its supports and programming, and its unprecedented commitment to supporting Indigenous Achievement through the Front and Centre campaign, the University of Manitoba is increasingly attracting more and more Indigenous students, both in relative and actual terms.
Today, the University of Manitoba has one of the highest Indigenous student populations in Canada, with more than 2,000 new First Nations, Métis and Inuit students enrolling every year. And this year, over 430 self-declared Indigenous students – the largest cohort ever – are expected to graduate from the University of Manitoba.
Such growth is part cause, and part effect of the University of Manitoba's commitment to Indigenous achievement and reconciliation.