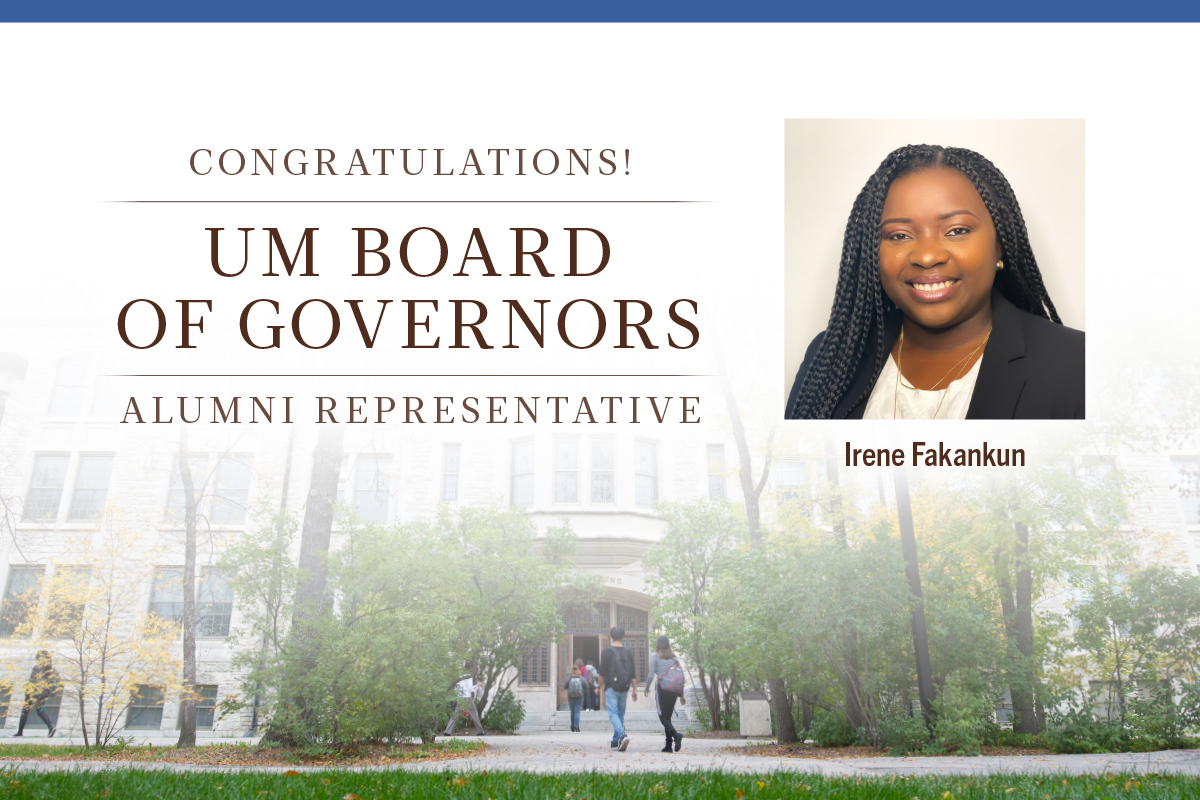 Irene Fakankun Elected to the Board of Governors
Alum and chemistry instructor to serve as voice of alumni in UM governance
May 25, 2022 —
The votes have been counted and UM alumni have selected Irene Fakankun [PhD/21] as their next alumni representative for the UM Board of Governors.
"Representation matters. UM's future depends on the holistic perspective of different generations, races, genders and professions," says Fakankun. "Conversations are more prosperous and an upward trajectory is inevitable when different opinions are involved. Knowing that my voice, born from experiences unique to me, will contribute to shaping the future of UM is a privilege, and I am grateful to everyone who has trusted me with their vote."
More than 2,500 votes were cast and Fakankun was chosen from the diverse list of five candidates.
Fakankun says she wanted to join the Board of Governors as an opportunity to contribute to the next developmental phase of a university that has given her so much.
"As a student, I had a fantastic experience, and I'm convinced that my decisions on the board can make that experience even more wholesome for UM students," continues Fakankun. "As an instructor, I had the opportunity to be on the other side of the classroom and experience the challenges of teaching a class. Being at these different ends of the divide not too long ago means that I bring a unique perspective to the board."
Fakankun obtained a bachelor's degree in Biochemistry, a Master of Research degree in Advanced Genomic and Proteomic Sciences, and a PhD in Biosystems Engineering. Since graduating in 2021, she has continued working on research publications and as an instructor in the Chemistry department at UM where she is also an adjunct faculty at Providence University College and the University of Winnipeg.
Previously, she was also a member of the students' disciplinary committee, president of the health advocates club, and a member of the university consult, where she led the audit of revenue and business processes.
A published scientist and communicator, she was also one of the women selected to present her research at the Soapbox Science event in 2021.
Additionally, Fakankun served as a mentor for undergraduate and research students at the Levin lab, as a Graduate Student Association Council Representative and she launched an online community called Schooling Moms, which addressed navigating the challenges associated with going through a graduate program as a parent.
"One of the first things I would like to address would be how students who are parents can be better supported through their period of study," adds Fakankun. "Parenting is hard enough, especially when the children are young. Having a school system support could be essential to many people in having that family they dream of and pursuing an impactful career."
Fakankun will serve as the Board of Governors alumni representative for a three-year term beginning June 1, 2022.