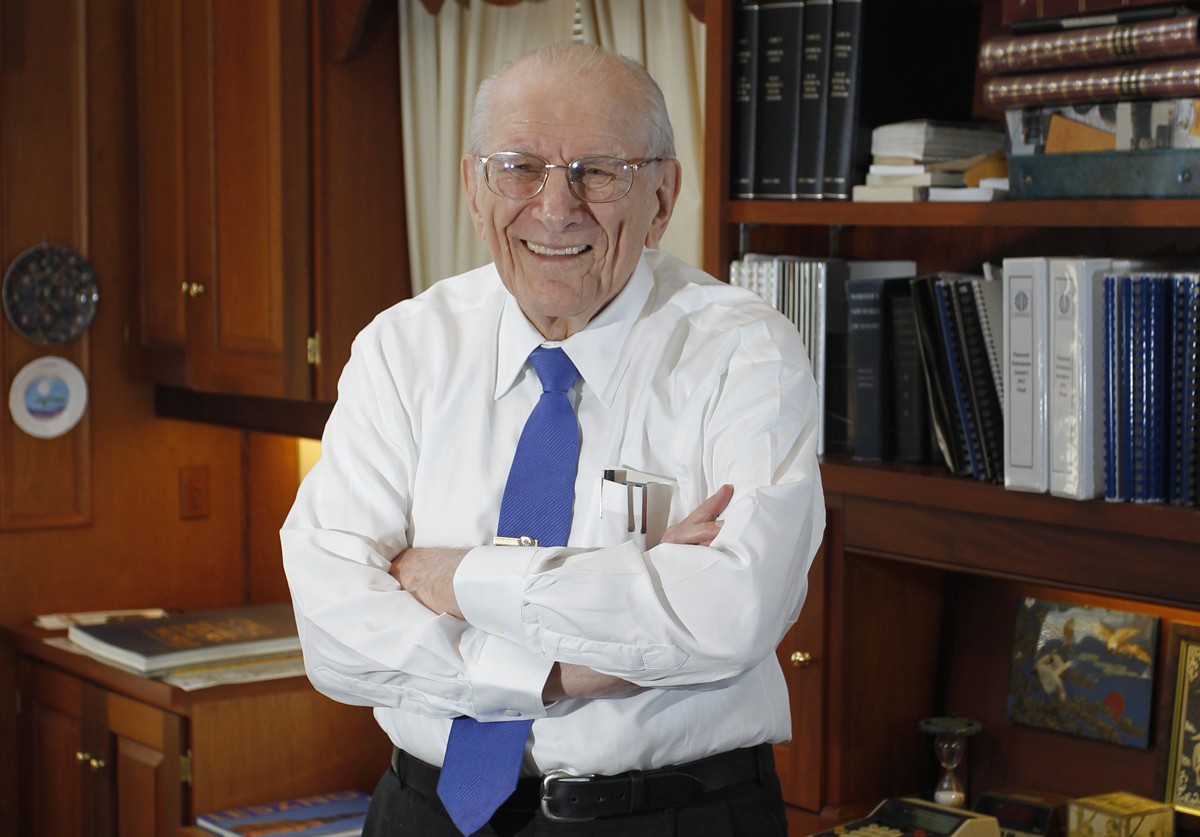 In remembrance of the passing of Stanley F. Pauley
November 24, 2020 —
Alumnus and business magnate Mr. Stanley F. Pauley, who donated more than $11 million to the University of Manitoba's Price Faculty of Engineering, died Nov. 20, 2020 in Richmond, Virginia, at age 93.
Born in Winnipeg in 1927, Mr. Pauley [BSc(EE)/49] presided over Carpenter Co., the world's largest urethane foam manufacturer and supplier, and was engaged in the daily activities of the company he led for more than 40 years. Under his leadership, it grew into a multibillion-dollar foam manufacturing company in Richmond, Virginia, with plants throughout North America and Western Europe.
Although he spent most of his adult life in the United States, Mr. Pauley was one of UM's most generous supporters, including contributions to the UM's recent Front and Centre Campaign. Together with his wife Dorothy, he contributed $4.19 million in 2011 towards the Stanley Pauley Centre, a state-of-the art facility for electrical engineering research and teaching. In 2015, they provided a further $5 million to establish the Stanley Pauley Engineering Building, which opened in 2019. It houses a wide complement of engineering related programs and laboratories, including the Price Innovation and Prototyping Centre used by student design teams, co-operative education space, and the Internationally-Educated Engineers Qualification program.
Their most recent gift was $1.5 million to modernize existing laboratories and develop two new comprehensive laboratories: the RF/Microwave Circuits and Radiating Systems Laboratory and the Wavefield Imaging Laboratory.
Furthermore, they established the Stanley F. Pauley Award in Electrical Engineering, an endowed bursary that will provide students in electrical engineering over $25,000 in bursaries this year.
The Pauley's gifts have fostered research on critical issues such as efficient power systems and renewable energy technologies, all while shaping Manitoba's future engineering leaders.
Dr. Michael Benarroch, UM president and vice-chancellor said: "Even though Mr. Pauley left Winnipeg in 1949, his heart and passion for electrical engineering led him to generously support engineering at his alma mater, UM. Both the Stanley Pauley Centre and the Stanley Pauley Engineering Building are testament to his devotion and philanthropic nature, and are visible reminders of his impact on our students, past, present and future."
The Pauleys are among Richmond's most powerful benefactors, who have donated significant funds and volunteered their time to some of the city's most prominent institutions. His philanthropic nature moved the Pauley's to create The Pauley Family Foundation, based in Richmond, Virginia, which supports a broad range of charitable purposes with a focus on education, health and human services.
Mr. Pauley's honours included Virginia's Life Achievement in Industry Award and the Architecture Medal for Virginia Service.