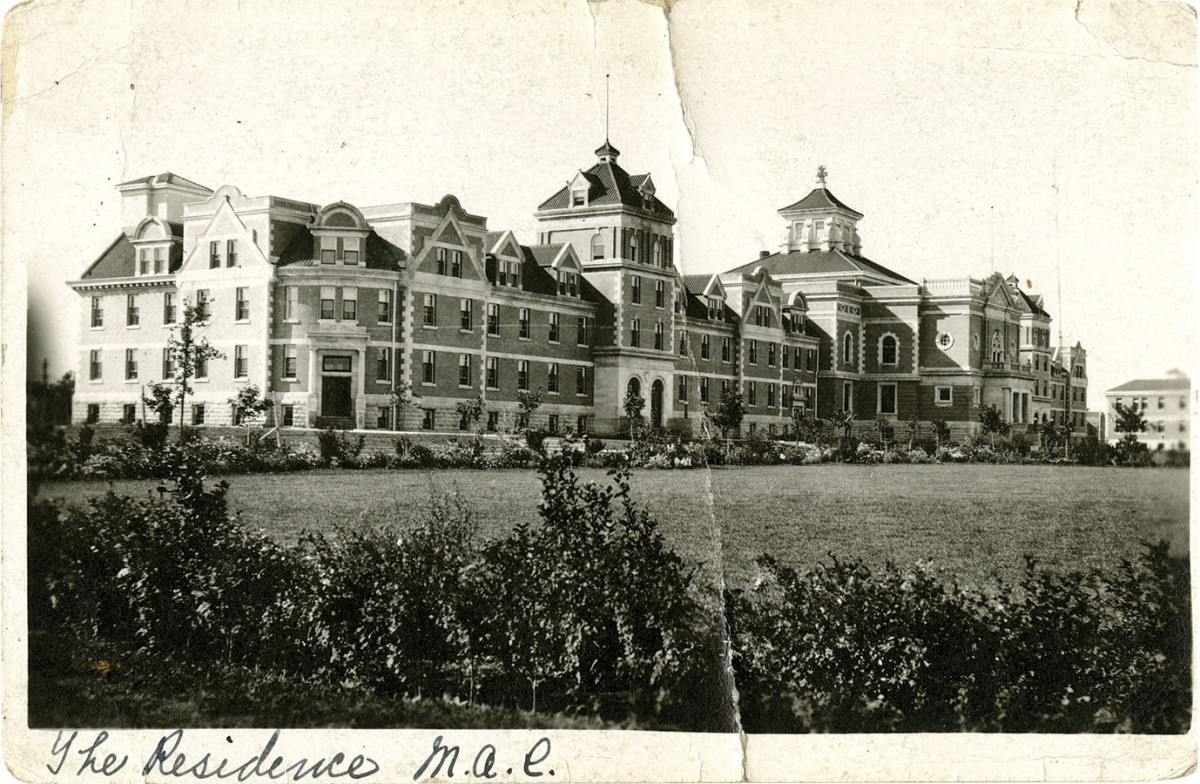 Homecoming to unveil historic arts transformation
August 24, 2017 —
When alumni, students, and the U of M community return to campus for Homecoming this September, they will have a unique opportunity to reminisce and celebrate the impact of the arts at the U of M.
The Grand Opening of the New Addition to the Taché Arts Complex will unveil the renovation and restoration of Taché Hall that houses memories for many in the U of M community.
Built in 1911 as the male and female dormitories, the four-storey building was the largest on the new Fort Garry campus, with a façade almost as long as two football fields. It housed up to 200 women and 400 men, most of them home economics and agriculture students from rural Manitoba.
The dorms on Dafoe Road were the social hub of the university, housing two gyms, two swimming pools, lounges, an auditorium, and a dining room. For almost 30 years, home economics students ran a tea room. Concerts, plays, church services, dances, debates, and graduation ceremonies also took place here.
As more faculties and schools opened, the residence was renamed the Manitoba Union Building. However, students were forced to leave during the Second World War, when their home turned into an infantry basic training centre for about 3,000 men.
Left in shambles in 1945, the iconic campus building endured further damage during the Red River Flood of 1950 and did not see major renovations until 1979. By that point, a separate women's residence had been built, and the men's dorms were renamed Taché Hall after Archbishop Alexandre Antonin Taché, one of the university's founders.
Taché Hall housed not only students and soldiers but also flood evacuees in 1997 and athletes during the 1999 Pan American Games. Almost 40 years ago, an idea arose to house various schools and programs, including art, music, and theatre, within Taché.
In 2011, that idea became a reality. Taché Hall closed as a residence and—thanks to our donors—is becoming a central home for the School of Art, Desautels Faculty of Music, and the theatre program in the Faculty of Arts. The Taché Arts Project is a cornerstone of the Front and Centre campaign and has already supported the creation of new spaces like the Gail Asper Performing Arts Hall and John J. Conklin Theatre.
On Sept. 14, the U of M will officially open a brand new 60,000 square foot addition to the Taché Arts Complex. All are welcome to attend to explore stunning new spaces and enjoy live performances by Desautels Faculty of Music students, faculty and alumni.
There is no cost for this event but space is limited and registration is required. For more information on this event, and other Homecoming activities, visit: umanitoba.ca/homecoming