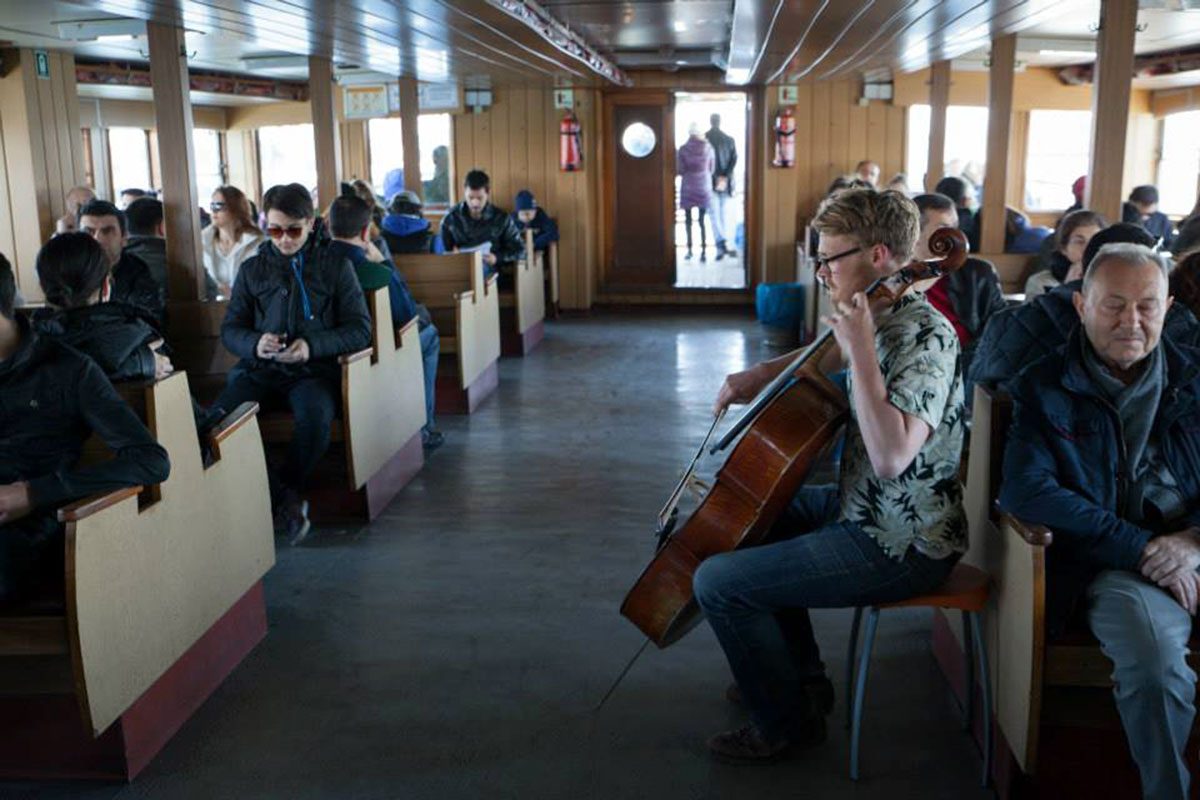 Homecoming Abroad: Bending ears and taking ferries
August 31, 2017 —
You won't often find Jari Piper [BMus/12] playing in traditional venues like concert halls and theatres. Rather, the Alaska-born cellist prefers the unorthodox stages: sidewalks, boats and bars.
Piper is part of a new wave of musicians pushing the boundaries of where music is performed. His repertoire is contemporary and classical; his sound is both dark and introspective, raucous and virtuosic.
An alumnus of the Desautels Faculty of Music, Piper is on a mission to make modern music more accessible through public performance – an approach he hopes people will take notice of because he feels his music "will bend your ears in ways you did not think possible (and you'll like it)."
We caught up with him during his summer travels in Kyrgyzstan.
WHAT ARE YOU DOING IN EUROPE?
I moved to Istanbul, Turkey with my brother for yuks in 2014 where I made my living playing with the Borusan Philharmonic Orchestra and busking on the streets and ferries that cross the Bosphorus strait between Europe and Asia. But due to the declining political situation, I took a job in Tbilisi, Georgia, where I live now, working as a principal cellist with the Tbilisi State Chamber Orchestra's Georgian Sinfonietta.
WHAT IS THE BEST PART OF LIVING IN GEORGIA?
Can I say dollar beers everywhere? Probably not. The Republic of Georgia is a strange and wonderful land full of endless surprises both cultural and musical.
WHAT'S YOUR FAVOURITE MEMORY FROM YOUR TIME AT THE U OF M?
The Faculty of Music professors were so generous to me in every way. Once I left Winnipeg, only then did I realize how much the faculty went above and beyond to help guide me.
THE U OF M IS CELEBRATING ITS 140TH ANNIVERSARY. WHAT DO YOU HOPE THE U OF M ACCOMPLISHES IN THE NEXT 140 YEARS?
I just watched the movie Passenger so I'm thinking cool space fashion. Space school? Think about it – we could be the first!
WHAT DOES THE U OF M MEAN TO YOU?
The U of M reminds me of a time in my life where I had a lot of support and positivity from faculty and students alike.
NOT ALL ALUMNI CAN COME BACK TO CAMPUS FOR HOMECOMING. HOW DO YOU STAY CONNECTED WITH THE U OF M?
I stay connected with my professors and friends through Facebook, mainly. A couple years ago I was backpacking in The Balkans with friends, and we timed it so we would arrive in Belgrade at the same time as some of my former U of M professors, including the Dean of Music, who were giving a concert.
Since I was backpacking in June, I didn't think I would need pants, only shorts, which was a mistake because it rained every day and was about 12-15 C. When I met them for breakfast, I must have looked so miserable that the Dean took pity on me and pushed $9 in Serbian Dinars into my hand to buy some pants.
They played a wonderful concert that night and took us out for dinner afterwards. They're the best. The connection I have with my teachers is one I hope to keep for life.
To celebrate Homecoming 2017, UM Today will be running the Homecoming Abroad series, featuring alumni and students across Canada and around the world who are proving that from here you can go anywhere.
Homecoming is a chance to reconnect, reminisce, and celebrate. Join the U of M community at our Grand Opening of the New Addition to the Taché Arts Complex or meet up with fellow alumni at faculty, college, and reunion events from Sept. 11-17.