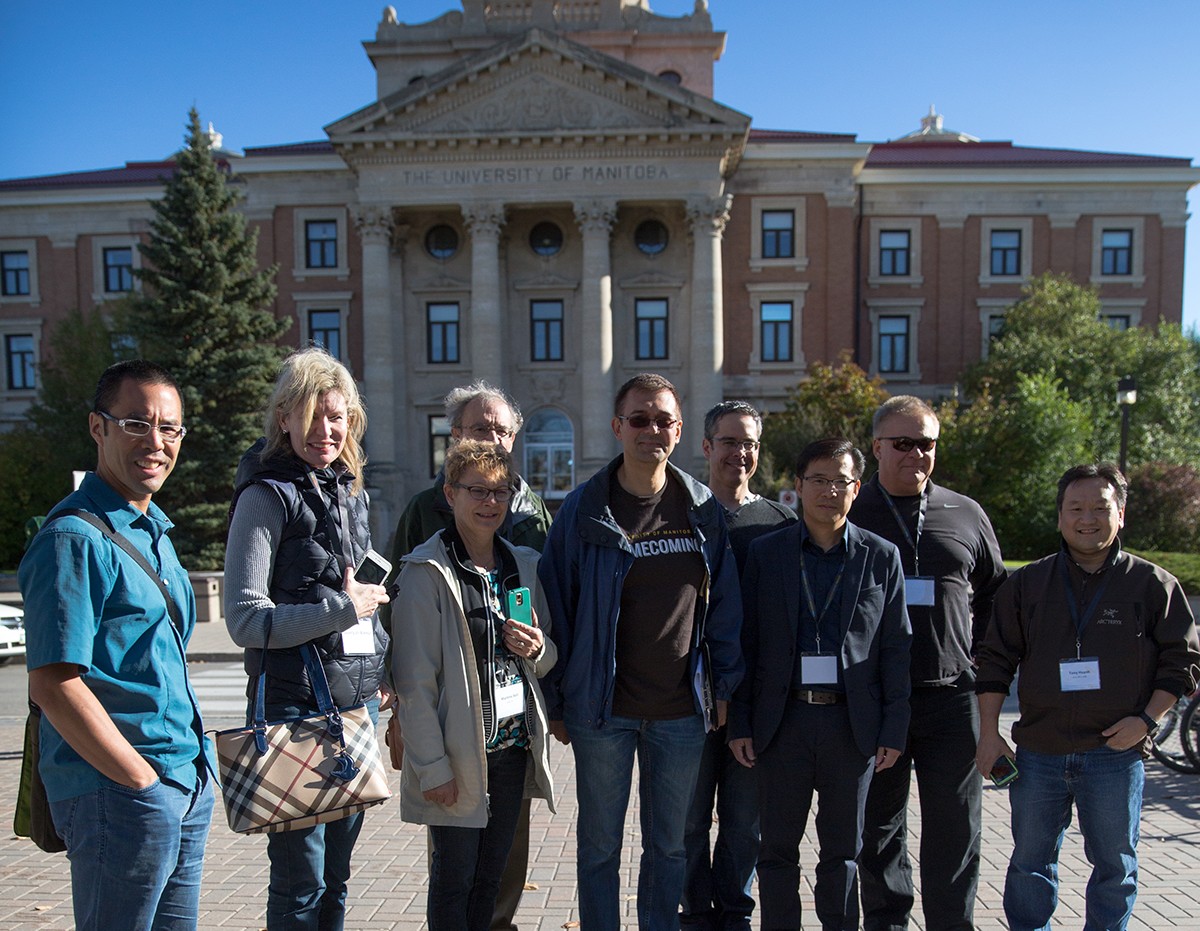 Come celebrate Homecoming 2016!
September 16, 2016 —
Homecoming is a time-honoured tradition that celebrates how our university experience shapes who we are. It's a chance for University of Manitoba alumni to reconnect with old friends, and reminisce about your years on campus.
The weeklong celebration kicks off on Monday, Sept. 19 with more than 30 events and activities for alumni, students, our community and friends.
Here are some of the highlights of this year's Homecoming week.
Queers, Cheers and Homecoming Years
Friday, September 23
7:00 pm
Brand new to Homecoming this year, and what may be the first event of it's kind, is a soirée for LGBTTQI* alumni and friends. Queers, Cheers and Homecoming Years is an opportunity to network and engage in conversation around LGBTTQI* issues and perspectives. The evening event will feature music, food, drinks, and special remarks from Mitchell Haw, the first recipient of the Jeff Kushner and Randall McGinnis Scholarship for LGBT Engineering Students.
Tickets are $25 and are available online or at Answers in University Centre.
Homecoming Football Game & Celebration
Saturday, September 24
12:00 pm
A fall classic – the annual Bison Football Homecoming game! Investors Group Field will teem with fans of the Brown & Gold as the University of Manitoba Bisons host the University of Saskatchewan Huskies.
Start the excitement with some family fun on the concourse of Investors Group Field. Ticket holders are welcome to join interactive activities, games, food, mascots, music and more prior to kick-off and throughout the game. The first 200 fans through the gate will get a special gift and our street team will be there to reward the biggest Bison fans.
Don't take your eyes off the field at halftime, for the biggest halftime show in Bison history, as part of an exciting update on the Front and Centre campaign.
Homecoming Dinner
Saturday, September 24
6:00 pm
The annual Homecoming Dinner offers U of M alumni a chance to catch up with old classmates and revisit those shared experiences that unite them. It's also a great opportunity to share stories with fellow alumni from different faculties and hear from faculty members about the exciting developments taking place on campus.
This year's dinner features a Tuscan inspired harvest menu, designed to create a warm and welcoming family style homecoming atmosphere. Alumni and guests will be treated to a medley of local cheeses, meats, smoked fish, artisan breads, chutney and spreads as well as local and seasonal vegetables. The centerpiece of the meal features a tenderloin carvery with Burgundy reduction, grilled fish, mashed potatoes and a variety of roasted root vegetables.
Visionary Conversations
Wednesday, September 21
6:30 pm
The 2016-17 season of the award-winning Visionary Conversations series will launch with an important and timely discussion on Reconciliation. One year after the official opening of the National Centre for Truth and Reconciliation at the University of Manitoba, the discussion will look at how Reconciliation can be moved from theory to action. President and Vice-Chancellor David T. Barnard will host the discussion with panellists, Nahanni Fontaine, Tina Keeper, Lenard Monkman and Ry Moran.
Recreation Services Open House
September 19-25
Various times
Alumni are invited to get fit for free during the entire week of Homecoming! Come take a tour of the Active Living Centre, stay to get a sample of one of the instructor-led classes or get in a great workout using the fitness and recreation facilities.
Indigenous Achievement Homecoming
Wednesday, September 21
11:30 am
The U of M recently signed the Manitoba Collaborative Indigenous Education Blueprint, committing to work with educational partners across Manitoba to make our province a global centre of excellence for Indigenous education, research, languages, and culture. This year's Indigenous Homecoming celebrates this achievement and past success as leaders from U of M's Indigenous alumni community share their experiences and stories of growth in the field of Indigenous education. Please join us as we honour U of M's Indigenous alumni and launch the Department of Native Studies 2016 Fall Colloquium. A celebration lunch will follow and everyone is welcome.
Desautels Faculty of Music Homecoming Concert
Thursday, September 22
7:00 pm
Hear the incredible talents of our award-winning faculty in a concert of classical and jazz performances. Come for the concert and stay and meet the faculty at the reception that follows. Admission is free but please RSVP to confirm your attendance.
Fort Garry Campus Tour
Friday, September 23
Registration: 9:00 am
The ever-popular 45-minute walking tour of the Fort Garry Campus begins in the Agora in the Active Living Centre and allows U of M grads to once again see buildings they spent time in during their days on campus, discover what has changed, and learn what is being planned for the future. Be sure to wear comfortable footwear.