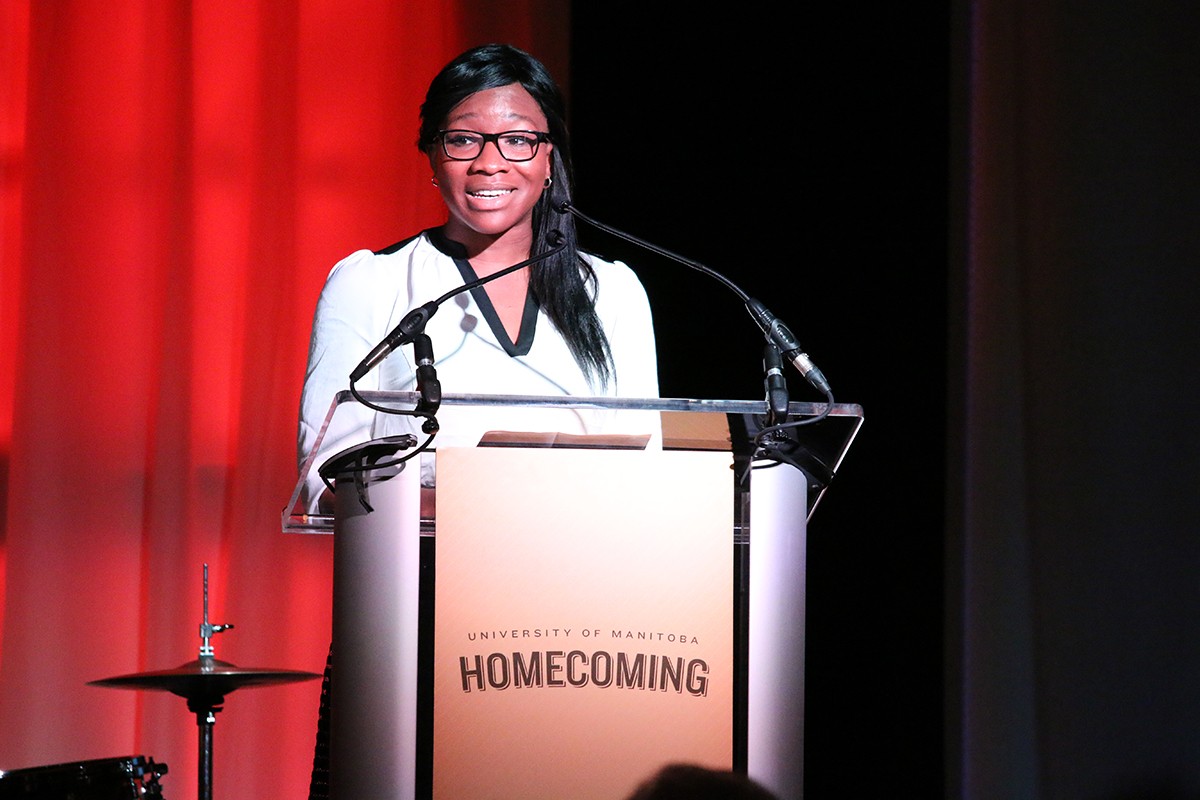 Homecoming 2014 celebration draws alumni to celebrate their alma mater
Week-long activities and unprecedented numbers
September 24, 2014 —
"Our university allows us to turn passion into action," College of Medicine alumna Tito Daodu told a full house at the 2014 Homecoming Dinner and Concert on September 20.
Saturday evening brought together alumni from all faculties, including reunion groups from the classes of 1954, 1964 and 1974, and capped a Homecoming Week that drew unprecedented numbers. Daodu's passion echoed the excitement of the evening, the culminating highlight of the week's many homecoming activities — over 50 in all.
Earlier, even Saturday's rain didn't dampen the spirits of Bison football fans cheering their team to a 20-10 victory over the UBC Thunderbirds — nor did it stifle the Pre-Game Party or the Family Fun activities. DJs Co-op and Mama Cutsworth entertained the crowd.
[rev_slider homecoming2014-luncheons]
The weekend saw a number of other events taking place, including Friday's tours of the Fort Garry Campus and Investors Group Field. On Sunday, about 350 alumni attended the Chancellor's Luncheon, honouring the classes of 1964, 1969 and 1974 who celebrated their 40th, 45th and 50th anniversaries. The President's annual luncheon, also on Sunday, honoured the classes of 1944, 1949, 1954 and 1959 for their 55th, 60th, 65th and 70th anniversaries.
"The University of Manitoba Homecoming experience is a manifestation of the passion and enthusiasm our alumni feel toward their alma mater. Watching alumni from all over the world come together, reconnecting and reminiscing, and creating new memories was something amazing to witness. I saw laughter, tears, friendship, and sheer amazement at the changes to our campus. It was incredible and I'm already looking forward to 2015," said John Kearsey, Vice President, External.
[rev_slider homecoming2014-campustour]
The heart of Homecoming was found in a variety of tours, luncheons, speaker panels and receptions arranged by the faculties. These events brought together generations of people with similar educational pursuits, and provided them with the opportunity to connect not only with other alumni, but with today's students as well.
Additional highlights from the rest of the week included The Great Debate between St. John's College and St. Paul's College, the Leadership Speaker Series, Indigenous Achievement Celebration, Visionary Conversations and the launch of an extensive exhibit "The Polar Adventures of Andrew Taylor" by University of Manitoba Archives & Special Collections.
But the Homecoming Dinner and Concert at a sparkling Manitoba Room was the showstopper. It featured speakers, video presentations and live music, including performances by members of the Desautels Faculty of Music.
Two guest appearances by the faculty's benefactor, Marcel A. Desautels, drew ovations from the crowd. Both his solo of "Nessun Dorma" and a duet with Robert MacLaren of "O Sole Mio" were accompanied on piano by faculty dean, Edmund Dawe.
[rev_slider homecoming2014-dinner]
There were rousing performances from Monica Huisman, Judy Kehler Siebert, Minna Rose Chung, David Moroz, Tracy Dahl, Laura Loewen and Paul Jeffrey, and a rendition of Leonard Cohen's "Hallelujah" by Anna-Lisa Kirby. Kirby performed with Will Bonness on piano, Steve Kirby on bass, Quincy Davis on drums and Derrick Gardner on trumpet. The group brought the house down at the end of the night with its spirited performance of "Tiger Rag."
"Feedback from our alumni was overwhelmingly positive", said director of Alumni Relations Barbara Axworthy. "It was great to connect with our alumni at events throughout the week".
With the events honouring our alumni, and attendance spanning generations, Homecoming 2014 celebrated the past, present and future of the University of Manitoba.