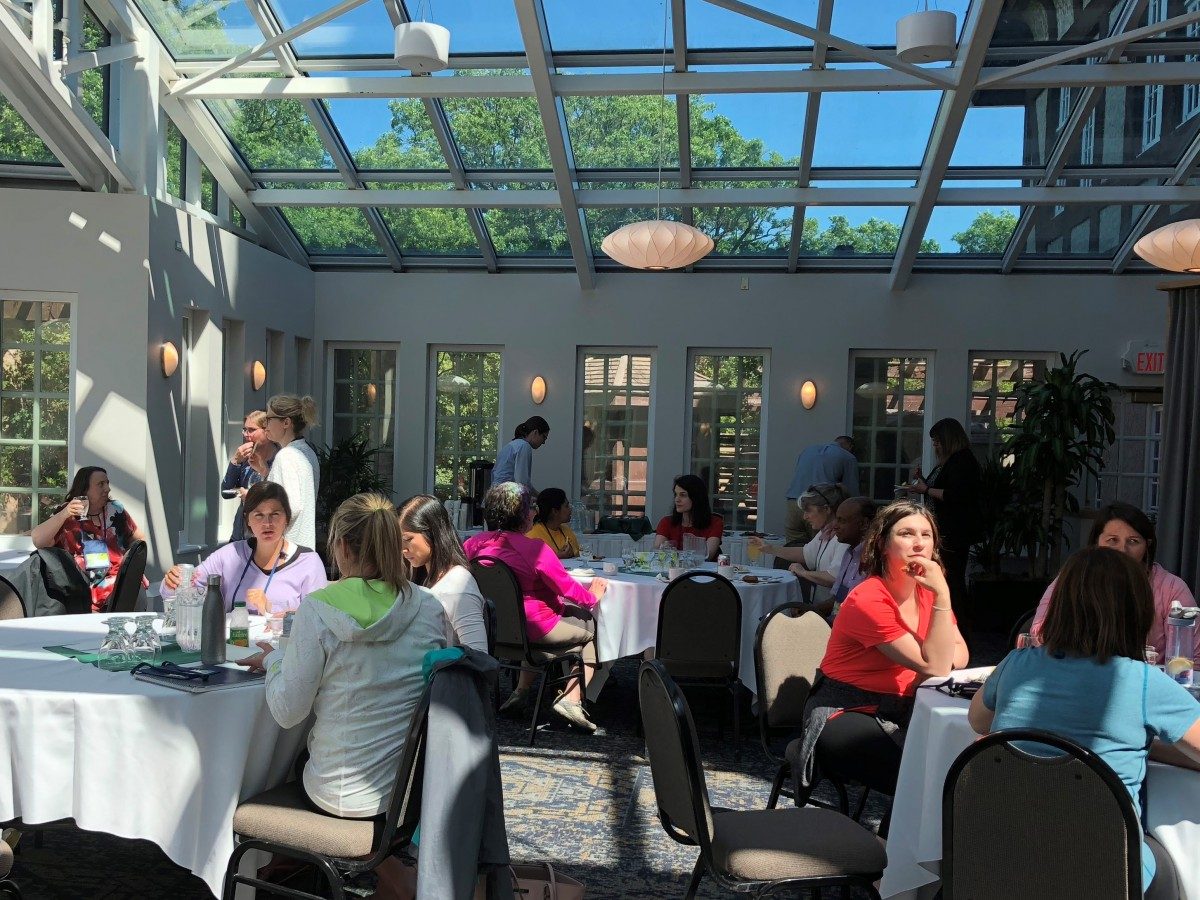 Helping to 'Refresh your wellness, reset your teaching' with outdoor summer workshop
June 26, 2018 —
For those who teach and those involved in research, work-life balance is particularly challenging. On June 12, the Centre for the Advancement of Teaching and Learning held a one day off-campus workshop, titled 'Refresh your wellness, reset your teaching', that provided teaching resources and active experiences for personal wellness, teaching pedagogy, and class management. The workshop held at Assiniboine Park Pavilion parallels the University of Manitoba's institutional initiative of 'Live Well', which is dedicated to building personal and community health.
"People who work a lot of overtime hours, as faculty members do, are at a high risk of burnout," said Michael Link, Educational Developer with the Centre for the Advancement of Teaching and Learning (The Centre). "Burnout can cause fatigue, mood swings, irritability and a decrease in performance. But work-life balance is the idea that there is more to life than just work – as meaningful as we may find the work we do, there is a recognition here that we need other things in our lives, in addition to our work."
People left the event feeling inspired and motivated
Your mental, physical and social well-being are all important components of a healthy work-life balance. The outdoor workshop featured a mix of personalized choices for teaching and wellness sessions for work-life balance. Participants enjoyed workshops on nutrition, personal training, yoga, relaxation, and a nature walk to stretch the legs and enjoy the beautiful venue. Many also benefited from a variety of teaching sessions, such as getting the most out of UM Learn, tips and tricks for small group discussions, and assessing big projects and papers.
"The Centre put a lot of thought into this event to convey a sense of wellness," said Colleen Plumton, Instructor and Fieldwork Program Coordinator with the Faculty of Kinesiology and Recreation Management. "People are looking for environments such as this workshop, where you can share with each other, get ideas, slow down a bit, and then incorporate stress reduction techniques like yoga, relaxation and massage."
"The wellness event was structured in a way that included a balance of work and self-care, and as a result, people left the event feeling inspired and motivated to further develop their teaching practice and were energized by the wellness sessions," said Cora Chojko-Bolec, Educational Developer with The Centre.
"I really liked the 30-minute rotation interactive format," said Plumton. "It was just enough time to make you feel like you were taking care of yourself with the wellness components and then for the dialogue and discussion components the Centre was very prepared with how much you could do in those 30 minutes. You had a chance to actually talk with people and interact."
The importance of work-life balance in teaching
Many found the event to be a good reminder of how important it is to strive for balance each day, especially during periods of intense workload and pressing deadlines.
"The decisions we make about how we spend our energy each day has a long-term impact on our health," said Chojko-Bolec. "The wellness workshop reminded me to be consistent about prioritizing my personal wellness. I think work/life balance is important for everyone, but in education personal daily schedules can fluctuate throughout the week, making it more of a challenge to consistently carve out 'me' time."
"If at the very bottom of your to-do list are the things that bring you a sense of well-being – spending time with your friends, family, engaging in meaningful activities and meaningful work—whether it's developing a spiritual life, or just having a little fun," said Link. "If we choose to engage in all of these life-affirming activities only when there happens to be some time left in our day then it is very unlikely such moments will ever happen."