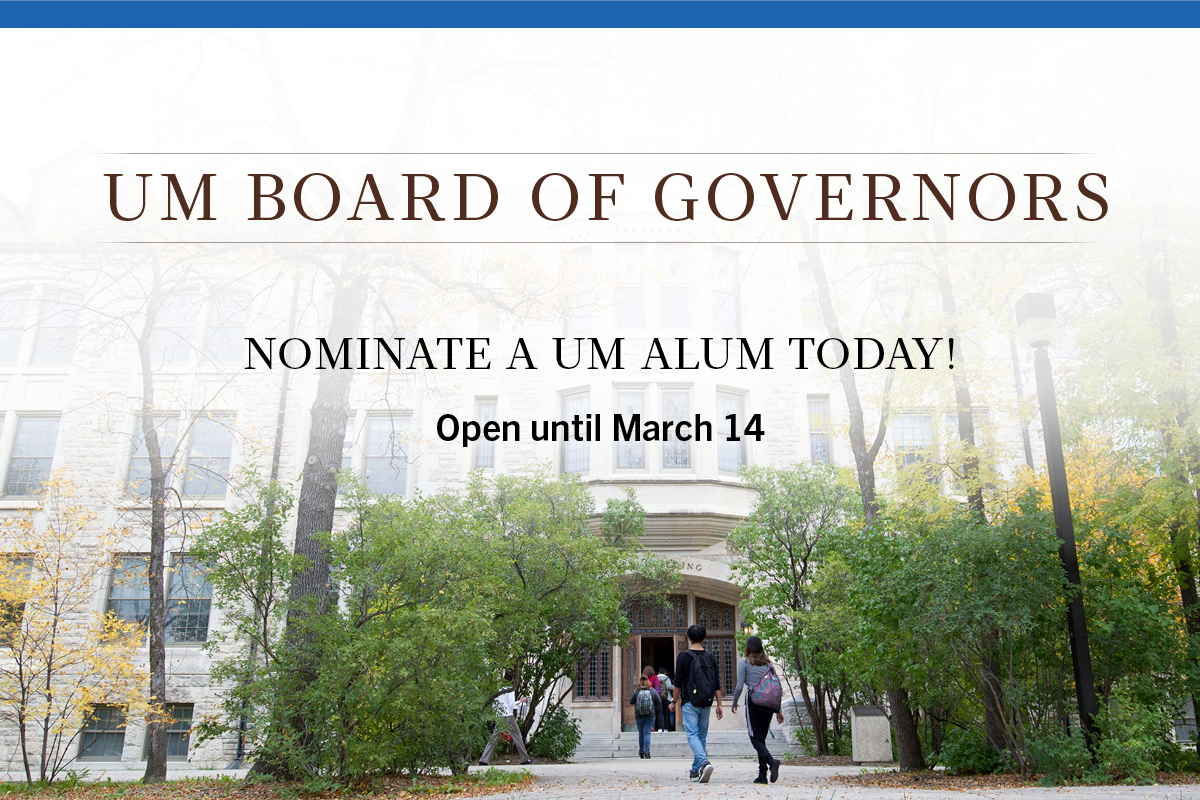 Help define UM's future
Board of Governors nominations now open
February 10, 2022 —
As a UM alum, if you've ever wanted to play a key role in guiding the direction of UM, securing a seat on the Board of Governors would be a significant first step.
Serving your alma mater in this way is an excellent opportunity to not only help define your University's future, but also develop your professional skills and be a vital voice for your fellow alumni.
The UM alumni community is now more than 183,000 strong, living in 139 countries. Three alumni representatives sit on the UM Board of Governors and each year one of those positions comes up for election.
The entire alumni body is eligible to become a candidate and encouraged to vote. And even more so this year, as there is no incumbent, so the election is completely open.
"My six years on the Board of Governors has been a pretty incredible experience," says outgoing chair Jeff Lieberman. "The University of Manitoba has faced a number of challenges but I believe that the board has made a number of decisions that positively affect our students, staff and all Manitobans. It really is satisfying knowing that our board plays an important role in advancing the future of Manitoba."
Alumni elected to serve on the Board of Governors may do so for a maximum of three consecutive three-year terms. Members will have a hand in overseeing the administrative and business affairs of the University, as well as serving as its corporate governing body, with duties that will include approving the annual budget and appointing and monitoring the performance of the President and Vice-Chancellor. The alumni BOG representative also serves on the recently formed Alumni Council.
"It's a big responsibility but one that is truly fulfilling and I am so appreciative that I have had the opportunity to represent alumni on the BOG," Lieberman continues.
Nominations will be accepted until Monday, March 14 at 4:00 p.m. CT.
If you or a fellow UM alum would like to get involved and submit a nomination, please visit the Board of Governors webpage for more information.