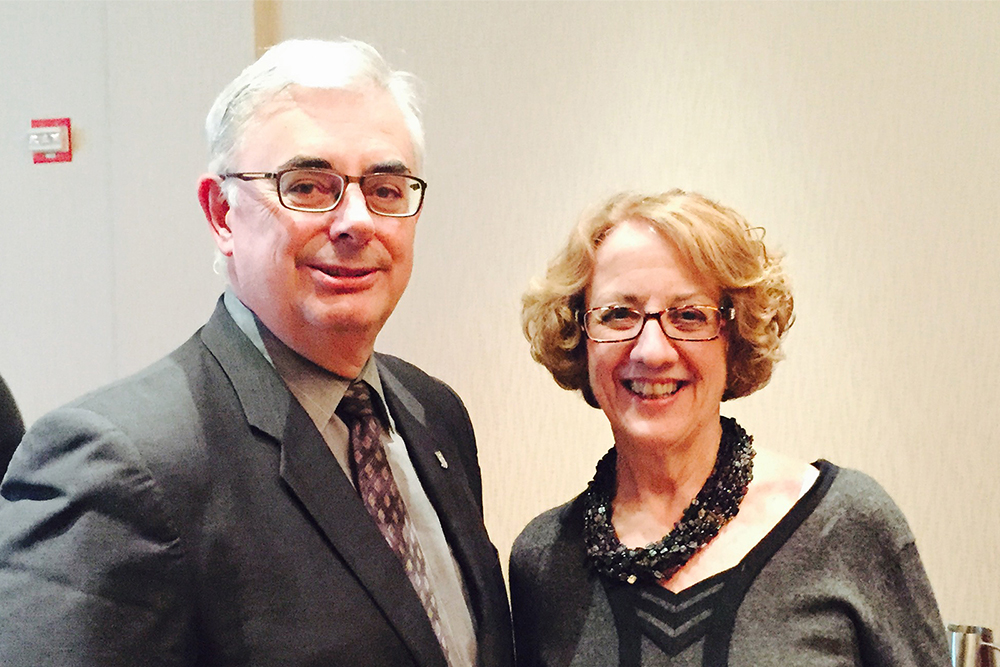 Halifax Connection
Alumni gather in the Nova Scotia capital
May 6, 2015 —
On April 23, President and Vice-Chancellor, David Barnard, was in the beautiful city of Halifax to reconnect with about 50 alumni, donors, and friends of the U of M. The gathering was a chance for a U of M community – living on the east coast – to reminisce and share stories about their alma mater on the prairies.
The last time U of M alumni gathered in Halifax was in 2013, when alumnus and former President, Arnold Naimark, was being inducted into the Canadian Medical Hall of Fame.
At this year's gathering, President Barnard brought greetings on behalf of the University and provided the U of M community there, with updates that included the redevelopment of Taché Hall, the construction of Investors Group Field and how both projects contribute to the U of M at large. President Barnard introduced the remarkable individuals chosen for the 2015 Distinguished Alumni Awards and also gave the crowd a sneak peek of the Front and Centre campaign.
UM Today caught up with one U of M alumna who attended the event to ask her a few questions. Marie Smith graduated with a Bachelor of Social Work in 2011. Here's what she had to say.
What brought you to study at the U of M?
I began practicing social work with an Arts Degree in Sociology and was later grandfathered in to become a Registered Social Worker. After retiring from the Nova Scotia provincial government I began doing contract work for a private practitioner. I was always sorry I had never gotten my Bachelor of Social Work and someone suggested it was never too late to do so. I heard about the U of M from others that had completed the Distance Education program so I applied and was accepted.
Have you always intended to go back to Halifax to work/live? If not, how did you end up in Halifax?
I am not from Manitoba, I have always lived in Nova Scotia, with the exception of four years when I attended university in New Brunswick.
How did your experience at the University of Manitoba shape where you are today?
Of the three universities that I have attended, the University of Manitoba has been the most rewarding and the one that I will always consider my alma mater. I had never intended to go to Winnipeg for the graduation – why would I spend all that money to travel and be with people I would never see again and sit through a long convocation ceremony? After much convincing from my husband and friends I made the decision to make the trip. It was one of the best experiences of my life and I will always be grateful that I went. My husband and I were treated like royalty by everyone we met on the university campus. Al Curtis (the Field Instructor) gave us a tour of the social work facilities and introduced us to the Dean of Social Work.
What are you doing now?
I am currently enrolled in the Masters of Social Work distance ed. program with Memorial University and hope to graduate next year.