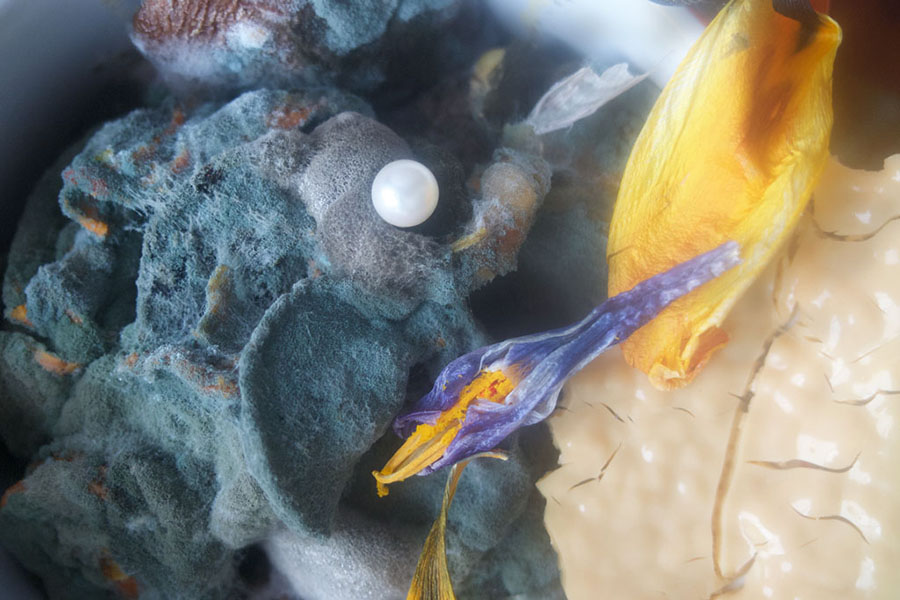 Grief Work, alumna showcases personal work at upcoming Nuit Blanche
September 23, 2019 —
The journey through grief is hard, personal and unpredictable. When Susan P. Gibson's husband Randy unexpectedly passed away, the last thing on her mind was continuing her practice as an artist.
Following the funeral, Gibson, an alumna of UM's School of Art [BFA/95], was inundated with flowers and food. Bereaving and overwhelmed, most of the casseroles, soups, breads and pastries sat, unconsumed, in her fridge and on her dining room table — and began to spoil.
Notwithstanding her emotional pain, she became aware of the visual transformations that were taking place, and began photographing the uneaten food and dying blossoms. Within weeks of her husband's death, she found a way to breathe again, a way to hold on and survive.
Grief Work
Photographs by Susan P. Gibson
Curated by Diana Thorneycroft
Adelaide McDermot Gallery
318 McDermot Avenue, Winnipeg, MB
Opening: Friday, Sept. 27, 7 – 10 p.m.
Nuit Blanche: Saturday, Sept. 28, 6 p.m. – 12 a.m.
Sunday, Sept. 29, 12 – 5 p.m.
Grief Work, which opens at the Adelaide McDermot Gallery on Sept. 27 during this year's Nuit Blanche, is the visual illumination of Gibson's seven year lived experience of healing through grief; her lens capturing the shifting colours and textures of dying flowers and rotting food. The exhibit is curated by Diana Thorneycroft [BFA(Hons.)/79], Gibson's former UM art instructor, mentor and friend.
The exhibition is Gibson's first lens based solo show and features over 20 digital photographs. Due to the universal experience of grief and the remarkable quality of her work, Gibson was awarded visual artist grants from the Canada Council for the Arts, the Manitoba Arts Council and the Winnipeg Arts Council.
Grief Work embodies several underlying beliefs; that everything is connected, that out of death comes new growth and that even in the darkest of human experience there exists an undeniable beauty in reality. Amid sorrow it is those slivers of beauty and nuggets of joy that sustain us.
The following text is from Gibson's grant application:
"In 2011 the death of my artist husband after 37 years of marriage, along with the abrupt end of our shared business and having to sell our home left me shocked and scattered. Broken in body and mind, without vision or hope I was at risk of death from suicide. Love, art, therapy, nurturing and nourishment were my salvation and impetus for this body of work.
Between Randy's death, funeral and wake gifts of food were delivered. So much and so often I lost track of arrivals. Unable to keep up, for safety I could not always eat the gifts so I decided to capture them in photographs as a way of honouring the food itself and the maker's love.
I kept funeral dainties for over a year in the freezer only to photograph and discard them when selling my home. The intentional subject of food honours the cultural and religious association of food and death. It touches on universal needs. Complicated and messy personal, familial and national decisions and actions around food are ongoing and ever changing."