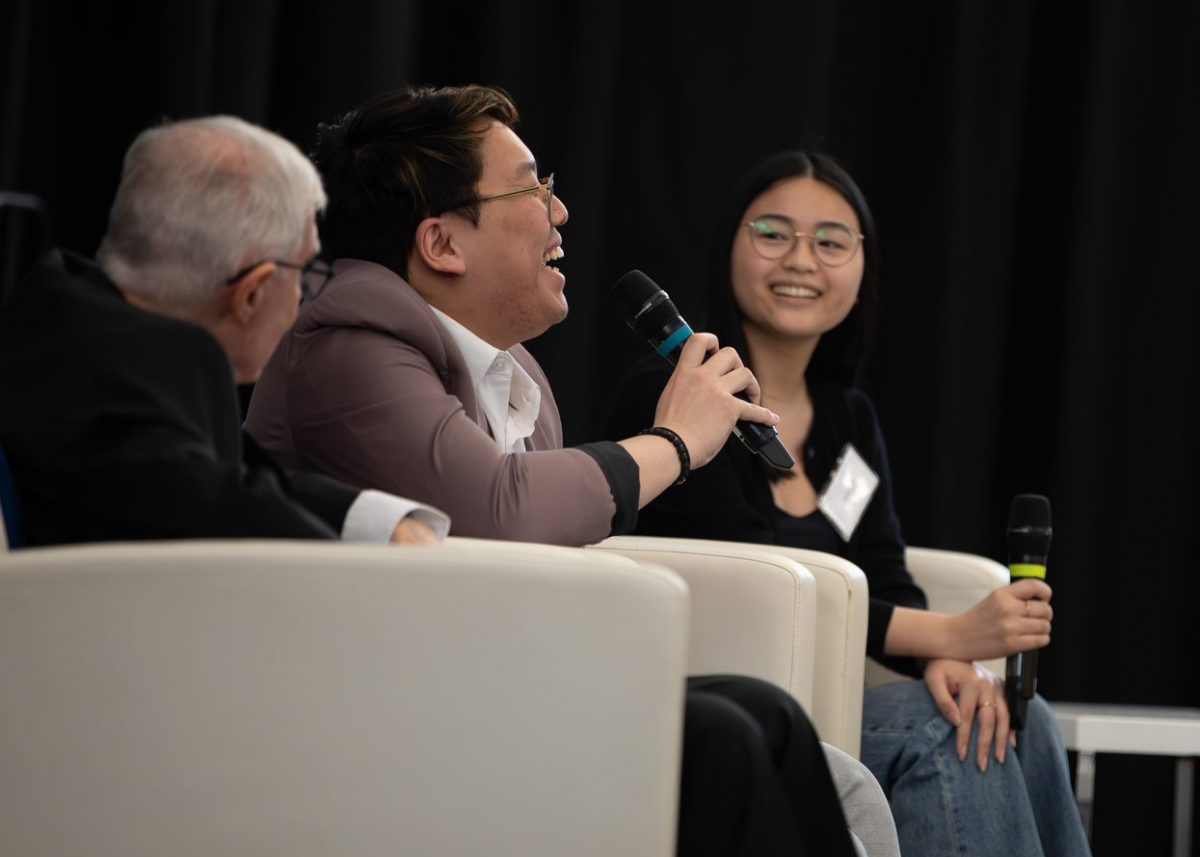 Isbister's legacy lives on through student scholarship recipients
Celebrating 140 years of the Isbister Legacy Society
July 20, 2023 —
The annual Isbister Legacy Society luncheon held some extra meaning this year.
Hosted by the University of Manitoba on May 11, the event marked the anniversary of Alexander Kennedy Isbister's generous bequest to the university 140 years ago. Isbister's gift of $83,000 and nearly 5,000 books—with a value of millions of dollars today—marked UM's first-ever planned gift and started a tradition of impressive and impactful philanthropy.
Isbister's bequest—a gift of money or property left in a will or trust—continues to pay dividends for thousands of students today and into the future.
The decades of Isbister's impact were on display at this year's milestone luncheon. Among those in attendance were three past recipients of the Isbister Scholarship—John Vail ('56), Calvin Loi ('20) and Kezia Wong (who is a current student)—who spoke on a panel about its impact on their education and careers.
The eldest living recipient of the award, John Vail joined the panel to share his memories of being awarded the Isbister Scholarship at the age of 13. The scholarship, $150 at that time, enabled him to complete his Master of Science in 1956. But the scholarship did more than just lighten the financial load—it gave him the confidence to be a scholar.
"I had just started as an apprentice scholar, and when I came out with the Isbister Scholarship, particularly with the top grades, I began to think, 'Y'know, maybe I can do this. Maybe I can really be a professional scholar, earn my living doing what I love all day every day for 55 years," Vail recalls.
Calvin Loi, a Bachelor of Commerce grad, co-founded the Westland Foundation Scholars Committee to aid Winnipeg youth seeking post-secondary education. He credited the Isbister Scholarship, which he received during the 2018-19 academic year, for shaping his perspective on charitable giving.
"[The scholarship] has reaffirmed my personal belief in the importance of [giving]," Loi says. "As someone who went to high school in inner Winnipeg, I've heard countless stories of people who were unable to attend or access post-secondary education because of financial constraints. I am personally even more committed now to help remove those financial constraints for people."
Kezia Wong, currently studying in the Faculty of Arts, is completing her honours thesis in psychology and conducting her second year of sociology research this summer. A 2020-21 recipient of the Isbister Undergraduate Scholarship and the current racialized student representative on the Arts Student Council, Wong says the scholarship was a pleasant surprise.
"It was quite a big surprise to me. It happened during COVID, and there weren't many exciting things happening during that period, so this was just a hopeful and encouraging thing that I was able to receive and I'm appreciative of the ways that it has helped in my academic career," Wong says.
Reflecting on how the scholarship has helped her find success as a student, Wong says she is grateful for Alexander Kennedy Isbister's generosity and honoured to be a part of his continuing legacy.
"I think just in learning about his legacy and how he was a Métis man, he was a lawyer, he was an advocate, he was a philanthropist—I think that's an incredible legacy that is empowering students now and prior students as well," Wong says.
Isbister's generosity created the framework for thoughtful donors to plan ahead and leave a lasting impact on the University of Manitoba for years to come. Isbister made his gift with an exceptional stipulation for the time: that the money be used for scholarships and prizes for anyone who deserves them, regardless of sex, race, creed, language, or nationality. For many individuals who had faced significant barriers to receiving a university education, this stipulation provided unprecedented access to a world of opportunity.
To date, thousands of students have benefitted from those who have considered UM in their estate planning.
Currently, the Society honours more than 700 individuals who have planned to leave a gift to UM, as well as those whose gifts are supporting a new generation of students and researchers. This year, to honour the 140th anniversary of Isbister's transformational gift, UM is putting a spotlight on our alumni and friends who choose the same path as Alexander Kennedy Isbister, helping the next John, Calvin and Kezia who step into a UM lecture hall or lab. These students and researchers have big ideas for how to make their mark on the world, and donors who leave their legacy with UM will allow those ideas to come to life.
Read more about Alexander Isbister and UM's Isbister Legacy Society.
Whether you are supporting health as a human right, advancing reconciliation and promoting Indigenous achievement, climate change research, or transforming the learning experience, you are making the world a better place.
Read more in our Gratitude Report